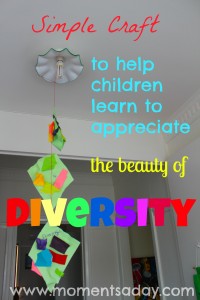 Some days I am not sure what our character development activity will be until we are already half way into it.  This is what you may call finding a "teachable moment."  Parents do it every time they thankfully acknowledge a "please" or "excuse me" (which would be reinforcing courtesy) but I have found taking it a step beyond the spoken into something concrete the child can see, touch, and feel is makes it even more memorable.  This post is about a regular every-day activity, originating with my son's initiative, turned into a lesson in diversity appreciation.
To start the story I will share that my son was given an origami book quite a few months ago and he goes through stages of wanting us to make origami (or attempting the very complicated projects in the book himself).  On this day he was going through little pieces of scrap paper, folding them into little crumples, then proudly showing me his origami.  I could see the origami pieces building up in a pile on the table and noticed how "into it" he was, so I quickly thought of a way to turn this craft into an example of something meaningful (and to give the origami-making an end point otherwise I feared we would be overtaken by crumples of paper!)…
Craft Activity
With a vision in mind, I went through and selected some scrap paper of varying colors for him to continue making more origami from which he gladly used.  Then I suggested we use all the colored bits of paper to glue on a larger piece of origami, so he could look at them all together.  He selected a color for those larger pieces and "made" them into origami with delight (it is so lovely when kids are into their art work – I never would have guessed that crumpling papers would bring such joy).  After the pieces were glued I asked him if he liked all the colors together in one place (and he said yes! like colors of the rainbow).
I said people are all different colors, too – we have different colored skin, hair, eyes – but it is beautiful when we all come together.  If we were all one color, the world would be a bit boring.  But like colors of the rainbow, we can all look different and we are all beautiful.  He pointed out a few friends he has with different colored skin, and we talked about how we can have friends who all look different but we love them all the same.  When we live and work together in peace and love, regardless of differences, this is called unity.
Then, since we had glued on both sides of the "big origami pieces," I asked my son if he wanted to hang up the pieces.  His face lit up – this was even better than displaying on the wall like we normally do 🙂  So we taped the three larger pieces to a string and I wrote the words "Beauty in Diversity" on each side.  We let them dry a few hours before hanging them up, so the smaller pieces would not slide off.
He is quite proud of his hanging art work and I love how the project centered around how something he wanted to do.
This activity could be done in many ways – with flowers cut out of different colored paper, different types of artistic materials (feathers, pom poms, sequins), colored foam shapes – basically bringing anything of different colors/types together to show beauty in diversity.
Have your kids noticed diversity before?  How have you tried to instill an appreciation of differences?
Feel free to share your experiences with this activity and/or any variations you came up with. Links to related activities or to your post that links here, are most welcome also.
Thanks for your feedback – I appreciate all your comments!