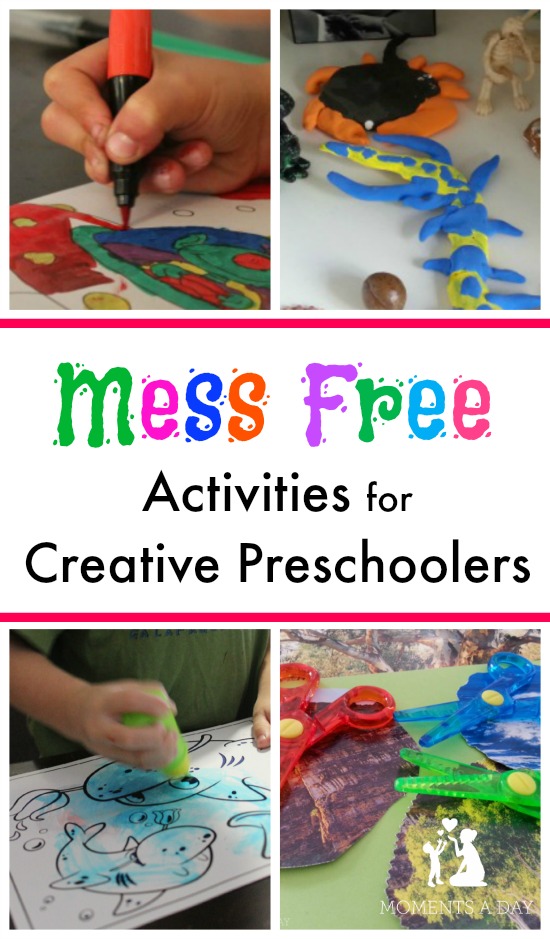 My youngest son recently turned three and a half (he loves adding that "and a half" when asked his age) and I have noticed his artistic skills rapidly developing.  He is currently very interested in expressing himself artistically so I have been looking for ways to encourage and develop his creativity in those moments he's desperate to create – even if it's not the "best" time according to my schedule.
It is important to me to encourage creativity in my children because being creative allows them to:
Gain confidence using their hands and practice fine motor skills
Develop self-expression
Experiment with creating something new and problem solving when things don't go as expected
Unwind and enjoy some quiet time
Over the past few months our family has been sent a range of awesome Crayola products to try out.  Besides having a lot of fun, one benefit of trying out these new products was to find out that there are quite a few artistic activities that do not need to take a long time or make a lot of mess.
Having these "mess free" creative activities in my cupboard allows me to give the boys time to be creative without becoming worried about the the messy aftermath.  If I really need to be doing something else in that moment (like making dinner), these are great options.
Here are several mess free activities that my kids enjoy, and that I love not having to clean up after.
Mess-Free Painting
My boys both LOVE to paint.  But sometimes we are on our way somewhere and I just don't have time to take out all the supplies, clean up a mess, and change all the clothes… so painting is not really at the top of my priority list.
I love the "mess free" aspect of My First Crayola Watercolour Creations for my three year old because it gives him the sensation of painting without the mess.  Basically there's a paintbrush you fill with water, which creates colour when in contact with the Watercolour Creations paper.  This is an easy 10-15 minute activity which doesn't require any clean up, and that my son can enjoy with very little help or supervision.
My older son really enjoys the Washable Paint Brush Pens. They have a fine tip and the consistency of a paintbrush (a soft, bendable point unlike that of a regular marker), without the regular paintbrush clean-up involved.  Because the paint brush pens are different than normal markers, he tends to stay engaged for quite a while using them as well.  I often suggest we take these out when I have a phone call to make.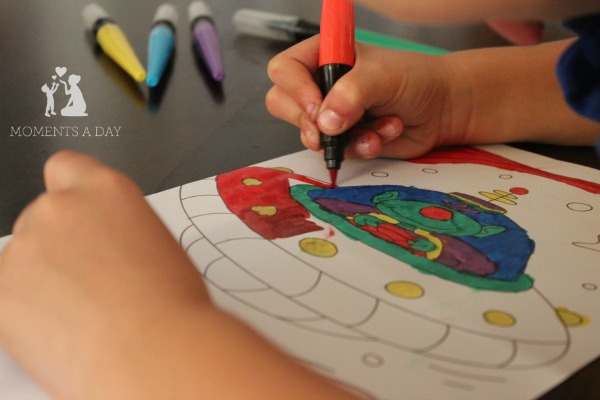 Non-Paper Drawing
I love my kids' drawings but we have tons and tons of artwork in our home.  Although we have a fairly effective system for keeping the "favourites (which includes taking photos of ones the boys really like but just are not practical to keep – think collages from nature or crafts made from recyclables), sometimes it is nice to draw without creating a picture we have to keep.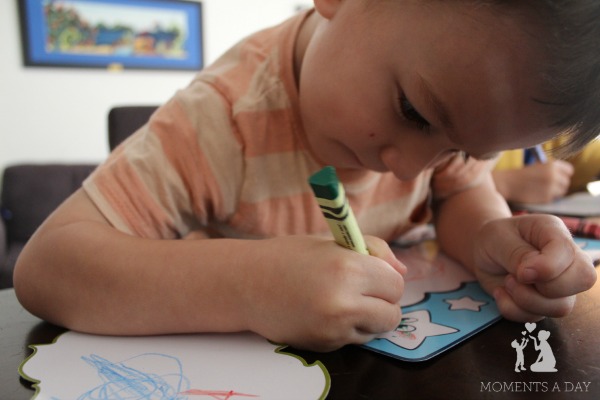 My First Doodle Magnets allows my son can draw to his hearts content, display his work proudly on the fridge, and we aren't using up ten sheets of paper in the process (or filling up a whole wall with new pictures).
The kit comes with three magnet frames plus a blank inner area to colour in, as well as three different coloured washable crayons.  You can display the magnets for as long as you want, or you can use a cloth and wipe the drawings off immediately.  Both my boys enjoy the "cleaning" part of this activity as well as displaying their art work on the fridge.  They know it's just part of the activity to reuse the magnets so there aren't any issues with "throwing their work away."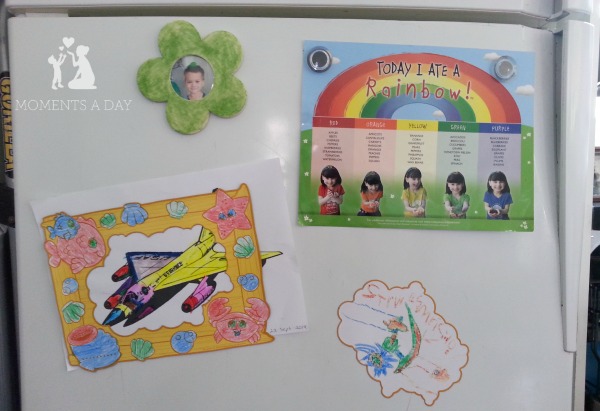 Cutting with Safety Scissors
Scissors are fun, but when you have two young kids, dinner to make and laundry to fold, it's not always so attractive to make them available for free reign.  I can't help the visions of fingers getting cut, hair getting trimmed, or the table being filled with scratch marks running through my mind…
I was super excited to find out that My First Safety Scissors not only cut very well but they also come in a pack with three sets of scissors – two of which have awesome patterns.  These make for great fun when creating collages, cards, and other paper based crafts.
Not only do the boys enjoy working with them, but I can trust everyone (and everything) is safe when they are being used.  They don't even cut hair (I can tell you this without a doubt because I tried it just to be sure) so I know there won't be too big of a mess created.
While my three year old is still experimenting with scissors, my five year old can use them competently.  Actually even though I could trust him with sharper scissors at his stage, it makes it easier for me to let the boys use the Safety Scissors because they are safe for both of them.

Mess Free Modeling Clay
Although we love play dough and use it quite often, I now take out the Model Magic when the boys want to mould something but I just don't have time to clean up.  This lovely clay does not leave a residue on the table nor does it "crumble" like play dough sometimes does.  For these reasons it's also great for travel or for taking as a quiet time activity on an errand.
The boys love to use their hands with the Model Magic to create things (whereas with play dough they often use tools) and while my youngest enjoys the experience of squishing it together and blending colours, my oldest spends more time making more elaborate creations because Model Magic hardens over time so that you can keep your creations.
He proudly shows off his creations on his "Display Shelf" which is one square of our lounge unit where the kids can keep their 3D crafts.  This crab and centipede have been particular favourites because they have reserved their space on the Display Shelf for quite a few weeks now.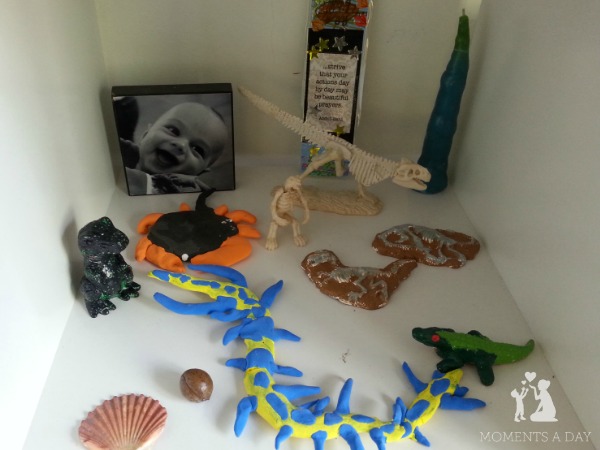 Crayola also stocks a large range of other "No Mess" products which you can browse by clicking here.  We love the Color Wonder books for plane rides and waiting at the doctor's office!
While I think it's great for kids to have the opportunity to get messy, I really appreciate having some "mess free" art activities up my sleeve for the times when getting messy just isn't practical.
What mess free creative activities do your young children enjoy?
If you are looking for other activities to enjoy with your toddler/preschooler, you may like to check out my printable list of 50 Everyday Play Ideas.
I was sent a range of Crayola products to try in return for sharing our honest opinion about some of them.  All views expressed are my own.  To read more about advertisement on my website, visit this page.