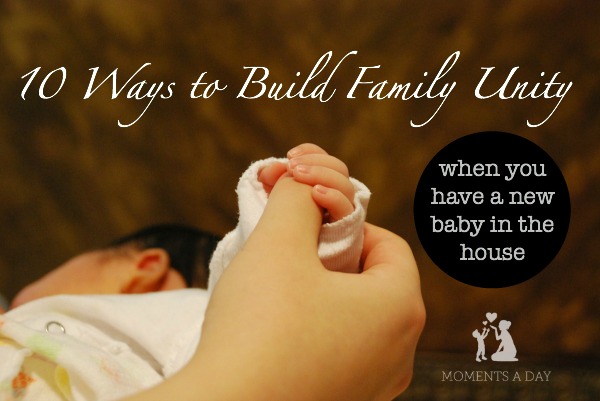 Adding a new family member is a big change for everyone at home.  Instead of only addressing the "problems" that come up, it can also be useful to focus on building unity.
It seems obvious that older siblings might crave more attention when a new baby is born, however after being awake all night, feeling groggy all day, and still having to manage the household and kids — it isn't necessarily an easy thing to address those needs.
Sometimes parents may not even realise all the adjustments that older children are going through.  Many routines in the household are adapted to suit the baby, so all the "regular" moments of connection (pre-baby) can accidentally get lost in the mix.  Since our daughter was born a couple weeks ago, I have noticed that I have much less time to cuddle with my three year old — and his mood has been suffering from the lack of physical affection.
Since this realisation I have decided to pay more attention to the quality time I have been spending with my older kids, and make sure I dedicate an activity or two a day to making them feel loved and appreciated.  In the past this has gone a long way to help our family feel united, so I hope it will smooth over some rough patches we are facing now as well.
Here are some ideas for easy ways to get in some time for connection ever day…
1. Don't give up family meal times!  It can be tempting to sit back from the table to care of the baby, but I would like to make more effort to sit with the older kids while they eat.  Those moments eating and chatting together add consistency to connection time.
2. When baby is asleep, make an effort to cuddle with the older kids.  Mine love massages and sitting on my lap (which isn't easy to do when handling the baby) so it's a great time to do this whenever baby is otherwise occupied.
3. Read books together or – if that's too difficult with a fussy newborn who likes to be walked around (!!!) – listen to audio stories together, and talk about them afterwards.  Here are some of our favourites.
4. Identify one or two interests for each child, and find a way to foster these.  With the physical challenges of pregnancy, looking back I realise that over the past few months I have not been as focused on my older kids' academic development (sad but true).  I know they learn things in school, but I also like to extend on their interests by providing books, activities, and other materials to help them further explore their favourite subjects.  Pinterest is a great resource for finding inspiration!
5. Never blame things on the baby, and try to get the kids involved whenever possible!  I try to stay mindful of the way I phrase things so that the baby is not to blame for mama's lacking attention.  For example, instead of "I can't do that right now because I'm changing the baby's diaper" I might say "We can do that after we change baby's diaper, would you like to help me get the wipes?"  I'm also working on giving the older kids time to connect with and care for the baby.  My boys LOVE to kiss, cuddle, and hold the baby… and, at times, help bath or change her.  It lets them shower love on someone, and also fosters excitement about this new chapter in our lives.
Here are some weekend activities for the whole family to enjoy…
6. Plan a family picnic (read about my "picnic kit" here)… in the back yard, if you don't want to drive anywhere!
7. Have a movie night (with popcorn!).  I find that doing the bedtime routine (bath, pyjamas) is best done before the movie starts, so bedtime doesn't get pushed out too late.
8. Play games together.  Cards, charades, and board games can be lots of fun.  I will be sharing some of my favourite cooperative board games on the blog soon!
9. Decide on a family project to enjoy together… it can even be a "chore" that the kids enjoy such as washing the car or fixing up a fort for the back yard.  Of course it is always fun to do an Act of Kindness as well!  Setting a goal as a family and achieving it together is a wonderful way to instil a sense of cooperation in the home.
10. Organise regular one-on-one time for each child, if possible.  Take advantage of playdates and offers from grandparents so that you can spend quality time with older siblings one at a time.  If you can't leave the home (maybe daddy is watching the baby in the other room) then you can still do something like plan a tea party on the back porch or make a craft together.
At the end of the day, remember…
Having a new baby is a stage of life that takes a lot of patience as everyone adjusts. Try to enjoy the journey as much as possible –  the kids will only be little for a little while 🙂
If you are looking for ways to foster an attitude of gratitude even on challenging days, you may enjoy this post.
What tips do you have for building family unity, especially with a newborn at home?
This post is part of my series Tips for Families Expecting a New Baby.  For more ideas about getting yourself and your family ready for your new bundle of joy, check it out.