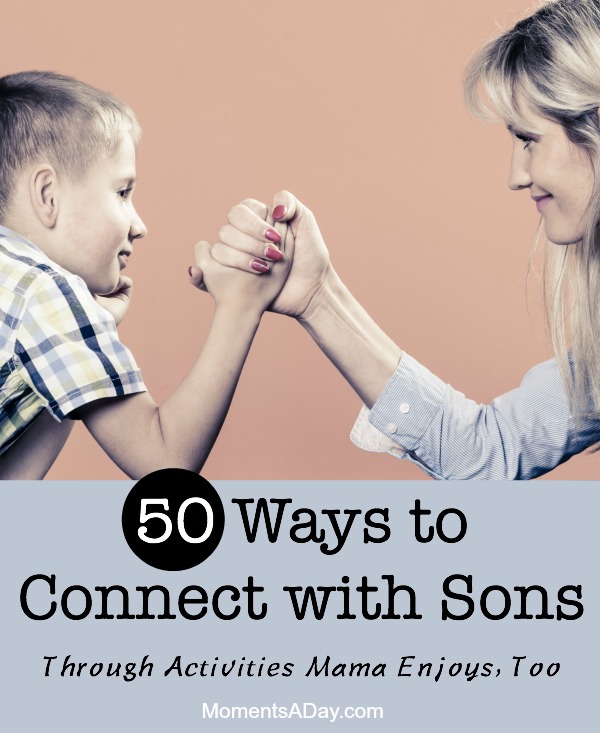 It's been a while since I wrote this post about ways to embrace being a mother of only boys.  In fact, I even have a daughter now.
However point #2 from that post about the importance of finding activities to do with my sons that we both enjoy is still very pertinent to my life.  Because throwing paper planes and having make-believe lightsaber fights are big in my house at the moment… but don't really interest me, to be honest.
I can actually sense my brain turning off and myself feeling quite disconnected after a morning, a day, a week, or a month full of conversations and activities that aren't very interesting to me.  (I do my best to engage with topics like "the most dangerous sea creatures" for as long as I can, I really do…)
I know it may seem trivial but some days it does feel really hard.  Especially when I am tired.  And I don't think it's going to get easier any time soon!
So I've decided to make a list of things I know my boys (currently ages 3 and 6) would enjoy doing that I also feel excited about.  I hope it will help get me out of the rut that I've been in lately, feeling like there are very few interests we have in common.  I know that isn't true at all, but we've just gotten into the pattern of doing the same things and discussing the same topics over and over… and those things/subjects aren't necessarily ones I personally like.  Hence the paper planes and lightsaber comment above.  (No offence to my darling sons for loving these things enough to do them all day, every day… but I can only take so much!)
Below is my list of 50 ways to connect with sons through activities I will enjoy, too.  I'm looking forward to checking them off one by one – starting tomorrow!
And just a note – I know many girls would enjoy these activities as well and that some boys may not enjoy all of them, either.  This is just a list of perhaps stereotypical "boy" activities… or at least activities I personally know my sons would enjoy. 
Play a board game.
Go on a neighbourhood walk and make a field journal of plants.
Make some slime monsters.
Jump rope.
Find a bug to examine in a glass jar with a magnifying glass.
Visit a new playground.
Make stove-top popcorn and eat it while reading favourite storybooks.
Create a Discovery Bottle with pebbles.
Do some arm wrestling.
Jump on a trampoline.
Create some little friends (or pets) using natural or recycled materials.
Take silly photographs of each other.
Build a fort outside with chairs, ropes, cushions and/or sheets.
Download some new audio stories.
Write a song together.
Make hot chocolate or go out to a cafe for some.
Explore a nearby river.
Play tic-tac-toe using chalk on the pavement.
Have a sensory nature scavenger hunt.
Go play mini golf (or set up a backyard version of the game).
Find a YouTube tutorial to make some origami.
Make some symmetrical sticker pictures.
Play cards ("Snap" and "Go Fish" are fun).
Turn on the radio and have a dance party.
Write a letter to a relative.
Make a Water Bottle Fountain.
Go to the cinema to see a new movie.
Make a "Get Well Soon" card for a friend who is sick.
Have a running race.
Do a still life painting.
Throw a frisbee.
Write a story and illustrate it.
Create some eggshell art.
Find a maze or crossword book to do together.
Print out an insect playdough mat to play with.
Cook an extra serving of dinner (soup is easy!) and deliver it to a friend in need.
Make a geoboard.
Wash the car (and have a water fight).
Put together an obstacle course.
Go to the pool.
Play "Hang Man" on the white board.
Make some wool twisties.
Collect rocks for a rock collection.
Make some mug cake.
Look through baby photos.
Do word searches (or use I Spy books, for non-readers).
Make a paper pinwheel.
Have a picnic and look for pictures in the clouds.
What other activities do you and your boys enjoy together?  I would love to read your ideas in the comments!
Here are some other posts I've written about raising sons:
10 Ways To Embrace Being A Mother Of Boys
5 Ways to Nurture Compassion in Boys