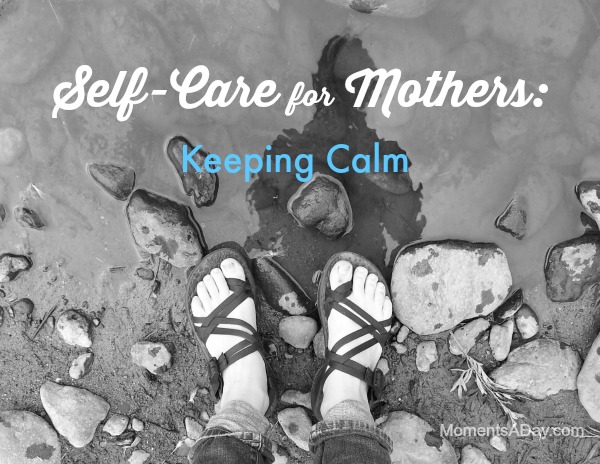 Emotional health is so important to general well-being.  Whether stress is coming from my home, my physical health, my responsibilities, or my routine, if I feel anxious and stressed it is hard to live life to the fullest.
But as hard as it is to experience the stress, I know that I am not the only one who suffers from its affects.  When I am not centred and in control of my emotions, those closest to me feel it as well.  I am not as present or as patient as I want to be – and I begin to lack the enthusiasm for life that is so important to connecting with others and making the most of the relationships around me.
Keeping calm and collected under pressure is a topic I have pondered and read about many times.  A week of congestion, a big (stinky) plumbing problem to deal with, and an upcoming event to plan may drive my stress levels through the roof whereas I know others are facing much more serious, even life threatening issues.  Many people suffer incredible challenges in life but they are still kind, amazing individuals… you may never even know the dramas or tests going on behind closed doors.
So is there a trick to dealing with stress?  Why do some people cave under pressure and others thrive despite it?
I definitely think that challenges help us grow as individuals, and reflecting on what we can learn from the situations in our lives can offer insight for longer term appreciation.  But that still doesn't mean it's easy.  No matter what specific circumstances I am facing – big or small – I have come to believe that it is the conscious effort I put into staying calm under pressure that allows me to work through my issues effectively and joyfully.
Basically it's not the stress that's the determining factor to my mood or well-being, but the way I deal with it.
I personally find that if I simply *think* about whatever I am anxious about, I tend to go in a spiral and never actually feel better.  So whenever I become conscious of this pattern taking place, I try to get up and *do* something to help ease my stress levels – so I can start fresh and make an effort to change my mindset.
I decided to ask followers on my Facebook page what strategies they use to keep calm under stress, and here are some of their great ideas.
Take deep breaths
Sing a favourite song
Have a short nap (even 10-15 minutes)
Enjoy soothing aromas such as lavender
Go on a nature walk
Do some some exercise
Have a hot shower
Give someone a hug
Look for an inspirational quote, prayer or meditation – you may enjoy this Pinterest board for parenting quotations linking to positive articles to read
Once snapped out of "stress mode," it can be nice to try some more thought provoking techniques such as:
Remind yourself that the situation is not an emergency (hopefully!), and that you will have time to address it
Make time for introspection – find out what is really causing the upset (it may seem like a million things, but is there one major issue creating the bulk of the anxiety?)
Do a brain dump – write everything out, so you can get everything out of your mind and eventually plan for change instead of simply feeling anxious about it all
Take one step at a time – just work through the activities of the day (i.e. cooking, bed time) as single objectives until you feel more under control and actually have the time and space to work through the problems at hand
The subject of keeping calm under stress has been very important to me these past few months as I was facing some new territory with my pregnancy, traveling internationally, and addressing other everyday challenges.  Replacing the negative thoughts with positive thoughts has been crucial for me during this period.
One resource that I am currently enjoying to help me maintain a positive perspective is the lovely Gratitude Journal – I am grateful for – Inspired gratitude journal
 – created by Elaheh Bos (affiliate link).  You can read an interview I had with this inspiring artist about her journals for kids in this post.  Taking a few minutes to reflect on what I have to be grateful for is a powerful exercise to keep my mind focused on the positives… even while addressing the stresses that inevitably come with this journey called life.
What strategies do you use to keep calm under stress?  Do you find that getting control over your stress levels helps you deal with actual stress-trigers more effectively, too?  
---
This post is part of the series Self-Care for Mothers in which I discuss caring for myself amidst the busy reality that is motherhood.  I believe in order to "be our best" as parents we have to take care of ourselves as individuals.  This series is dedicated to sharing insights that I am learning during my own journey and inviting readers to share their tips as well.  Check out the rest of the series by clicking here.
---