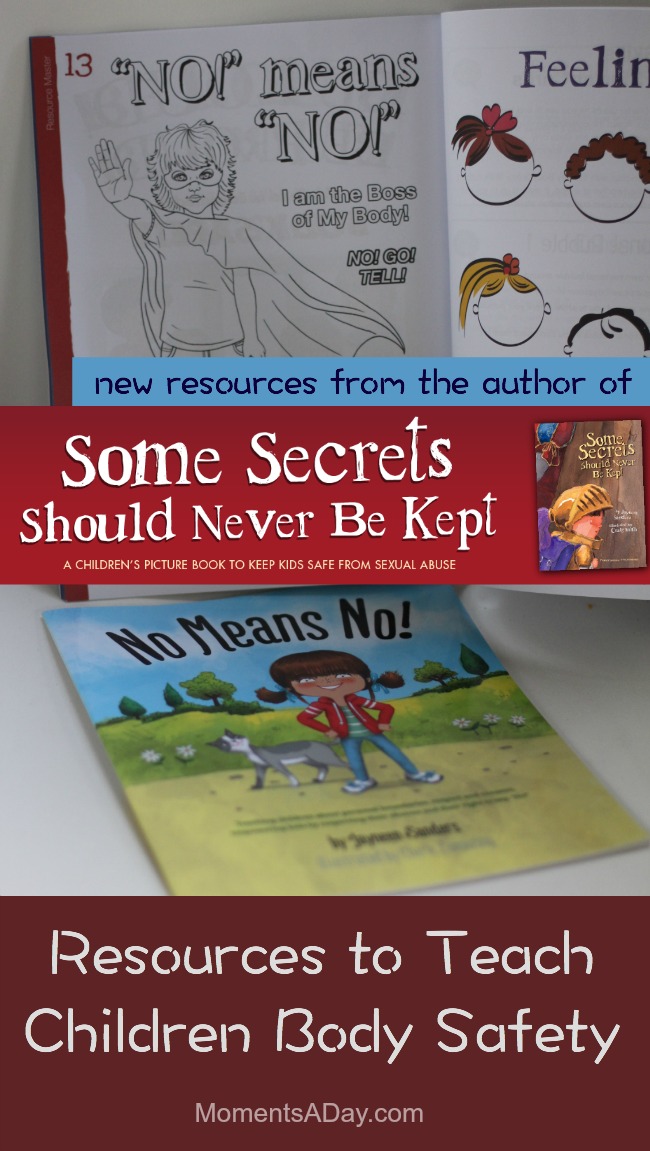 A few months ago I saw a link posted by a high school friend on Facebook saying that she couldn't believe she went to school with the girl in the article, which was about someone being charged for sexually assaulting kids while babysitting.  I nearly skimmed over the link thinking, "I could not have possibly known her."  But I decided to click just in case – and as the photo loaded, I could not believe my eyes.
The girl was a year younger than me but was in my wider social circle and I would have considered her a friend.  Even though I haven't seen her since high school, if she would have emailed me to say she was traveling through my city, I wouldn't have hesitated to invite her over to stay the night and spend time with my family.
The details of her case are not important but the reason I share it is because it reminded me, once again, that sexual assault is NOT uncommon and it is happening all around us… among people we know, love and care about.  But how do we protect our children?  How can we even begin to talk about this subject with them?
Last year I shared a children's book called Some Secrets Should Never Be Kept
 (Amazon affiliate link) which offers a gentle way to introduce the topic of talking about "secrets" in case your child is ever abused.  You can read more about the book (as well as my interview with the author) here.
I'm very glad to share that the same author, Jayneen Sanders, has now created two more resources to help teach our children body safety, and I am so thankful to have read them because they have helped me feel more confident addressing this issue with my family.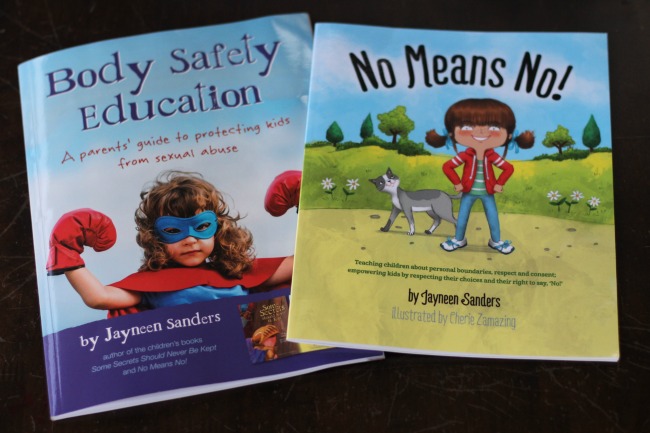 One is a book for kids called No Means No! which goes through very specific examples that happen in everyday life (i.e. if an older cousin wants to play "tickling games" or a relative wants to give you a kiss, but you don't want to) and empowers children to know that they can say "no."
I wasn't exactly sure how my kids would respond to it, but my four year old in particular really enjoyed reading it and requested it for night time reading for a couple weeks.  He was already going through some issues at school where girls were always wanting to hold his hand or kiss him and he didn't like it, so the book offered encouragement to him that it was okay to say no.  This, of course, is an important step towards standing up for himself later in life – whether related to body safety or not.  Although we had already spoken about saying "no" before, having the book with the illustrations were very engaging and motivating for him.  You can see some sample pages here.
The second resource is a manual for parents called Body Safety Education: A parents' guide to protecting kids from sexual abuse.  The educational material in the book is very easy to read (not too long or heavy, but still very informative and useful) and includes basic information about what body safety is and why it's important to teach kids, as well as lots of other topics including: normal sexual behaviour for kids, general signs of sexual abuse, disclosure and importance of believing the child, internet pornography and its effects (one of the most surprising sections in the book for me), about educating the community, common questions and concerns, statistics, recommended resources, and more.  I feel like it was the perfect amount information to help me feel educated and prepared, but not completely overwhelmed.
What is also awesome about this resource is that it includes worksheets, colouring pages and conversation starter cards to use with your kids to help raising the discussion with them and making sure they understand what they need to know about protecting themselves and being comfortable telling someone if anything happens.  You can see more sample pages and get more information here.
I know sexual abuse is not a pleasant subject to think about or talk about.  But luckily, people ARE talking about it… because it's a lot more common than we would like to admit.  It's definitely not just the Duggars.
I highly recommend all the resources by author Jayneen Sanders – check out her website and Facebook page as they offer very helpful information as well.
To find out more or order these books in Australia visit these links: No Means No! and Body Safety Education: A parents' guide to protecting kids from sexual abuse
To find out more or order via Amazon visit these links (affiliate): No Means No!
 and Body Safety Education: A parents' guide to protecting kids from sexual abuse
I was sent a copy of both books but was not obligated to write a review.  All opinions are my own.  To read more about reviews on my website, visit this page.