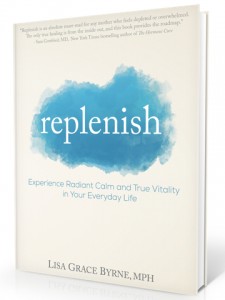 This week I am very excited to share a book hot off the press called Replenish, written by one of my favorite bloggers and teachers Lisa Grace Byrne.
Besides being a loyal reader of her blog, I have taken three of Lisa's courses over the past year and they have changed my life for the better, both as a mom and as a woman.  Through her website WellGrounded Life, Lisa supports mothers to live life to its fullest – body + mind – and offers so many awesome resources to do it.
Ever since I heard Lisa was writing a book I have been waiting for it to be launched so I could get a copy.  Replenish is a sanctuary for moms to recognize and come to terms with some of the amazingly complex challenges of motherhood (a few of which I mentioned in my recent post) and full of heart-warming and practical suggestions for how to work through them.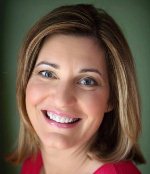 Lisa is a mother of three and holder of numerous health-related degrees, and one of my favorite things about her is that she works from the heart, she is real, and she does not expect anyone to be perfect (sorry, I could not just pick one).  She combines self-care on an emotional level to the physical level, in a way that is deeply empowering for life change.
I find myself coming back to her articles and course materials time and again when I have bumps in the road, and I am sure I will also be referring to Replenish many times over the next few years – as well as gifting it to other mothers of young children.
Quoted from Lisa's website, "Replenish explores the seven core essentials that get us out of the water and able to catch our breath again so we can live, love and mother with greater calm, clarity and vitality in the world."
I am honored to have Lisa share a bit more about her book here on Moments A Day. 

Q: Who is Replenish for?
A: This book is for the woman who feels overwhelmed and depleted and wants to begin to regain a sense of calm, clarity and vitality again in her life.  It's also for the mother who has very little time, focus or energy to give to herself, but knows that if she continues the pattern of self-neglect she will have less and less of the real "her" to offer her family in the future.
Q: What makes your book unique?
A: I think there's a couple of ways my book is unique. One it combines head and heart. I know in my life when I was most profoundly supported and helped along the journey of motherhood it was when someone not only gave me the tools and strategies I needed to lift myself up, but they did so from a very open, honest and authentic place of sharing their own experiences and heart with me, so I felt seen and cared for and not simply a "fix it" job. That's how I wrote this book, as another mother holding out her hand, her story, her honesty and pairing that with the very best tools I know of to help us live out our best and brightest lives.
Q: I am also so excited that you are offering a new course!  What will your new course "7 Days of Calm" teach?
A: "7 Days of Calm" gets to the heart of how to shift out of stress WHILE you are in in full blown stress. It's the emergency response skills we need to help us stay calm and in control when we already feel ourselves boiling over. I found that until I learned these first responder self care techniques I had a very hard time from spiraling out of control once stress got a foothold in my body and mind.  This class is designed to help catapult you into calm waters so from there you can build strong foundations of wellness from a calm and clear thinking place.
Head on over to this page to find out more about the book and the course!
 This post contains affiliate links.  All opinions are my own.  To read more about my policies for reviewing products, visit this page.

I can't wait for the first round of Lisa's new course to start (this weekend! so please don't wait) and I hope you will join me – see the details below.