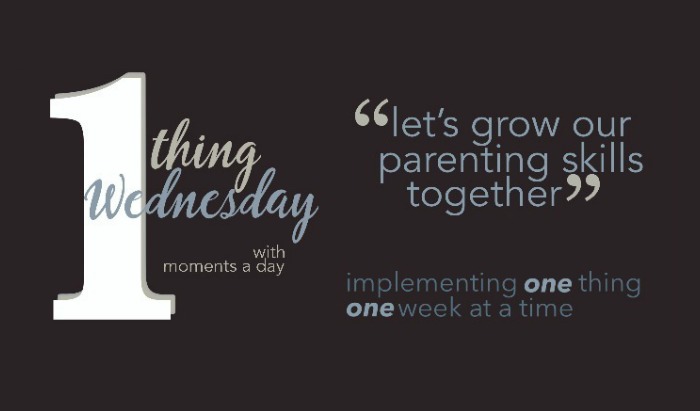 Don't yell…
Beware of praising too much…
Let them have their own space…
Always be there when they need you…
And above all – connect, connect, connect!
So much great advice… so difficult to implement it all!
Parenting at the outset seems so simple yet it is one of the most challenging and complicated jobs ever.  Kids go through so many stages, we as parents are busy with everyday jobs just to take care of the practical side of raising a family, and we are all still unpacking the habits and emotional associations we developed throughout our own childhoods as well.
Personally I find myself questioning my methods and assumptions related to parenting all the time.  I love to read articles and books about positive parenting techniques, but sometimes I get overwhelmed by how many ideas I would like to try (and commit to).  I feel the only way to truly implement any of them is to go slowly over time.
That is why I have created ONE THING WEDNESDAY.
ONE THING WEDNESDAY is a series on my Facebook page for which I share ONE way to improve on parenting skills each week.
I hope giving myself ONE simple challenge to inspire ONE actionable change will help me become a better parent and as a result grow as a person too.  Little changes add up, and trying ONE new strategy each week will allow me to focus on small yet steady steps towards becoming the parent I want to be.
The motto for the series is:
Let's grow our parenting skills together… implementing ONE thing, ONE week at a time.
Will you join me?
Get each new ONE THING WEDNESDAY challenge on my Facebook page Moments A Day at the same time on Wednesday each week – 8:30pm in Brisbane; 6:30am in New York.  Feel free to like the post, tag a friend, or comment with your own thoughts/experiences on the week's challenge.  The more you interact, the better our community of support will be.
I hope you will enjoy this exercise and that it will inspire new insights and strategies as the months go on.  If you would like more positive parenting inspiration in your life, sign up for my newsletter where I share resources, articles, activities and more to create a family life focused on growth and connection.
Your friend,
Chelsea
PS If you are new to my website, you may enjoy browsing these categories:
The ONE THING WEDNESDAY series has been going since August 2015 but has changed formats for the new year.  You can read about the previous style here.