Acts of Kindness by Real Families is a series of short interviews featuring stories about service to others.  Whether big or small, planned out or spontaneous, hearing about any act of kindness can inspire us to give more to those around us.  It's fun to find new ways to show kindness in our communities, and I hope you will be inspired to get your kids involved in serving others through these creative ideas.
This week I am honoured to have Carolyn from Small Acts Big Change sharing "We Care Kits" created for the homeless.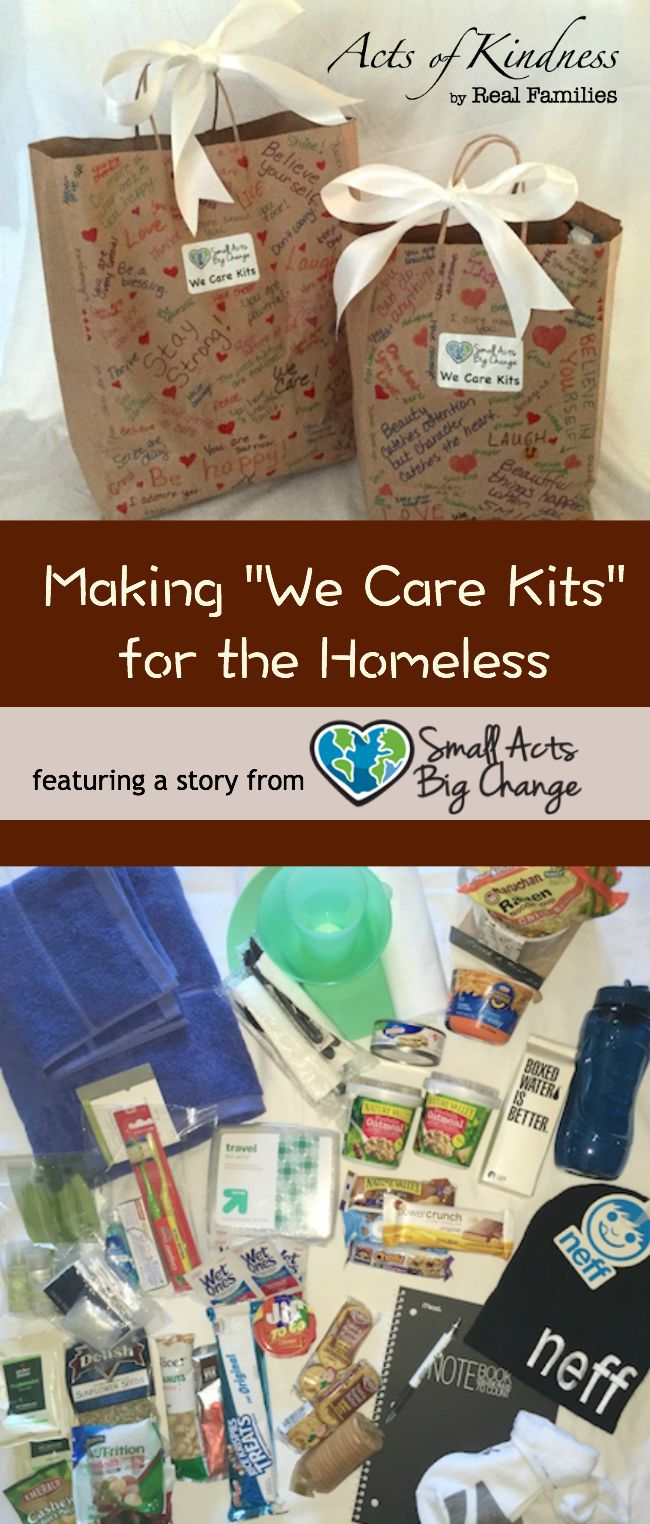 What happened: One day we were driving by a local park, and we noticed a homeless women with a cat living outside. We felt terrible about her situation and wanted to help. We drove to the store to buy her lunch and delivered it to her at the park. She was so grateful, and it turns out that her cat had a litter of six 5-day-old kittens that the woman was keeping in a cage. She had next-to-nothing, so we asked her how we could help. She requested food and a few necessities, which we purchased and delivered to her. Before we knew it, we were surrounded by many of the homeless all living in that same park who also needed food and necessities. And so "We Care Kits" were born.
"We Care Kits" are hand-decorated bags that are filled with necessities for people who are homeless. The kits are filled with items that a homeless person might need including toiletries, non-perishable food, water, and practical items. As an added touch, our volunteers include a personal note or a colored drawing of encouragement in every bag.  Over a quarter of a million people are homeless in Los Angeles during some part of the year, and creating "We Care Kits" gives children and their families a chance to help.
How the experience affected your family: Participating in community service activities has affected our family in many positive ways.  As a family, we are hyper-aware of people around us now and are always on the look-out for ways to help others.  Giving back has become a mind-set and thus a way of life for everyone in our family.  The kids are more confident and self-assured, and they bring their friends in to our projects so that they can help as well.
The "We Care Kits" program has grown in just six months from bags for homeless people to include bags that we now make for seniors at nursing homes, pets of homeless people, and ill children. Our wonderful volunteers help us gather items, decorate the bags, and make cards of encouragement. And our program is still expanding.
Message to others: We hope our campaigns teach children through their participation that even the smallest acts of kindness can make an immeasurable difference in the world around them. Small acts of service and kindness really do add up to make a big difference.
About the organisation
In January of 2012, two young girls named Lauren and Gracie formed a small nonprofit called Small Acts Big Change to help kids change the world through small acts of kindness and service. Small Acts Big Change organises a variety of hands-on volunteer activities for children and their families that benefit people, animals and the environment.  If you would like to get involved please contact smallactsbigchange@yahoo.com for more information. You can also check out the website and follow on Facebook or Pinterest.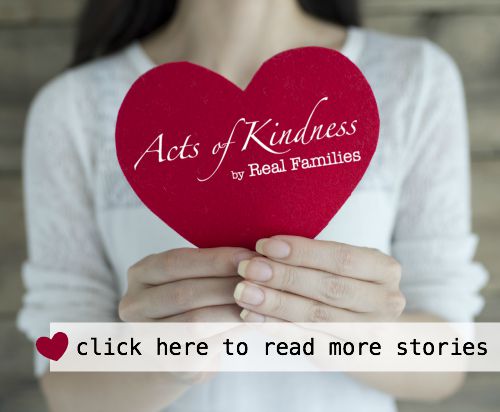 If you are interested in contributing to the Acts of Service by Real Families series here at Moments A Day, please send an email describing your story to chelsea@momentsaday.com and I will be in touch soon. ~Chelsea