Over the past few years, I've read a lot of great parenting advice.  But it's not always easy to put it all into practice!  These are some of my favourite phrases to use on an everyday basis that promote some of the parenting techniques I aim to embody.  They are little summaries of important messages I want my kids to learn, and reminders to myself about the kind of parent (and person) I want to be as well.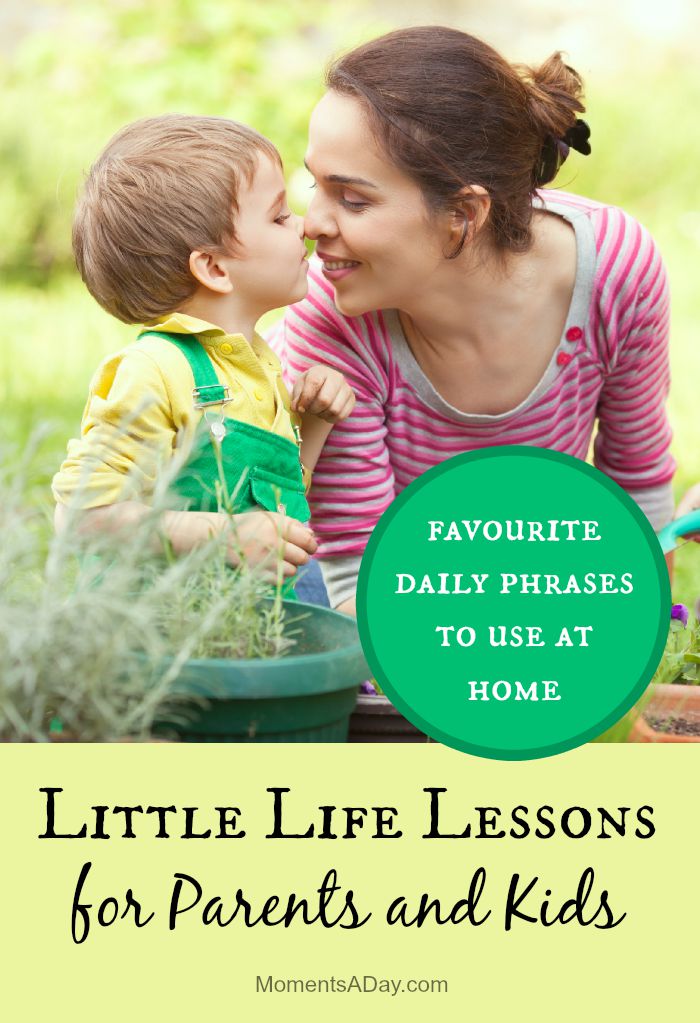 Little Life Lessons for Kids and Adults
Your mood should not dictate your manners.
Teaching my kids to rise about their circumstances and be resilient.  Reminding me not to let whatever is going on in my life affect my attitude towards others.
Even if we are hungry, tired, worried, annoyed, or just plain fed up, it is no excuse for a bad attitude.  How many times do we "blame" bad behaviour on being hungry or tired?  Yes, many of us get grumpy if we haven't eaten or didn't sleep well – but we can work to train ourselves to recognise this pattern as it's starting and try to stop the negativity from flowing (and do our best to eat something and sleep more whenever possible, of course!).  Every time I say this phrase, I am reminding myself to put the guidance into practice as well… it's so much easier said than done!
Boredom is a state of mind.
Teaching kids that they don't need to be entertained all the time and that they can create their own adventure with whatever they have.  Reminding myself that I don't have to be doing something (or using screens) to be having a good time or engaging in a productive day – sometimes "nothing" is important to do, too.
Giving kids free time so that they have plenty of opportunities to get creative is a popular idea these days, but what do you say to kids when they say they are bored? We tell the kids that boredom is a state of mind.  You can always find something to do – even if it's just looking around or thinking on your own.  It's an important practice to exemplify as well.  If it's a screen-free day and my son is not allowed to use the iPad then I need to put my computer away, too.  It's good for everyone to have screen-free time when nothing is scheduled – both kids and adults.
We all make mistakes, it's how we learn.
Teaching kids that everyone is on the journey of life and mistakes are just a part of it.  Reminding myself not to give in to guilt or feel like I failed just because I made a mistake.
It's not easy knowing you did something that hurt someone else, especially when you didn't really mean to.  I try to remind the kids whenever possible that every person makes mistakes, and I also like to tell them examples of when I learned similar lessons as a child so they know it's all a process.  I don't expect them to be perfect just as I would never claim to be perfect either.  Any time I say this phrase, I remind myself to be forgiving of my own mistakes as well.
Are you filling or dipping a bucket?
Teaching kids that our behaviour influences our relationships as well as how we feel about ourselves.  Reminding myself to connect versus correct my children – to support them in making good choices instead of trying to control their behaviour… it's better for them and better for me.
Both my husband and I are big fans of the Bucket Filler Resources that give kids a concrete way to visualise kindness and teaches them that hurting someone else also hurts yourself (see my past reviews plus activity ideas here) .  We've done a lot of talking and activities around this concept so it's only natural for us to refer to the example of bucket filling quite often with the kids.  Instead of telling them, "That hurt his feelings" we can ask them to reflect on their own action by asking them if they filled or dipped a bucket.  It's a good reminder that our choices influence not only our relationships but our own feelings of self-confidence and happiness as well.  Saying this phrase also reminds me to fill my kids buckets by being patient and loving, even when my immediate might be to dip a bucket by shouting or being short with them.
Do you use any of these phrases at home?  Are there other little life lessons you hope your kids will learn?
You might also enjoy…
25 Everyday Ways To Teach Kids Resilience (Printable List)