I used to be a bit embarrassed about my medicine cabinet and cleaning closet…
They were overflowing with random products I had bought on sale or because they were recommended by a friend.  Many of the items I used only a few times and each time I looked at them, I saw wasted money.
When we decided to simplify our home all those months ago, I took a good look at these areas and decided it was time to get them under control.
The Difference Between Wanting and Doing
I had always been one of those people who really wanted to make my own cleaning supplies.  But when it came down to it, I made excuses.  I told myself it was probably more complicated than people really admitted and besides, those aisles in the grocery store were just too tempting for my shop-a-holic nature! #keepingitreal
When I started to declutter and saw how many bottles I was throwing out and how many half-used products I was never realistically going to use up, I decided it was time to actually take action and make my own products.
Similar to the way I created shopping criteria for myself when we were moving towards a more simple lifestyle, I decided to identify the reasons for creating this new habit, which helped me find the motivation to act.  Here they are:
#1: I want to use natural products.
I don't know about you but there are a ton of things I have on my "to do" list for bettering our home, and I am constantly playing catch up.  It isn't easy to change habits but I'm finding, one by one, we are learning and enjoying the process.  It isn't always easy though which is why I like to pass on our best tips!
#2: I want to cut down on buying more bottles (less to throw away/recycle).
My husband always reminds me that "refuse" is the first "R" before "reduce, reuse, recycle."  If we can cut down on products we bring into our home by making some things ourselves, that is the best option if we want to be kind to the environment.
#3: I want cleaning supplies to be safe for my kids to use.
I hate to estimate how many dozens of times one of my toddlers asked me to use the spray bottle when I was cleaning and I had to gear myself up for a tantrum because I was afraid of the chemicals touching their skin.  Essential oils are dangerous to consume (and you wouldn't want them in your eyes either) but smelling them in the air or getting a bit on your fingers is not a risk so this is a big "plus" in my books.  When my baby girl becomes old enough to help with the cleaning, I will feel safe about letting her help.  My big boys can also help me make our products too which is a great learning experience for them.
Learning About Essential Oils
I had seen lists floating around social media about the benefits and versatility of essential oils so decided that was a good place to start.  I actually had a few bottles in my cabinet for a couple purposes (covering up the smell in our reusable nappy pail and for adding a few drops in our mop bucket) but when I googled "what to do with essential oils" I was surprised at how many things I could already make with ingredients I had at home!
During my information gathering process, I learned that essential oils have many therapeutic capabilities as well as household uses.  The oils I use, Thursday Plantation essential oils, are 100% pure, 100% natural and there are over 100 uses easily outlined on their website which makes it super handy to try new things.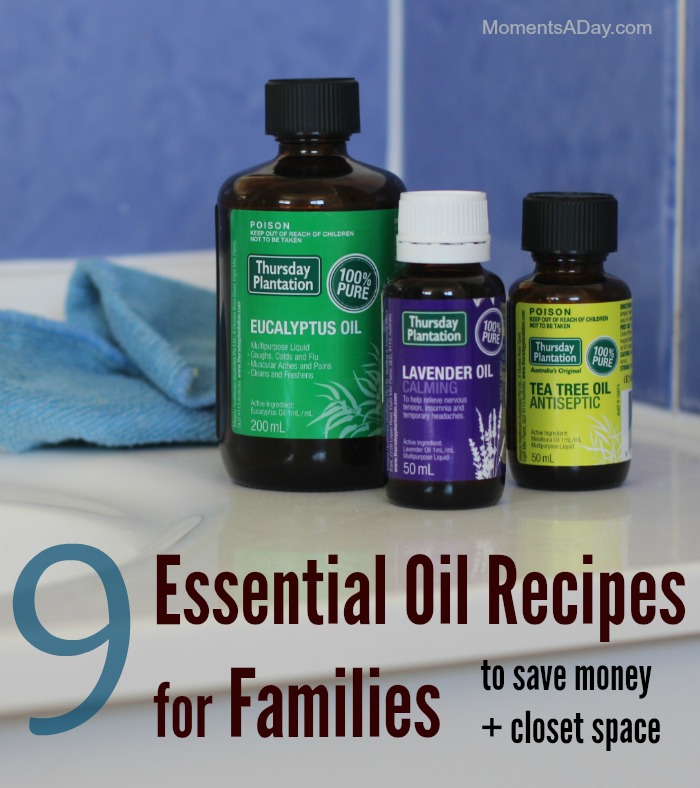 Now that I have started using essential oils, I regret all those years (and dollars) wasted on store-bought cleaning supplies.  It really is so easy, so affordable, and so effective to use essential oils and make your own supplies.
Below are 9 easy ways to use essential oils to reduce clutter in your medicine cabinet, cleaning cabinet, and laundry supplies; and what is best of all is that you can get rid of some of the nasty chemicals that used to be there.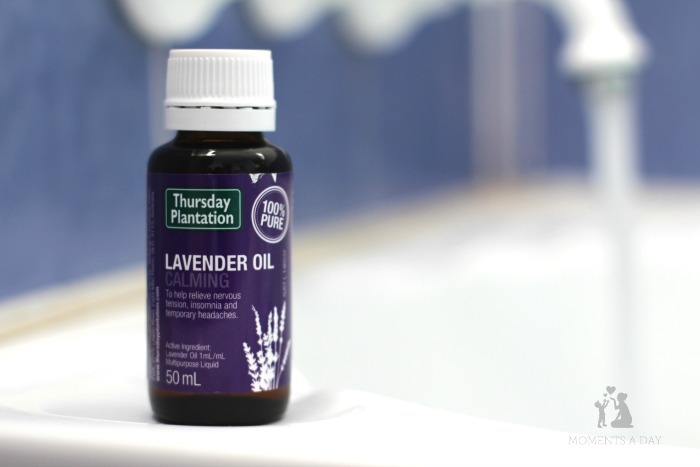 Lavender Essential Oil
Traditionally used in aromatherapy to relieve nervous tension and sleeplessness, lavender oil can help calm, soothe and relax the body and mind.
Bath time: Add a few drops of lavender essential oil to a warm bath to relax.
Massage oil: Mix a few drops of lavender essential oil with a tablespoon of coconut oil to create a gorgeous massage oil; this is great to use before bedtime or when a child is not feeling well.
Cue for bedtime: Dab a drop onto your pillow or onto a washcloth to place beside your bed.  The smell helps the body relax and can be a great sensory stimulation for kids to calm down and get ready to sleep.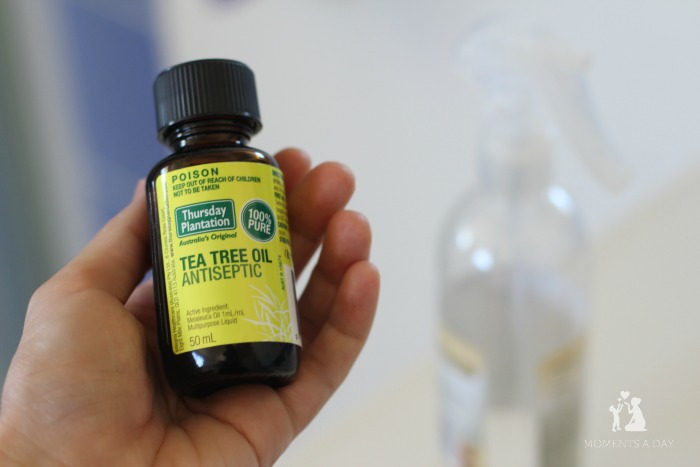 Tea Tree Essential Oil
Tea tree oil is a powerful antiseptic which inhibits a wide range of bacteria and fungi, plus it cleanses and protects skin abrasions.  You can learn more about the properties on this page.
Minor cut treatment: Apply sparingly to minor abrasions or insect bites.
Air freshener: Add 1 tablespoon rubbing alcohol, 5 tablespoons water and about 5 drops of tea tree oil into a sprayer to create your own air freshener (the alcohol helps the solution mix together well but isn't totally necessary if you don't have any around; cheap alcohol supposedly works fine too).
Mopping: Add a few drops into your bucket of hot water, with a bit of vinegar if you want to as well.  Mop away and enjoy the lovely scent in your home!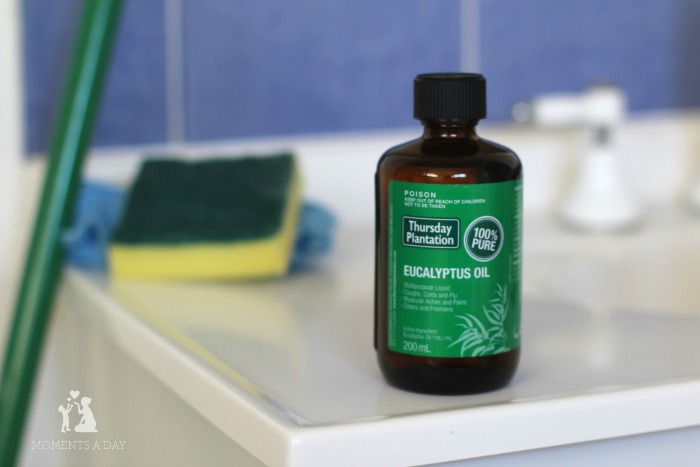 Eucalyptus Essential Oil
Eucalyptus oil can be used for tons of personal and household uses.  You can read more about its qualities on this page.
All-purpose cleaner:  Pour half a cup of vinegar and about a capful of eucalyptus oil into your spray bottle then fill it with water.  Shake to mix and then spray in the kitchen or bathroom as an all-purpose cleaner.
Stain remover: Use a eucalyptus oil spray to remove stains on your clothes.  Just mix a capful of the essential oil into a small spray bottle filled with water.
Laundry freshener: Eucalyptus has mold reducing properties.  Just add a few drops into the laundry machine and it will help keep your clothes fresh!
Share Your Ideas!
Using nature's oils makes me happier, my kids happier, and my wallet happier too.  It means I can get the kids involved in cleaning more too because I'm not worried about them being exposed to harmful substances.  I have been using get the kids involved in cleaning more too because I'm not worried about them being exposed to harmful substances.
Have you used essential oils before and, if so, what is your favourite use for them?
Giveaway!
Answer the question above before 5pm on Thursday 12 May 2016 to enter the giveaway!  The winner will be chosen based on the most creative response.  Australian residents only, please.  See full terms and conditions here.
The prize is as follows:
1 x Thursday Plantation prize pack including – 1x Oil cleanser 125ml (RRP $17.95), 1x Brightening oil 60ml (RRP $19.95), 1x Rosehip oil restorative 25ml (RRP $16.55), 1x Clarifying oil 60ml ($19.95), 1x Jojoba oil 60ml (RRP $19.95), 1x Face moisturiser 70g (RRP $19.95), 1x Nurture oil 60ml (RRP $13.50), 1x Macadamia oil 125ml (RRP $17.50), 1x Almond oil 125ml (RRP $14.95) and 1x Firming oil 125ml (RRP $19.95) – Total RRP $180.20 AUD
This is a sponsored post.  All opinions are my own.  To read more about sponsorship on my website, visit this page.
You may also enjoy…