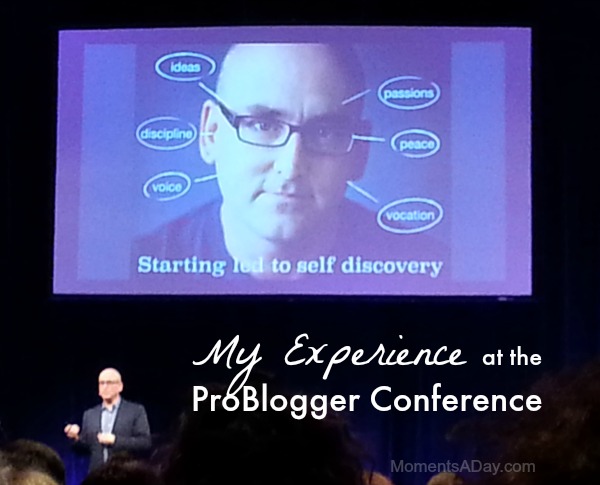 Last Thursday I frantically finished packing my bags and getting the house ready for my husband to be at home alone with the boys for a few days.  When my friend Jo from Down To Earth Mother showed up at my door at 3:30pm, all the stress disappeared into pure excitement.  After looking forward to it for over 6 months, we were finally off to the ProBlogger Conference.

The sessions were inspiring, the venue was gorgeous, and the organisation of the conference was incredibly impressive.  Seriously, the ProBlogger team knows how to put on an AWESOME event.  Even the smallest details were taken care of – such as giving us a notebook to take notes in, a handy schedule printed on our name badges, morning tea – afternoon tea – and lunches at the perfect times (even for my huge pregnant appetite!), plus plenty of team members to ask questions and chat to.

Besides the new inspiration and tips I received, I also enjoyed having a few days to just listen, reflect, and take it easy.  It's been a while (probably my last blogging conference) since I had someone taking care of my meals for TWO FULL DAYS.  And the food was…. amazing.  I definitely recommend the Bazaar restaurant at QT!

But probably the most memorable part about my experience was the friendships.  I had a blast sharing a room with Debs from Learn With Play at Home and Ness from One Perfect Day (both pictured with me on the left).  I cannot even list all the beautiful online blogging buddies I was lucky enough to catch up with… plus all the new friendships I formed.  I love you guys!
Thanks to all who made my experience such a beautiful one, including my husband for taking a few days off work, our friend Riaz for watching the boys for a couple hours that first day, my carpooling buddies, my roomies, all the attendees, and the gorgeous ProBlogger Team.
I had a blast and really hope I can make it again – if not next year (with a 8 month old), maybe in 2016.  It was a great opportunity to reflect on and plan out my blog's goals and direction, and a wonderful way to network with other bloggers.  If you plan to go, please let me know so we can meet up!
Chelsea