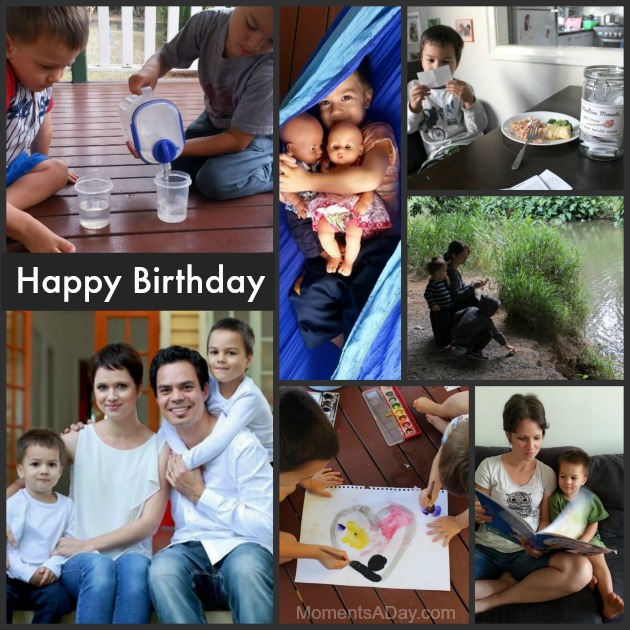 Today marks the one year anniversary of this blog, and it also happens to be my birthday.
I started this blog as a challenge to myself to spend a few moments a day during an entire year engaging in a meaningful activity with my family, specifically to develop qualities of the heart.  I shared a bit about how we've done that – including links to 365 activities – in this post.  I chose to launch the blog on my birthday so I would be able to celebrate two milestones at once.  I have been looking forward to this day for quite a while and am so excited it is here!
From this challenge and from general life during this last year, I have learned so much more than I anticipated or have been able to share.  There just isn't enough time to write about it…
Being a mother to my children, a wife to my husband, a friend, a sister, and a daughter has been such a blessing – and I am humbled to have had so many wonderful people in my life, helping me learn many lessons along the way.
This blog has also allowed me to go on a journey that I could not have otherwise imagined for myself, and for that I am truly grateful.
Thank you, thank you for being a part of it — for visiting, for reading, for commenting, and for sharing.  Without you, there would be no community which makes this blog so special to me… your visits and your support make it possible for me to keep writing here. Believe me when I say: Thank you!
To celebrate this special day I wanted to do a service project to kick start my 30's.  However instead of a public project, I have chosen some specific acts of kindness to complete anonymously.  I thought about sharing them on the blog but I have decided to keep the stories private so I do not compromise anyone's privacy – and so I feel I can do what I want to do, without worrying about how to share it.
I would however like to offer a small gift to my readers:
Coupon
I have created a 30% discount for anyone who purchases any (or all) of my ebooks within the next two weeks.  Simply use the coupon code BIRTHDAY30 while checking out before 5 June 2014.
If you are unfamiliar with how to use a coupon for my ebooks, just visit this page and select which ebooks you would like to "add to cart."  Then enter the coupon code in the checkout area (scroll down the page to find it), and check out via PayPal or by using a credit card.  The discount should be automatically applied, and it will tell you how much has been discounted right above the checkout button.  Once you make your purchase, you will be sent an email with the download link(s) within an hour.
Giveaway (ending 1 June 2014)
I'm giving away 10 copies of the three ebooks I have for sale (each winner will receive all three books):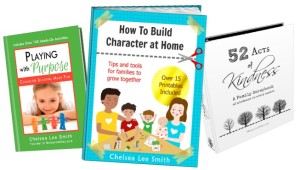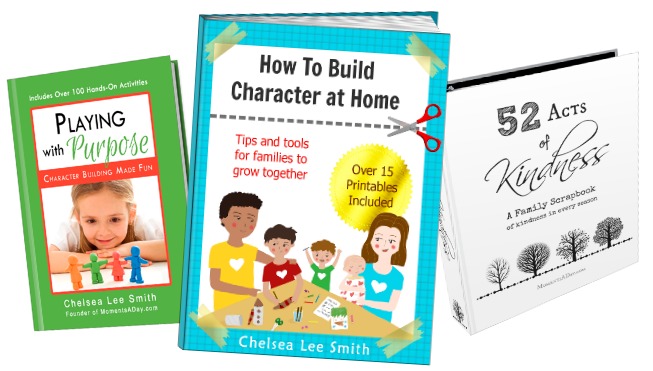 How to Build Character at Home
Playing with Purpose: Character Building Made Fun
52 Acts of Kindness: A Family Scrapbook of Kindness in Every Season
To enter the competition, please share a comment below about your favourite resource/article here at Moments A Day and why.  Feedback helps me determine what is most useful to my readers and also helps me decide what sort of articles to write in the future, so I will appreciate your comments very much!
You are welcome to tell me about an activity you tried with your children, or about how reading an article has influenced you to consider a new perspective.  I would love to hear stories or specific examples of how implementing character education at home (as shared on my blog) has affected your life, in any way.  Again – this feedback is very valuable to me, so I greatly appreciate the time you spend sharing some thoughts or experiences.  Thank you.
Conditions of Entry
The deadline for entry is 1 June 2014.
The most moving, creative and/or inspiring answers will win, and will be chosen by a person unassociated with this blog.
This competition is open to residents of all countries.  Please leave a valid email address when you comment so you can be contacted.
The ebooks will be transmitted via email in early June.
Thank you again for being here.  I appreciate your presence and your feedback more than you know.  I hope you enjoy what I have in store for the next year.  
From the bottom of my heart,
Chelsea