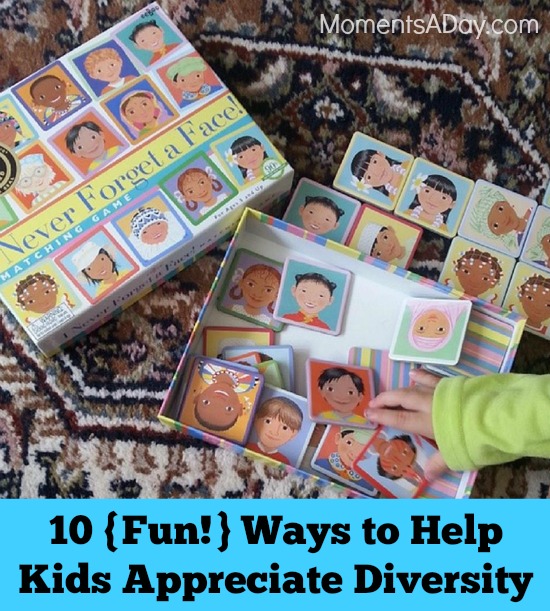 One quality I hope to encourage my children to develop is a deep appreciation for others, regardless of sex, age, religious or cultural background.  Being a multicultural family our kids have seen that it is fun to learn about new countries and cultures through traveling to see family members and enjoying the various customs of relatives that we have brought into our own home.  I believe exposure to differences allows them to see that there is no one "right" way but that every person has their own special background.  However there is so much more to explore in the world that I want to be intentional about exposing them to the concept of diversity on a regular basis.  Here are 10 activities we have enjoyed.
First up, I would love to recommend the Never Forget A Face matching game from Eeboo (here is my Amazon affiliate link).  The sturdy cards feature faces of children from around the world on durable square pieces, and there are so many fun ways to play with them!  When my children were very small, we would simply take out the cards and discuss the faces, the colors, the clothes.  At age 2.5-3 I would take out several sets (face up) and the boys would match pieces.  It was interesting to see what similarities they found, not necessarily the exact same cards – which prompted discussion about the features.  Eventually we would turn them over and play memory (with about five pairs), Go Fish, or other games they created.
Here are 9 more fun ways to help kids appreciate diversity:
For the littlest children, simply making sure they have the opportunity to see people in play who look different is a great place to start.  These printable playdough mats offer a fun hands-on activity to add some diversity to their playthings – from Picklebums.
You can also use playdough to explore colors and smells, explaining how differences make life more beautiful – Bon Bon Break.
Crack open eggs to show how everyone is the same on the inside – Kids Activities Blog.
Create some beautiful decor by printing out these Flags of the World, to show we can love every country not just our own – from Mr Printables.
Dedicate a month where many of your child's friends are traveling to learn about the world using this awesome round up of ideas – from Modern Parents Messy Kids.
Make a box for each continent to fill with little bits of your learning – from Discovery Moments.
Listen to and learn to appreciate music and dance from around the world – from Babble.
Read books to get to know the lives of children abroad, and develop an interest for learning about other cultures.  Here is a collection of 27 books compiled by No Time for Flashcards.
Explore the Multicultural Meal Plan Mondays to find new recipes from around the globe which can introduce food from other countries – a growing recipe resource put together by a talented group of bloggers contributing to Multicultural Kid Blogs.  Check out international fairs and events in your local community as well!
Bonus activities from my archives:
Activity to Teach Children about Physical Differences (making paper lamps)
DIY Multicultural Banner (paper, magazines + string)
Teaching Children to Appreciate Diversity (colored paper craft)
How have you encouraged your children to appreciate differences?
This post contains affiliate links.  To read more about advertising on this website, visit this page.