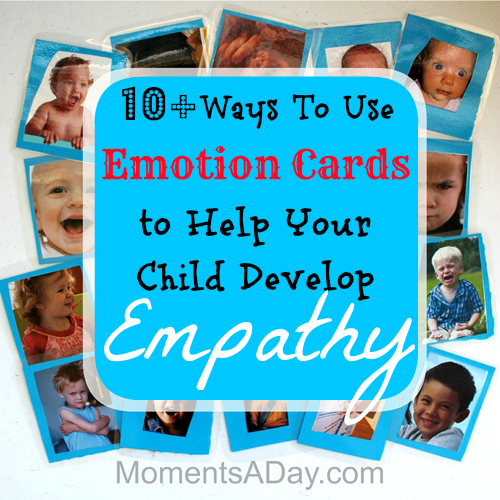 I am very excited to kick off the five-part series: "How To Cultivate Empathy In Your Child's Heart."  Five bloggers have teamed together to post activities and ideas to help teach children about empathy.  The other four blogs participating in this series are listed at the end of this article – you are warmly invited to follow along for activities, crafts, service projects, artistic explorations, and role plays all to help your children develop empathy!
Definition of "empathy": the ability to identify with and understand somebody else's feelings or difficulties
Today I will be sharing simple exercises you can do with a set of Emotion Cards to help children identify feelings and begin to consider the feelings of others.  I have split the activities up into three age groups but, of course, depending on the personality and maturity of your child the ideas may overlap.
Emotion Cards are a set of cards that show many different emotions.  They can be made at home in many ways, for example using:
Clip art
Photographs of your child or of several family members (posed for the purpose of making the cards or taken at random)
Pictures drawn by hand
Pictures from old magazines, newspapers, or even junk mail
Some emotions/feelings you may like to include are: happy, sad, frustrated, scared, angry, excited, surprised, worried, embarrassed
To make our set of Emotion Cards I cut out pictures of children from free baby magazines I have received in the mail over the past few years (I have a pile stashed away in our craft supplies).  Then I mounted the pictures on blue card paper and laminated them, since I made them when my first son was a toddler and I wanted them to last through years of use.  Using a glue stick to paste the pictures onto squares of cardboard (like old cereal boxes) is another easy way to increase durability if you do not have or prefer not to use a laminator.
You can also just use the pictures by themselves without mounting or laminating if you want to have a quick one-time activity, or if you will be using the cards with older children who know how to handle the pictures carefully. 
Now on to the activities…
We have used our set of Emotion Cards many times over the past few years.  When my children were between the ages of two and three, I would simply encourage them to practice naming the emotions.  This can be done in several fun and engaging ways.
Activities for 2-3 Year Olds
Hold the stack of cards face down and flip them over one at a time to name each emotion
Put the cards face down on the floor or table in rows (like you are going to play a traditional matching game) and ask your child to flip them over one by one as they name the emotions
Place a selection of cards on the table face up (you may like to experiment with 3 at first, and eventually display up to 10 at a time) – name one of the emotions showing and ask your child to identify which card you have described
Show your child a card at random and ask them to copy the face pictured, then name the emotion together
Talking about feelings and understanding how to name them is an important step towards developing empathy.
Now that my older son is 4, we can go a step beyond naming emotions to think about what the people are really going through in the pictures and consider how they can respond.  Here are some ideas.
Activities for 4+ Years
Choose a card at random from a stack (as if you are playing "Go Fish") and try to guess what situation the person was in to cause the particular emotion they are showing
Hold the cards fanned out in your hand, and ask your child to pick them one by one until they find the emotion that they are feeling right now – this will help them briefly consider what the other people pictured are going through, and compare it to their own feelings
Choose a card (in one of the creative ways described in the list above) and talk about a time your child felt that way; what happened and what it was like
Choose a card, name the emotion, and discuss what you could do if someone around you was feeling this way
Set out several stuffed animals and dolls and put an emotion card on each one; then speak to the figures as if they were feeling those emotions – this will help your child practice how they can respond to people in different emotional situations
When children can identify their own feelings and the feelings of others, and begin to understand what the feelings are like to experience outside their own immediate reality, they can relate to others at a deeper level.
For children who are ready to take it to the next level, here are some more exercises to try.
Activities for Older Children
Pair up and have each partner pick a card they will "act out," then have a conversation taking on the various emotions – see if you can make each other feel better or share each others' excitement, etc
Ask your child to select a card and tell a story about a time they saw someone else exhibiting the emotion displayed, how they felt, what they did (or what they could have done)
Ask your child to pick a card and draw the emotion they see on the card, or the situation the person was in to cause this emotion – this will help them think about someone else going through the emotion more in depth
Empathy is a crucial character trait to develop, in order to have healthy relationships.  Giving our children plenty of practice identifying and discussing feelings is a great way to start off.
I hope one of these activities might work to help you spark a discussion on empathy with your child(ren)!  We have enjoyed playing with our Emotion Cards many times – I keep them in my puzzle/activity storage area and bring them out every couple of months to repeat games we have played before and try new activities.  It is interesting to see how the conversations develop as my children grow in maturity and understanding.
Feel free to let me know if you have used or plan to make some Emotion Cards in the comments.  You are also welcome to share some other activities/ideas/resources you have used in the past to help your child develop empathy.
If you are looking for more activities for children to learn about feelings, you may like to check out this extensive list of ideas from Play Dr Mom.
 This post is part of: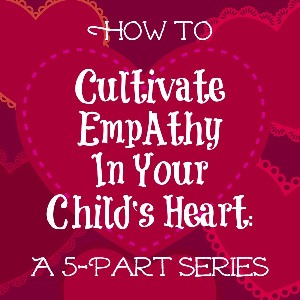 Be sure to visit the other four posts in this series from some of my favorite bloggers (coming over the next few days!):
Day 1 "10+ Ways To Use Emotion Cards To Help Your Child Develop Empathy" at Moments A Day (you are here now)
Day 2 "Toilet Roll Empathy Dolls With Free Printable" at The Craft Train
Day 3 "Foster Empathy In Your Kids Through Service" at Pennies of Time
Day 4 "Exploring Empathy Through Art" at Artchoo!
Day 5 "Teaching Empathy Through Role Play" at The House of Hendrix
If you liked this post and series, please share it!