Teaching anyone to think of others before themselves is, I believe, a life-long endeavor.  For me right now, it might mean not buying that extra shirt or a cup of coffee and instead saving the money to help someone in need.  For my kids, it might mean sharing toys, happily taking turns at the playground, or considering a sibling's feelings when they fall down.  I like to describe thinking of others and finding a way to help them as "kindness."
Of course there are a million acts of kindness we can do daily… and none have to be complicated or expensive.  We can simply smile at others, take a meal to a family in distress, or send a message of appreciation to someone who has touched our lives in some way.  At the end of this post I have listed some great articles to refer to if you are looking for more ideas.
Although I try to incorporate acts of kindness into our regular routine (like picking up rubbish around the neighborhood, baking muffins for friends, and donating old toys), once in a while I like to prepare a slightly special opportunity for my children to do some *random* acts of kindness that they would have a lot of fun with and that would also be more memorable.
On this particular day, instead of splurging on a lunch out at the mall, we purchased some cute little rubber figurines to give to strangers.  I knew these adorable smiley face bendy toys would be so much fun for kids (and they appeared to be quite durable, too!), so here's what we did with them…
Preparing For The Project
I asked the boys if they would like to give these toys to other children, and at first they were disappointed because they wanted to keep them.  This wasn't surprising – I knew if my mom bought a whole lot of great shirts which I thought were for me, then said she wanted to give them away, I might at first be a bit disappointed, too.  So we counted them and talked about how many there were, and my oldest suggested we could keep one and give the others away to make others happy.  We agreed this was a good idea and then they started to get excited about the prospect of giving them away, asking me who they could give them to and how.
So we printed out slips of paper that said: "You have been chosen to receive a Random Act of Kindness!  We hope this brightens your day :-)" with a link to this website.  I felt funny just giving something to children we did not know without a contact to fall back on… just in case the parents wondered if the toys were safe (immediately the thought of poisoning comes to mind… I don't know, I would wonder about the motives if a random person came up and gave something to my child… sad but true… so wanted to dissolve any suspicions).
We cut the slips of paper, punched a hole, tied them to the little doll, and then headed out to the local mall.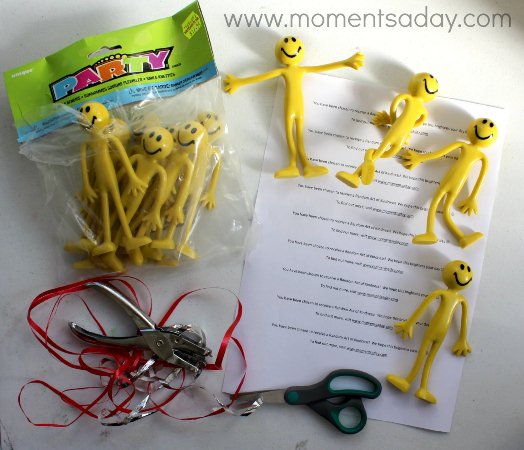 The boys were very excited to be on their way to deliver the toys… and I admit I was a bit nervous.  What would the parents think as we gave their child a toy?  Would they be offended, or not like the gift?  But I took some deep breaths and realized if we are doing something out of love, we can only give with open hearts and accept whatever is to come.
Engaging With Others
We walked along the halls and in several stores of the mall with a baggie of figures in hand, and my oldest quickly pointed out kids he wanted to give them to as we would see families down the aisles.
Once he asked me and I gave the okay, he would run to the family, hand the figure to the child, and run back to me.  I would then smile at the mom (if she looked back, which she often did) and then we would be on our way.  Sometimes the child asked what the toy was or tried to hand it back, and in that case my son or I would give a simple, "This is for you, as an act of kindness."  We didn't have any in depth conversations with these strangers – some would smile and others would seem a tad embarrassed.  But all in all, it went well 🙂
Reflecting On Our Experience
My four-year-old had a great time handing the toys out (my two-year-old was a bit oblivious of what was happening) and we had a lovely conversation that night about how we can be generous and find ways to make others happy.  Next time we may try some homemade cards with inspirational quotes, or balloons…
I think giving children hands-on ways to serve others and show special acts of kindness will go a long way in teaching them to think of others and derive joy from generosity.  I'm going to be on the lookout for many more opportunities to offer an act of kindness – there are so many fun things to try!
Inspired to offer an act of kindness?
Here is a post I put together with 52 acts of kindness: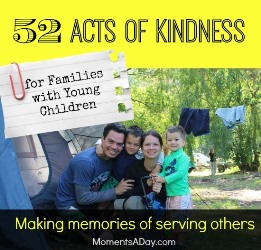 You may also enjoy my family scapbook ebook for recording acts of kindness: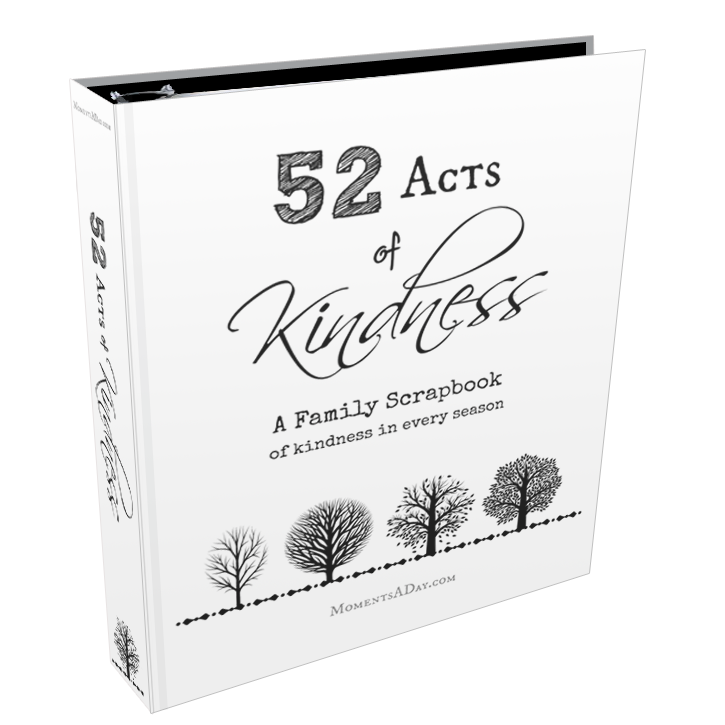 For more ideas about what you can do as acts of kindness with kids, check out these links:
If you liked this idea, I would love you to share it!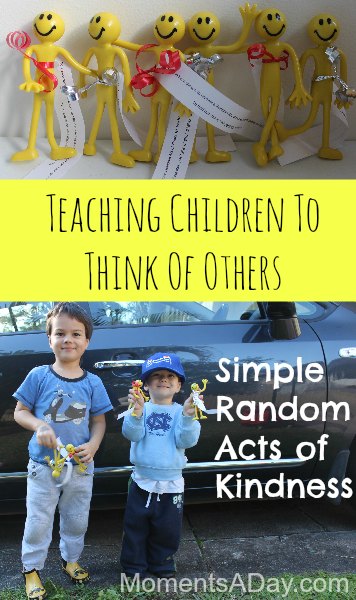 Thanks for visiting my blog!  I hope you take a look around and find some other inspiring ideas to do with your kids!  To browse through all the activities I have posted about so far click here.