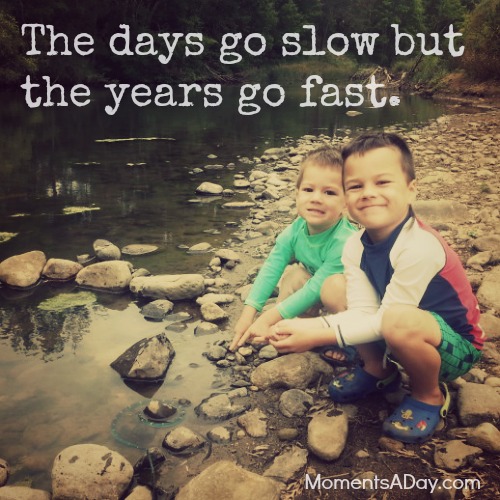 Last month my husband requested a camping trip for his birthday and it was such a lovely experience for our family… time to unplug, spend time outdoors, and have fun finding things to do outside of our regular place and routine.
But I admit it wasn't always "easy."  We got to the campsite later than planned so bedtime was delayed… we forgot a few useful items…  it was super hot… kids were not too excited about using a campsite toilet…
However throughout the weekend I was reminded again and again how perspective can turn a challenge into an opportunity.  Usually it is a matter of choosing to be joyful in a situation, because most things really can be worked out or at least worked around.
This trip really reset my mind towards appreciating the moment because I realized just how much my little boys are growing up.  Next year camping will be so much different.  The kids will have already been there, done that.  They will be older and able to do more things for themselves.  It's not that either situation is better or worse, but just *different.*  Why should I waste my time and energy sweating the small stuff, when these moments living life now will never come again?
There's a saying (please let me know if you are aware of the original source) that says the days go slow but the years go fast.  I am realizing the truth behind this as I age.  Some days feel like they are dragging on forever and I would really like some time to rest – I think you probably know what I mean.  But these days of incredibly fast toddler learning, preschooler excitement for life, and general exhaustion from busy-ness are really flying by.  We are all getting older, wiser, and we will never get these days – or years – back.
I don't want to forget to savor the little moments, because truly they will be gone in the blink of an eye.
Over the past 4 months I have enjoyed co-hosting a monthly linkup called Magic Moments Monday.  Every Monday the linkup has helped me remember to celebrate the magic of the moment.  I have been so inspired by all the beautiful posts linked up, and really enjoyed reading them.
This December will be the last month my other co-hosts and I are hosting this linkup.  So I very much look forward to seeing the last set of posts that roll in over the next few weeks!
Since last month was November and many families were thinking about gratitude for the Thanksgiving holiday in the USA, I've chosen to feature a few of these posts from the previous Magic Moments Monday linkup:
I love how these posts shared how moments focusing on gratitude can bring parents and children closer together.
Magic Moments Monday celebrates the magic in family – moments you have shared with your children, living and learning, ones that you want to cherish forever.
Link up your posts and comments below!  Thanks so much for participating and I wish you all the best as you get ready for a new year ahead.