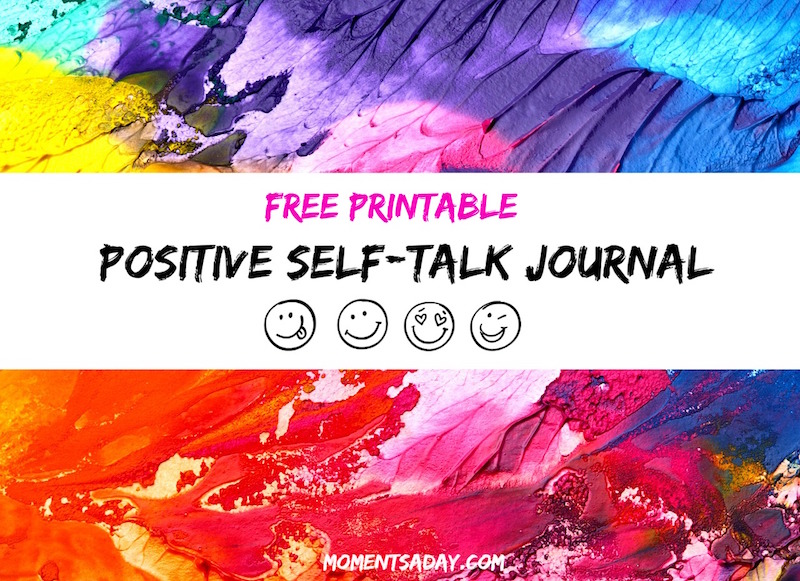 If you are looking for a way to encourage positive self-talk at home or school, check out this simple yet effective journal activity.
The journal was made for children ages 7-11 years old in mind, however with some adult help even younger children could use it as well.  I actually really enjoyed filling in the page, too, so it could become a whole family affair if you wish.
You may wish to decorate a cover page, notebook or folder (as pictured below) or simply stable a few pages of the journal pages together. Let your creativity run wild!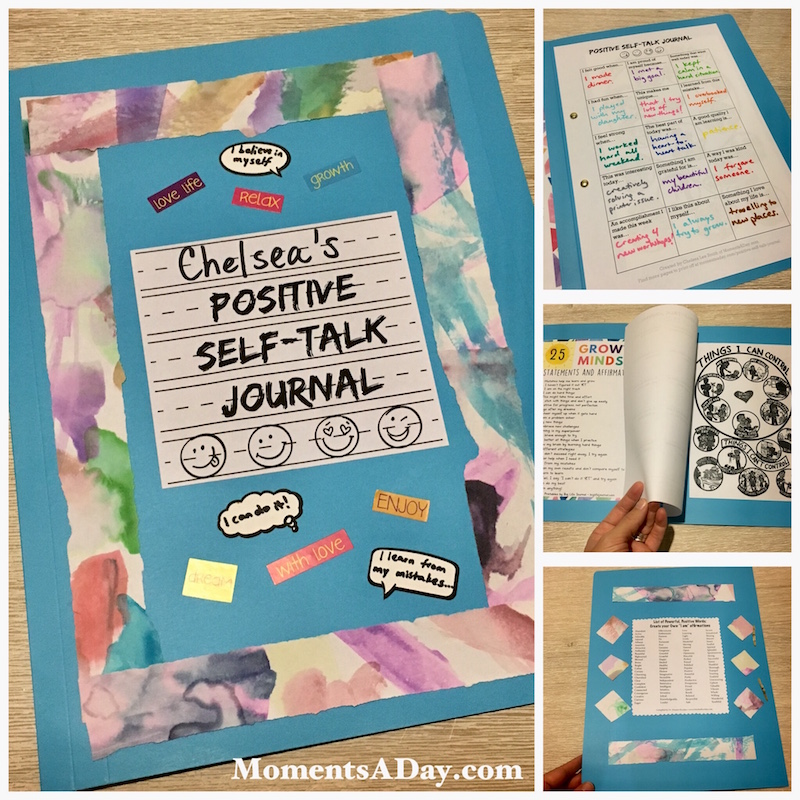 The journal page has a list of uplifting prompts which can be answered in a few words such as:
The best part of today was…
I feel strong when…
Something I am grateful for is…
I learned from this mistake…
This makes me unique…
A good quality I am learning is…
I had fun when…
Besides the two free printable positive self-talk journal pages which I created (and you can download below), I used a few sheets from the Growth Mindset Kit of Big Life Journal as well as this affirmation word list by Dr. Minette Riordan to decorate the folder pictured above. We also used stickers as well as strips of old watercolour paintings for the front and back covers.
Another fun resource to go along with this activity are the Class Dojo videos on Growth Mindset. Check out the short videos and discussion guides.
Here are the printable pages to make your journal:
First, the front cover image (with a line to add the journal writer's name):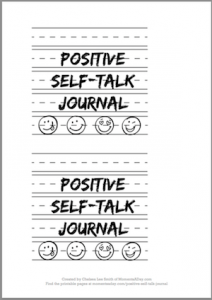 Download the PDF: Positive self talk journal cover labels
Second, the inner pages of the journal. You may wish to use it as a one-off assignment where the child fills in every square on the page, or fill in one square per day over a period of time.
Download the PDF: Positive Self Talk Journal for Kids
Hope you enjoy this resource! I would love to see how you use it. Feel free to tag me on Instagram @momentsaday or share a photo on the Moments A Day Facebook Page.
You may also like…
How Can We Cultivate a Positive Attitude? A Workshop for Families