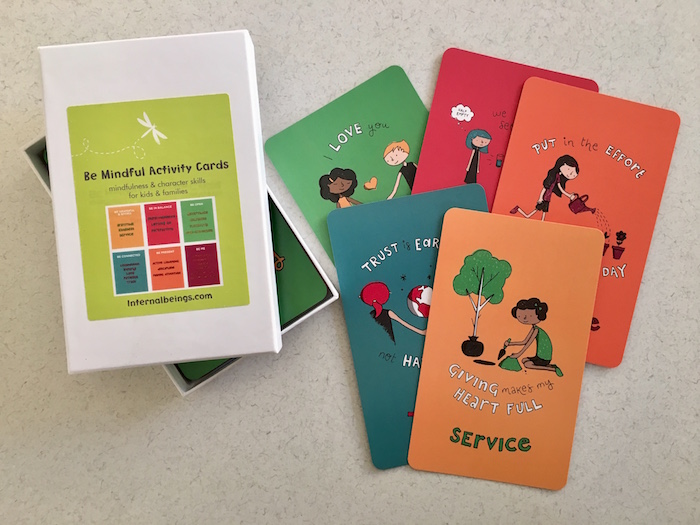 We all need a bit more mindfulness in our lives, right?!
Imagine having a set of colourful, inspiring cards to pick from, read from, and focus on each day/week at home with your kids.
The beautiful "Be Mindful Activity Cards" were created by Stefanie Tocco, founder of Internal Beings which offers programs, workshops, and resources focussed on mind training for the modern world. I am excited to have Stefanie share on the blog today about her wonderful cards and the story behind why they were made:
Why did you create these cards?
After I had my first child in 2014, I began looking for a (visual and fun) tool that would help me talk about the character / life skills and lessons I had learned over my life, but unfortunately I couldn't find anything in the market! And then I realized I could create my own.  
I had so much content compiled over the years, and was experiencing a desire to be creative – and so the deck was born! The character skills I chose to include are qualities I learned from various aspects and people in my life, and all of which I believe to be incredibly important to practice and embody, for kids and adults alike.  And while initially the intent was to create a tool for myself, I eventually started gifting them to friends and family and then started sharing them with schools and shops.
The deck is meant to inspire and encourage – a practice – because while these qualities contribute to who we become, they are qualities that require constant attention and practice on a regular basis.  And that is all we can ask!
My intent was to create a tool that helps parents (and teachers) socialize these qualities in a way that they become apart of the daily conversation at home and school.
What makes them different than other mindfulness cards on the market?
The cards are different than other mindfulness cards on the market in a few ways.  When I created these cards, I set out to create a tool that was geared towards kids, but would also offer something for the adults too.  What I really love about these cards is that they offer concepts and activities that promote positive character building for all involved (because after all we are all in this journey together)!  
Another aspect that makes the cards different is that they offer two primary components: the breathing and meditation tools, which offer short, simple exercises to promote relaxation, clarity and focus, calmness and connection and the character / life cards, which offer inspiration, affirmations and activities for positive character building.  
Finally, I created the cards in a format that is visually aesthetic, using vibrant colors and fun graphics. My vision was to create a tool that would catch the eyes of those using them, who will then be reminded to practice regularly!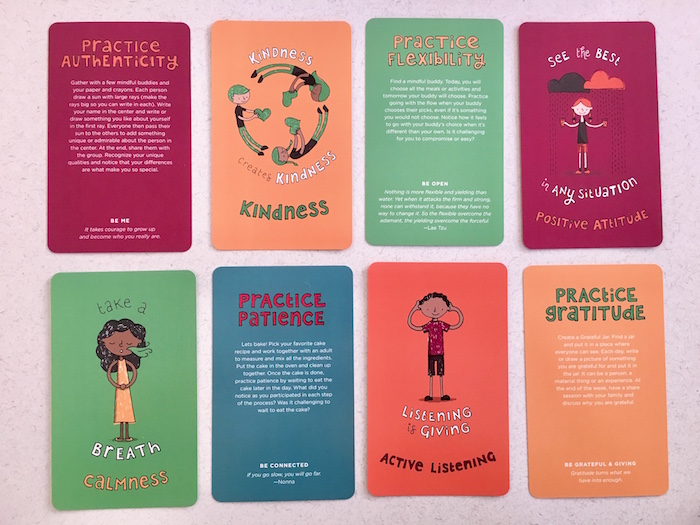 Can you let us know how parents and teachers are using them?
The families and teachers who are using them have shared many wonderful stories of the impact they are having for the adults and kids alike!  At home, some families display a character card as weekly / monthly theme which reminds and encourages everyone to practice and talk about the concept on a daily basis.  
Others opt to do the specific character card activity, as a fun way to socialize the concept at home or at school.
Teachers include them in their 'centers' activities or use them as weekly / daily prompts for small group discussion.  
In all cases, parents and teachers using the cards are sharing stories of the positive habit and character building that's happening as a result of incorporating the cards and concepts in their daily life.
How much are they and where can we buy them?
The cards are $25 and you can buy them here. And thank you for your support!
About Stefanie Tocco
Stefanie Tocco is a teacher, speaker and thought-leader on topics related to the mind and spiritual learning, and specializes in working with organizations, schools, parents and individuals interested in awareness and mindfulness training.  She uses meditation and mind training as tools to encourage self-understanding, deepen interpersonal relationships, and encourage social impact.
Stefanie's journey began as a student of the Vipassana Meditation tradition, but is also influenced by ongoing study across neuroscience, eastern philosophy, emotional and spiritual intelligence competencies, subconscious mind-training, mindfulness, positive mindset and happiness. She is trained in and influenced by Tara Brach, Jack Kornfield, Jon Kabat Zinn, Silva Life System and Baron Baptiste, and has a BA and MA in International Relations.  However, her most humbling teachers are her kids and the journey of being a parent.

You may also enjoy…
10+ Free Resources for Kids to Build Character and Develop Social Skills
I received a product for the purposes of reviewing it for this post.  All opinions are my own.  To find out more about advertisement and reviews on my website please click here.