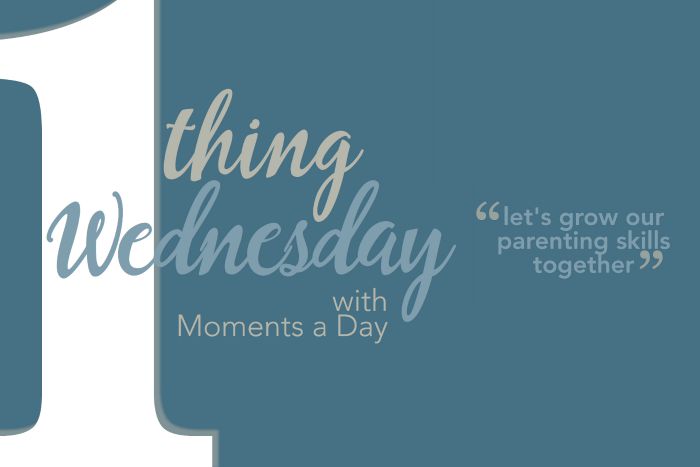 UPDATE: Read about ONE THING WEDENSDAY in 2016 in this post!
You are invited!  ONE THING WEDNESDAY starts tomorrow!
What? ONE THING WEDNESDAY is a new Facebook series that will start 26 August 2015. I'm going to post one awesome link at the same time each week that can inspire parents to think and grow, sort of a weekly personal growth exercise. Then your challenge will be to comment with ONE thing you can do the following week to act upon your new knowledge at home with your kids. The motto for the series is "Let's grow our parenting skills together… implementing ONE thing, ONE week at a time."
Based on reader feedback, I will mostly be posting articles but will occasionally share a short video.
Who? You can participate on your own, with your partner, or even tag a friend so that you can discuss it at playgroup/school drop off the next day. It would be great to discuss your ONE thing with people online on the Facebook thread under the link each week AND with friends in real life – so feel free to tag anyone you think may be interested in participating.
Where? I will post the new ONE THING WEDNESDAY post on my Facebook page Moments A Day at the same time on Wednesday each week. (8:30pm in Brisbane; 6:30am in New York)
Why? I love to read about parenting but sometimes I feel that I hardly have time to implement anything because I haven't narrowed the advice down to action steps that I can really take in my own life. So I have decided to find just ONE awesome resource each week and really think about how to apply the new knowledge in a practical way. I hope by posting ONE piece to inspire ONE "aha" moment I can actually act upon, this will help me grow as a person and as a result become a better parent.  This series will be replacing the Reflection Series on my blog which was also aimed at sharing practical knowledge to grow as a person and a parent.
I thought it would be great to invite others to join me with this weekly exercise so we could chat about our goals and create a community of support.  I will still share inspiring articles throughout the week on my Facebook page as usual but will save my favourites (and the ones I consider must-reads) for Wednesday.
Will you join us?! Feel free to share this post with a friend who you think may be interested in joining as well.
A special thanks goes out to Robyna from The Mummy & The Minx for creating the beautiful images for this series that I will be posting each week.
Visit Facebook to check out the latest ONE THING WEDNESDAY posts!
If you are would like to participate but are worried about not seeing the ONE THING WEDNESDAY posts on Facebook, you may want to check your settings.  Be sure you are "following" the Moments A Day Facebook page and, if you want, you can get notifications for new posts.  Read more about receiving notifications on Facebook here.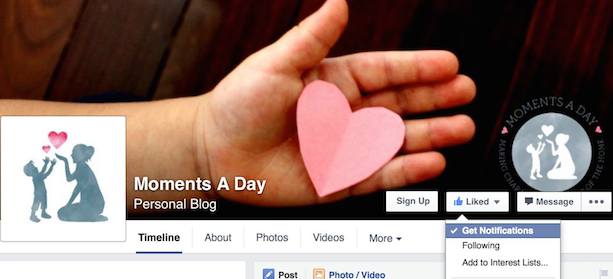 If you would like to find some more inspirational articles and videos right now, check out my Reflection Series – each instalment features five favourite links.