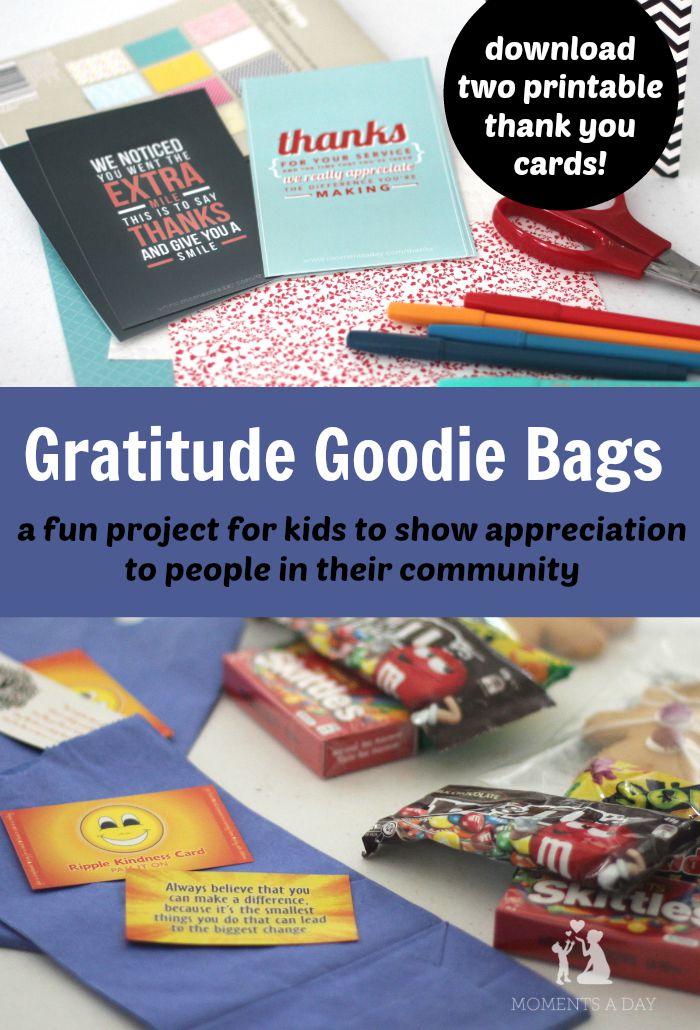 Our family has been inspired to do three special "kindness outings" by the #FordThinking challenge as part of Kidspot Voices 2015.  After being given a Ford Kuga MKII to drive for six weeks plus fuel vouchers, we decided to use the opportunity as a chance to pay it forward to others around us.
The first outing we made was giving a Kindness Plate, and the second was delivering a Smile Kit.  Our final project was selecting some people who we wanted to thank for their service to our family and to the community, and making them a special gift to show our gratitude.
Gratitude Goodie Bags
The concept of Gratitude Goodie Bags is pretty simple.  We based the idea on "party bags" which are the little gifts traditionally given to children at the end of birthday parties.  Our kids love party bags, so giving one away to a grown-up was meaningful and fun to them.
We decided that each person in our family (above age 1) would choose one person to give a Gratitude Goodie Bag to.  Everyone thought about who they would pick.  The kids decided on their teachers, I chose the receptionist at our doctor's office, and my husband picked one of the administration staff at his workplace.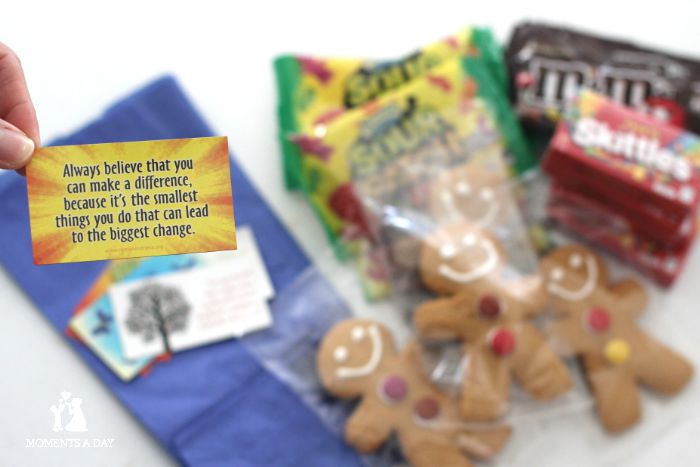 My younger son and I were tasked with getting the supplies for the bags so we headed out to the shops to purchase a few goodies.  We chose gingerbread men and a few different kinds of favourite lollies.  We had some leftover craft bags to put the treats into, and we also included some lovely magnets with inspirational quotes I had on hand.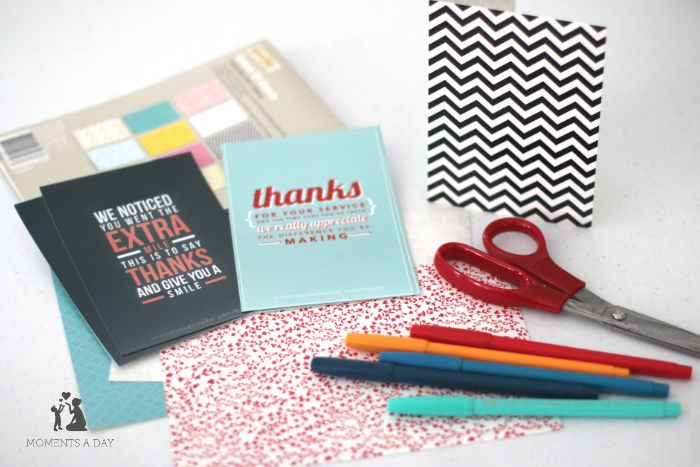 I wrote two verses about appreciation and commissioned a graphic designer to create some images that we could print out like a post card (and share with readers to use, too!).  They are sized 6×4 so can be printed as photographs if you wish.
The verses were:
#1: We noticed you went the extra mile.  This is to say thanks and give you a smile.
This was the verse we gave to the receptionist and admin staff.
#2: Thanks for your service and the time that you've taken.  We really appreciate the difference you're making.
This was the verse we gave to the teachers.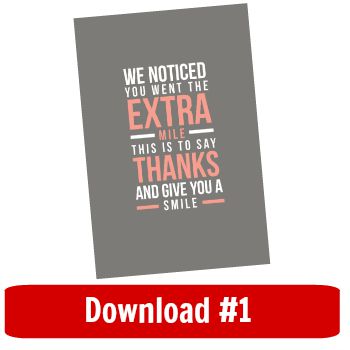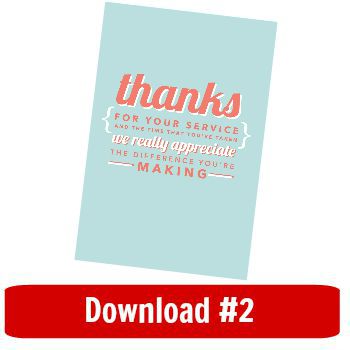 I included the address for this article on the postcards so that anyone receiving them could find the images to reprint as well.
The boys wanted to paste the postcards onto some blank greeting cards we had so they could draw and write notes inside.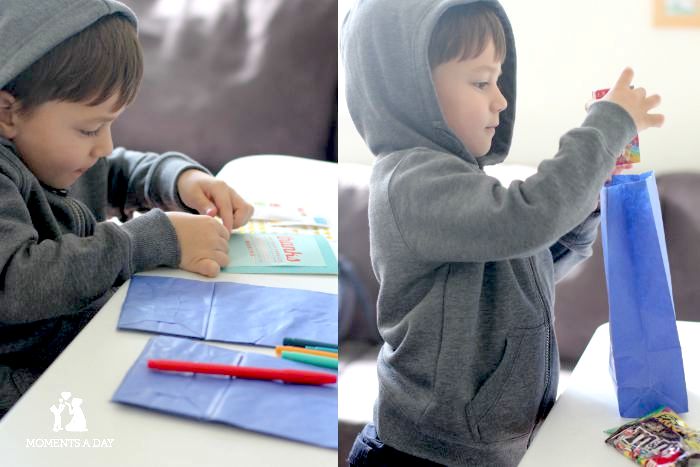 While decorating the cards and assembling the goodie bags, we had a discussion about why we were giving away so many yummy treats and not keeping them for ourselves.  Although we had talked about the idea beforehand of course, it suddenly felt like quite a sacrifice now that the sweets were in sight.  This gave us an opportunity to talk about how bringing joy to others also brings joy to ourselves.  This was a perfect time to use the visual example of bucket filling to explain how kindness makes us happy at the same time as making others happy.
Having said that, it was a lot to ask my kids to give away so many treats without having any themselves.  I had predicted that this conversation might come up, so had luckily purchased some extra gingerbread men which they could enjoy between deliveries.  It was important to me that the kids had a good experience with giving, so I was glad we diverted any hard feelings!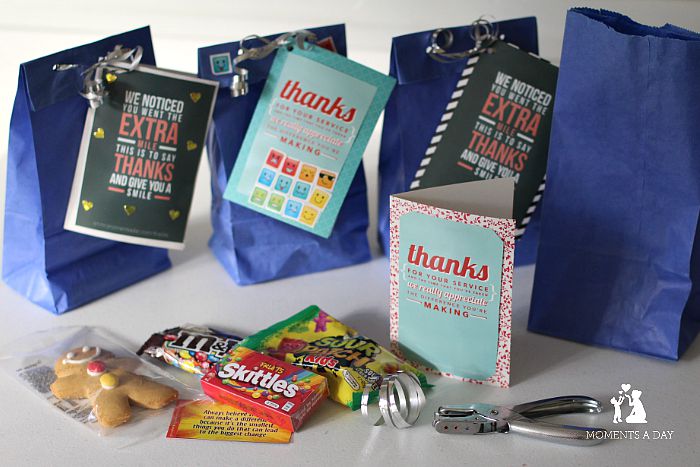 We finished the bags by attaching the cards using ribbon and a hole puncher, and decided we would make the deliveries straight after school pick-up so we could catch the teachers as well as the office workers.  On an afternoon that my husband was rostered off work, we headed out as a family to the Ford Kuga for our last "kindness outing"!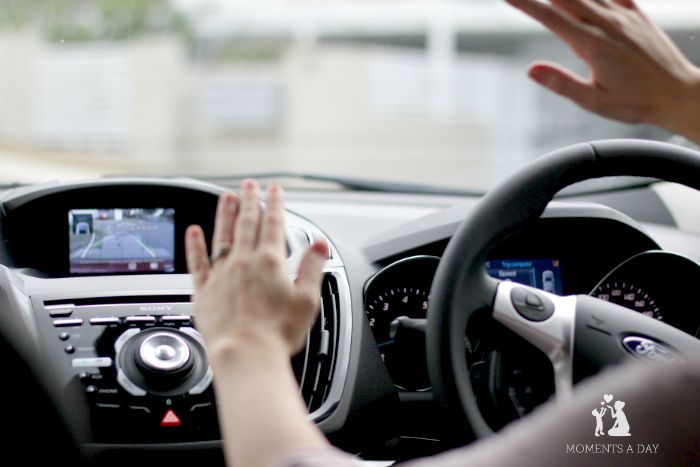 Since we had so many stops to make, it was the perfect time to use the Ford Kuga's Active Park Assist which does parallel parking for you.  Yes, that is me in the picture with my hands off the wheel while the car was parking itself!  I know it is hard to believe so I took a little video of the Kuga driving on its own which you can view here.  The Active Park Assist is great for quick trips to the shops or offices in the city where there is often only on-street parallel parking available.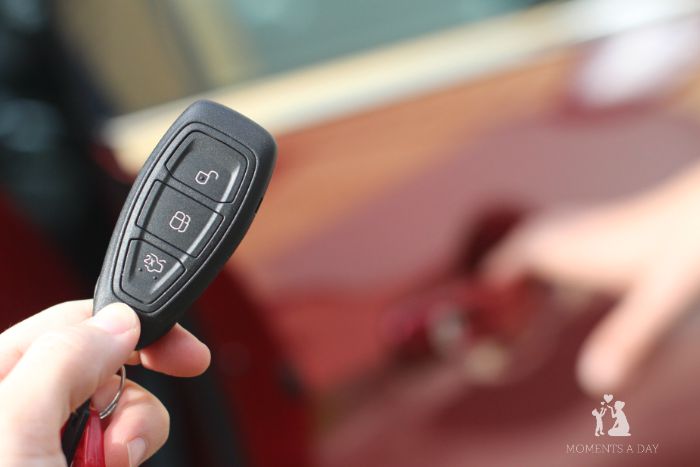 The Ford Kuga's keyless entry is another super handy feature, especially for getting in and out of the car so many times in one afternoon!  As long as you have the key fob in your pocket or bag, you can get into the car and start it without handling the key itself.  This has been incredibly useful because I'm usually one of those people who has to dig around my bag for five minutes to find my key.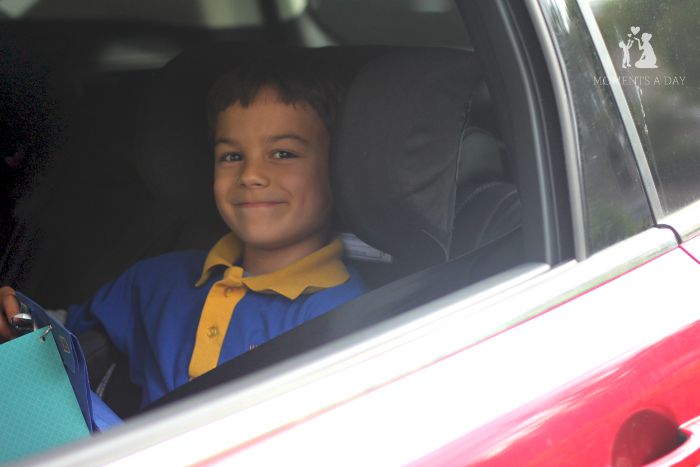 Giving someone a gift to say thanks seems like a straight forward task.  However as we made our way to each delivery, several thoughts went through my mind.  Would the person like it?  Would they think we were crazy?  Would the kids be shy when we reached the recipient?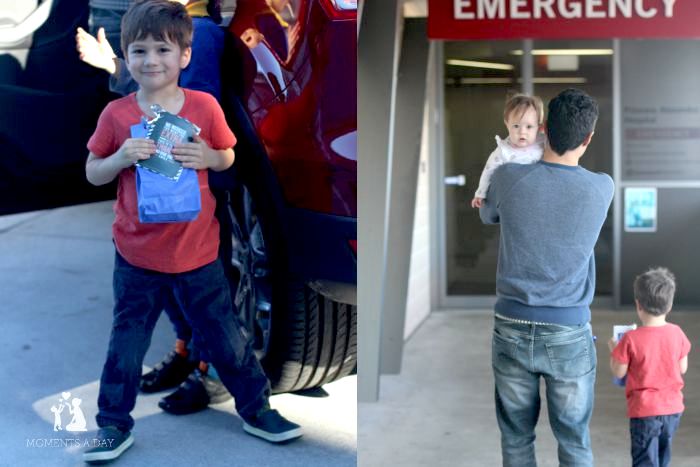 It was interesting and touching to see the reactions we received.  When we do acts of kindness like this, I like to give the kids the opportunity to explain what we are doing to the recipient but I never force them.  I want to make sure the experience is a positive one and they do not feel put on the spot.  When we delivered the bags to the teachers, the boys wanted me to explain what we were doing which was completely fine.  I know observing and just coming along is great practice for them.
The admin staff at the hospital where my husband works and the receptionist at the doctor's clinic were less accustomed to receiving thank you gifts.  One actually teared up and said she was very touched because she really does love her job and it was nice that someone noticed the effort she put in.  Of course that made me tear up as well!  Although I had frequently told her "thank you" during my visits to the doctor's office, I had not expressed the extent of my gratitude for her extremely welcoming and friendly nature.  I was very glad I had this opportunity to show her how much her kindness meant to me.
It was an afternoon that reminded us how simple acts of kindness can really touch someone, and how great it feels to take time out to do them.  It is nice that we have Teacher Appreciation Day, Valentines Day, and other holidays to show our gratitude… but that does not mean we have to wait until those times to do so.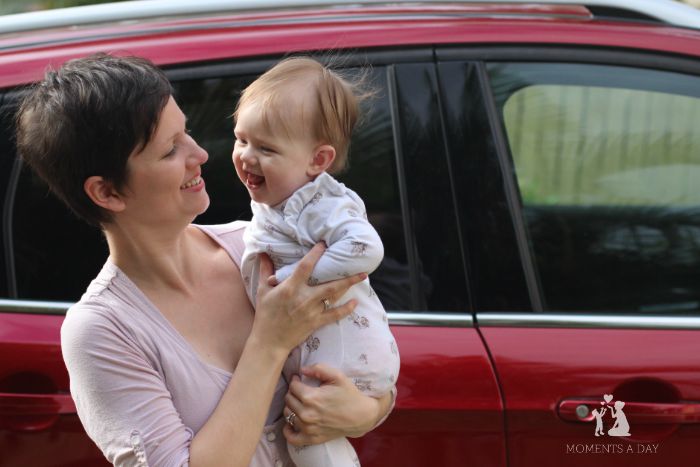 I hope you and your family might be inspired by one of our three "kindness outings" to pay it forward to someone you know whether it's giving a Kindness Plate, putting together a Smile Kit, passing on a few Gratitude Goodie Bags, or doing something completely different.  Kids love family projects and there is nothing better than serving others to bring meaning and perspective to your day.
Can we encourage you to go on a "kindness outing" next weekend?  Which project would you take on?
Thanks to Ford for inspiring us for the past 6 weeks to go on these outings, and for the awesome Ford Kuga we have had so much fun driving around town.  We have truly enjoyed the challenge and hope the kindness has been contagious!
Check out our other #FordThinking "kindness outings" here:
I'm participating in the #FordThinking challenge as part of the Kidspot Voices 2015 competition, for which Ford has provided me with a Ford Kuga Titanium for six weeks as well as some fuel vouchers.  All opinions expressed in this post are my own. You can follow along with the other bloggers participating in the challenge by searching the hashtag #FordThinking.  To read about sponsored content on my blog click here.