Last year was my first year of preparing lunch boxes.  I have found that making it fun has been essential for me to stay positive on the job.  After all, finding joy in daily work always makes the day go better, right?
One of the best things to help with this has been to connect with other mothers who enjoy packing lunches.  I found a lovely company called Lunch Boxes With Love on Instagram and was in awe!  I was super inspired by the creative photos and was excited to get the opportunity to test out some of their products as well, which I will feature in this post.
What I eventually realised is that to make packing lunch boxes an enjoyable experience I needed to create a system that I liked using.  I found at the beginning of the year I would use one set of containers one day, then another set the other day… sometimes there were enough clean containers and sometimes there weren't, depending on if the dishwasher had run over night or I remembered to wash them.  It all got pretty confusing (and a bit stressful).
Finally after a few months I switched to using the same lunch boxes every day, and just washing them by hand to streamline the process.
For my oldest son (in his first year of "real" school – called prep which equals American Kindergarten), I use one large lunchbox with separate sections so there is only one container for him to worry about.  For my youngest son, I use three individual containers because in his school they eat morning tea, lunch, and afternoon tea at three different times – so having three containers is most practical.  I love the Tupperware Sandwich Keepers because they have a lid attached, meaning no lids are lost and it's easy to wash as well.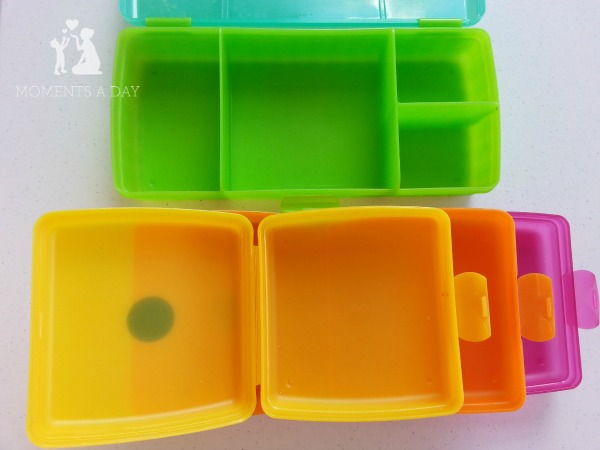 I also keep all our lunch boxes together in one specific cupboard in the kitchen, and keep all my lunch box "accessories" (which I will describe below) in a container on top of the fridge.  This way I know where everything is and it's all easy to find when I'm packing lunches in the morning.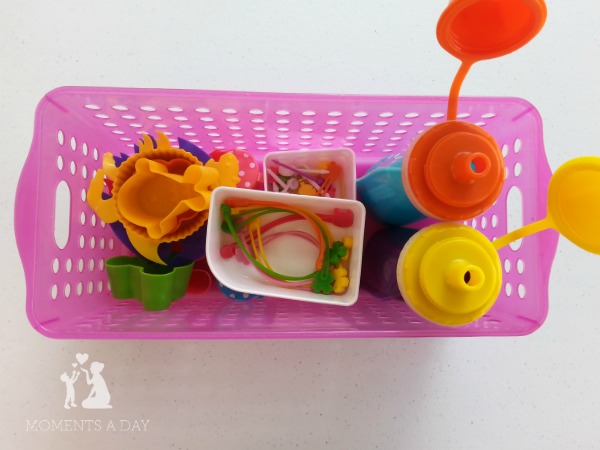 Next up, after choosing which lunch boxes to use, is to fill them with food, of course!
My oldest son's school has a "fruit break" in the morning so I always include one or two fruits in his lunchbox.  I now always have a can of pineapple or peaches in the cupboard for the unexpected days we run out of fresh fruit (I admit it has happened a few times last year).  We have several smaller utensils that can fit into our lunch boxes, which I reserve for lunches instead of everyday use – this way there are always some available when I am packing in the morning.
The rest of my food combination is like this:
I include one main "bread" item which is usually sandwiches, pita bread (my boys love honey or melted cheese inside), wraps, pancakes, buns/bread rolls, or leftover pizza.  I use wrap bands to hold our wraps together – they are easy to put on and take off unlike regular rubber bands which I tried to use initially.  (Plus they are super cute!)
If the bread item is on the small side, I may also include a yogurt or juice drink.  Reusable pouches are great for this as they are easy to use and create less rubbish.  I also like how I can put them in the freezer overnight and the food/drink will thaw in time for a cold snack at lunchtime.
Picks are great to add some colour and fun.  Check out the lovely options on this page.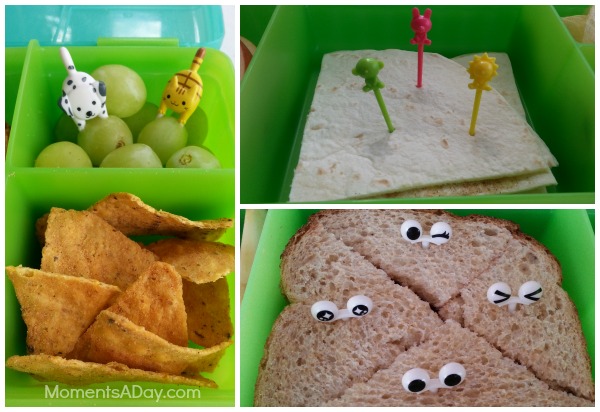 A few times a week, I will give the boys a "treat" – which usually means a few pieces of dried fruit, leftover baked goodie, or piece of candy if they went to a birthday party on the weekend and had some leftover.  I use dip containers to hold these small treats, so they do not get "contaminated" with crumbs or fruit juice.
We also sometimes use the containers for their original purpose – dips and sauces.  My boys love peanut butter but as it's not allowed in school, I obviously don't pack it.  However sometimes when we are packing lunch on the weekend we will take peanut butter.  The containers are also great for veggie dips, hummus, salad dressings, ketchup, etc.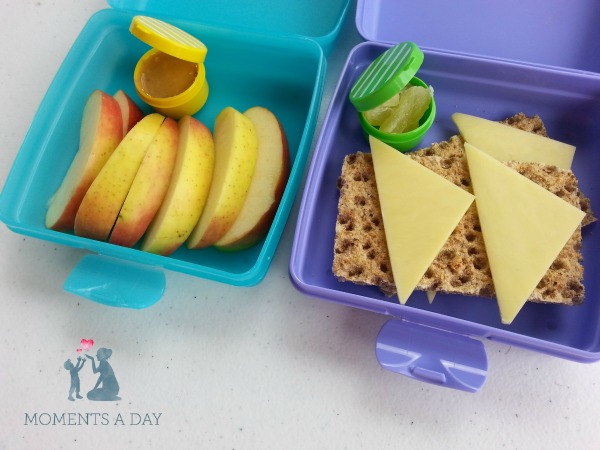 Last I include a vegetable and/or a savoury item.  Sometimes I will pack an "easy" packaged product such as pretzels, chips, rice cakes, or crackers.  If I need to use a section of the lunch box for two different items, I simply use a silicone cup.
Occasionally I will add a little note or a joke into my oldest's lunchbox since he's now able to read them by himself.  There are tons of free printables online (visit this post for a page of jokes like the one you see pictured below).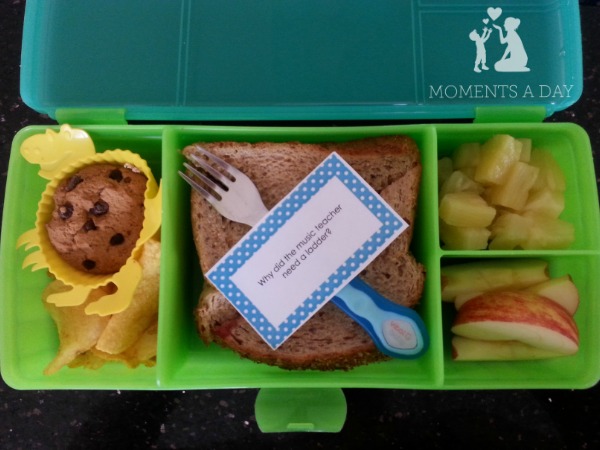 So there's my system!  I find it's structured enough to make packing easy but there's also room for plenty of creativity and fun.  If you are looking for lunchbox inspiration, be sure to visit Lunch Boxes With Love and follow their goodness on Instagram and Facebook.
What are your lunchbox packing tips?  Do you have a system?
This is a sponsored post.  Thanks to Lunch Boxes With Love for providing me with lunchbox accessories to trial.  All opinions are my own.  To read more about reviews on my website, visit this page.