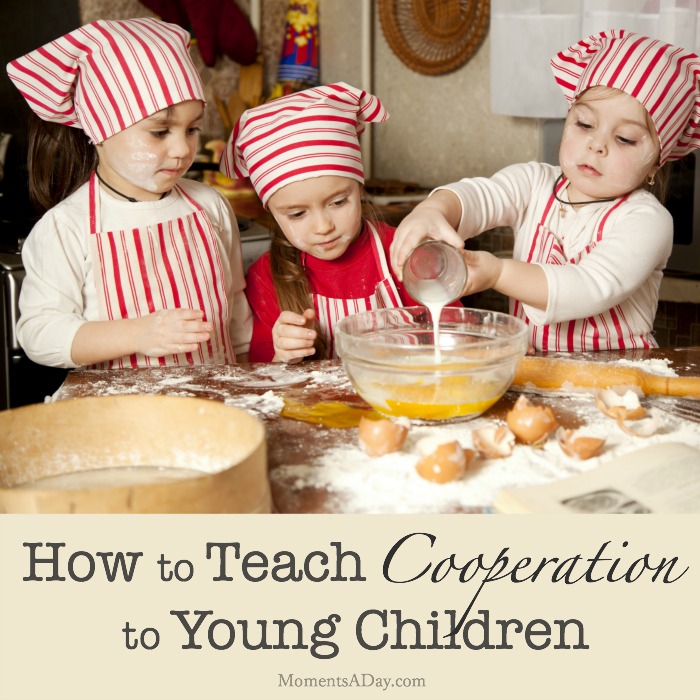 Learning to get along with others and work as a team is an essential skill for everyone to learn.  The concept of "cooperation" is first learned through the family.  The home is a place where everyone has a part to play.  Kids can start by helping around the house, encouraging other family members, and seeing first-hand the importance of teamwork.  Here are some of my personal tips for getting kids involved in cleaning!
Of course competition and disappointment when things don't go your way are inevitable at times.  When these feelings become overwhelming for my kids, I like to take out some cooperative board games.  When we have a chance to work together, we are reminded how much better it is to be on the same side versus against each other.  If you have very young kids, you may enjoy some of these easy cooperative games.  This is another simple activity that can be used to help kids learn about moving beyond disappointment if they don't always win.
Through conversations and activities together, the value of practicing cooperation will no doubt become appreciated.
Here are some thoughts from several other mothers about how to teach this important virtue:
My kids got their main start with cooperation through Montessori education, which emphasizes collaboration rather than competition. Later, they were competitive figure skaters, but they were always part of a team. My son and daughter started out skating pairs. My son remained a pairs skater, but my daughter switched to ice dance (which is also a team sport) when she was becoming too tall for pairs. Working together in a team really helped them develop the ability to cooperate. We taught our kids to support their team member always, which helped them learn to get along with others in many situations. – Deb from Living Montessori Now
When we do work together, or I see my daughter work together nicely with someone, I make a big deal out of teamwork and how it gets things done easier and quicker. Now whenever she helps me with something she proudly says, "Teamwork!" – Emma from P is for Preschooler
We teach cooperation through sharing, friendly attitude, desire to help and desire to be a part of a group. I still think sharing is the very first step – when a child learns to share toys, books, then it goes onto simple activities (coloring together, building blocks, playing with dolls), and also participating in family activities (from daily chores to travels). It is important to encourage the child to take part in cooperating with the others and give praise when the child cooperated in even something small. – Varya from Little Artists
I personally believe that conversing about character traits while engaging in hands-on activities and exploring themes via storytelling are powerful ways for children to understand and eventually exhibit the traits.  Here are some resources that can help with this:
Learning to Share through Playing Pictionary
Games and Activities on Cooperation from ABC and 123
Great Picture Books for Cooperation by Handimama Loves Books
Must Read Books About Cooperation by The Kindergarten Collection
What other thoughts or resources do you have about how to teach cooperation to young children?
To browse more character building activities on my website, click here.  You may also enjoy my ebook with 100+ activities in an easy-to-use checklist format, Playing with Purpose: Character Building Made Fun.