Brought to you by Nuffnang and Raising Children Network 
"How will I ever find enough time for a third child?"
The thought was constantly on my mind as I was pregnant with baby #3.  It seemed my life was already full to the brim… how could I possibly add a baby into the mix without ignoring someone (or something) else?
With my first baby, I had all the time in the world to cuddle him and sing to him and push him on the swing for hours.
Now that I was busy packing lunch boxes and attending extracurricular activities for the older two kids, would a third child simply have to tag along or would I be able to find enough time in the day to truly nurture her as well?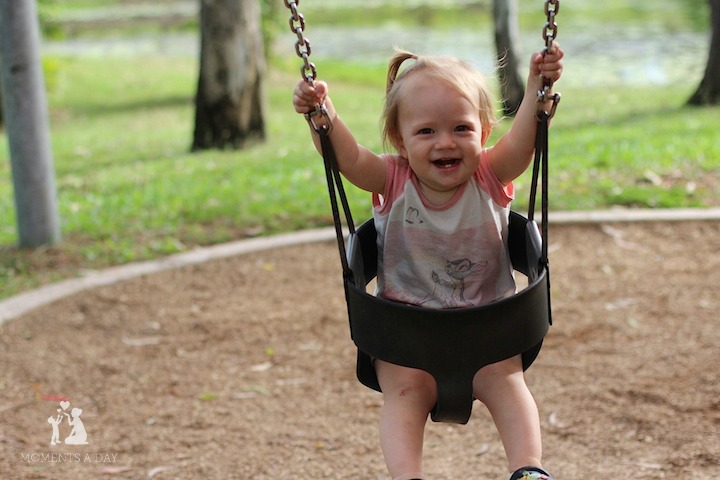 Fast forward a year and a half…
As a mother of three, I have certainly found  it a challenge to juggle everything at particular times.  However, taking all things into account, I am pleasantly surprised about how naturally our third baby has found her place in the family.
She doesn't necessarily get the same kind of attention… but she still gets enough.  To my delight, she actually gets plenty of time on the swing because the other two are usually busy in the playground!  It seems things work out, as long as we are constantly keeping our priorities in mind.
Upon reflection about what helps me stay connected and organised with three kids, I have put together a few tips that I hope might help other families who are trying to find the balance of caring for multiple children while still making time for the littlest one.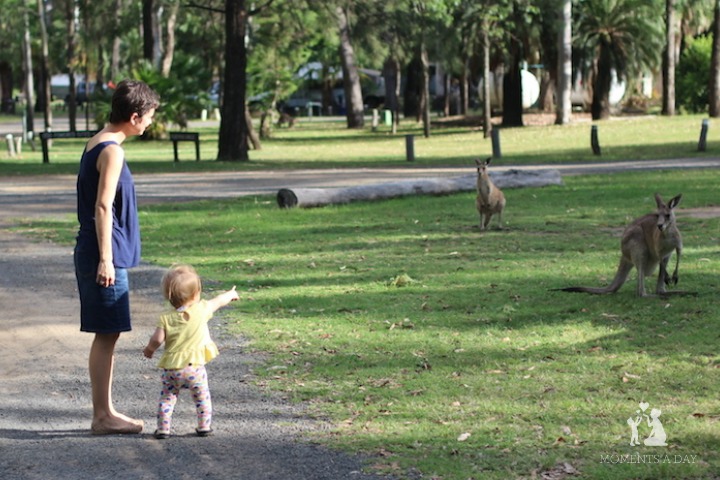 Honour the baby as an individual
With our baby girl who is almost 18 months old now, I have to be realistic in recognising the fact that we simply do not have a lot of one-on-one time together.  Knowing this, I try to pay close attention to her unique interests and spend time doing things she enjoys whenever possible.
Really listening and observing her as an individual, instead of comparing her to older siblings, has been important.  As I learn more about her personality and watch her learn about the world, we find lots of regular everyday experiences to use as learning and bonding  opportunities.
While I might have spent hours creating little booklets or arranging educational opportunities for my first son, I have figured out how to make everyday moments special for my little girl when my older kids are otherwise occupied.  Something as simple as singing a favourite song over and over, or watching wildlife together, can mean so much to a young child.
I find that when I make an effort to give her a bit of undivided attention every couple hours, even if it's just a few minutes, she is always happier throughout the day.  This, of course, gives me time to tend to the other kids and my other jobs as a parent.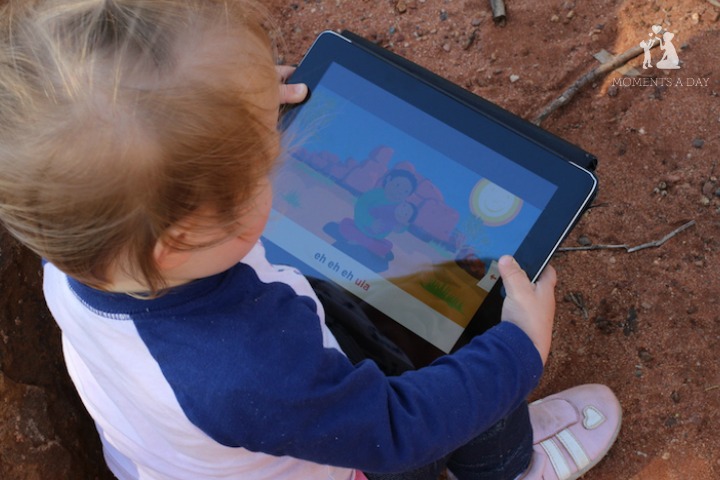 Utilise little moments of connection
One of the beautiful parts of parenting for me has been to learn about the simple yet elusive concept of connection.  After giving birth to each child I have developed a deeper understanding of what this means, and while adding more children into the mix I have definitely had to experiment to find what works as my responsibilities change.
Even though we try to live a relatively unscheduled life with plenty of down time, I still find myself very busy with the older kids so I have had to figure out how to give Child #3 lots of bonding time on-the-go.
Like all babies, she loves music.  These days she likes to try to match my pitch when I sing to her, and demands "more, more, more" whenever a song ends (much to my embarrassment at the library's story time events).
A while back I was introduced to a lovely music app called Baby Karaoke that we both love.  It has sweet songs that encourage movement and it is easy to use (she cannot change a song accidentally like with ot her apps we have tried).  She can't get enough of it, so it is like a special treat.  Although I knew most of the songs on the app beforehand, there were a few I had forgotten the words to plus a couple extra songs I have enjoyed learning anew.  When I need a few minutes to get a job done, I can give her the iPad and sing along at the same time so we are still interacting and connecting while I work.
In case your child might enjoy this resource too, Baby Karaoke is a free smartphone app for iPhone and Android available from raisingchildren.net.au, a government funded website which covers a huge range of parenting concerns including behaviour, development, play and learning for all ages (pregnancy through to teen years).  The app is actually great for building literacy skills as well.  My five-year-old is really into sing-alongs and loves to choose the next song for his little sister and show her the movements.  Sometimes we follow the lyrics with our fingers so he can pick out sight words along the way.
As an added bonus, singing is a great way to bond with kids because it lifts everyone's moods and allows you to have fun together.  It takes your mind away from everyday stress and reminds you that connection is what is most important, no matter what else is going on.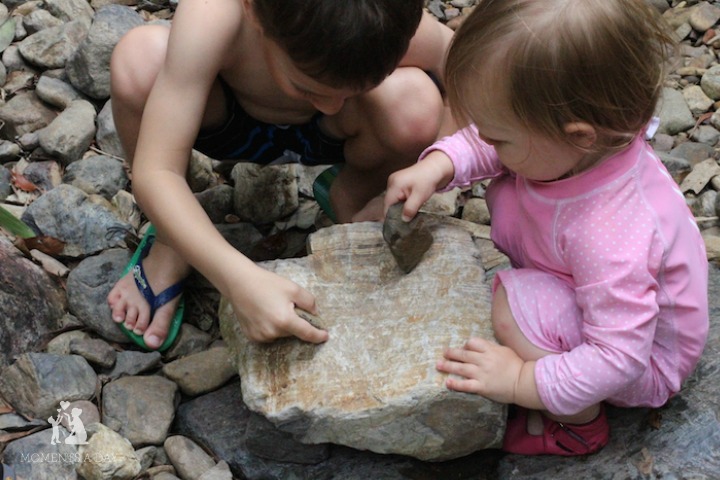 Encourage sibling bonds
Children who are born into large families may not have as much one-on-one time with parents, but they do get a lot of love and attention from siblings.  Selfishly it is sometimes hard for me to 'give up' my cherished alone time with the baby, but she absolutely adores her brothers and gains so much from their interactions together.  It is so special to watch their bonds developing as the weeks go by.
Even though a baby cannot 'do' much, I have always tried to find ways for my sons to interact with their little sister.  Here is a post I wrote which outlined some of the ideas when baby girl was around 6 months old.
These days the kids find lots of ways to interact with each other, and my role is mostly that of encouraging understanding and patience as little sister tries new things.  She loves to copy her older brothers and join in whatever they are doing and these sibling relationships are a vital component of her getting enough attention during the day.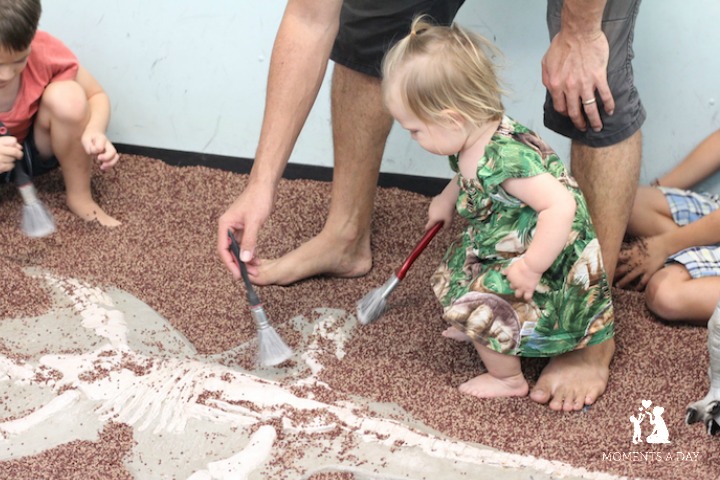 Foster independence
It is not always easy to let a toddler do things on her own but children thrive on learning through real life experiences.  Whenever possible, we try to encourage and make space for our little one to 'help' with jobs and try things out for herself.
Sure, she might put just as much sand onto the fossil as she brushes off, but she is learning and becoming confident as an individual and that is what is important.
As a parent it can be tempting to 'baby' the baby, because she is my last, but I try to remind myself that letting her blossom and bloom in her own time is important.  I don't want to push my older son to grow up too quickly just because he is the oldest and, in the same way, I don't want to hold my youngest child back on account of her placement in the family… even if it is bittersweet watching her grow up so fast!
The silver lining to growing up is of course that as the baby develops new skills she can do things like feed herself, put away her toys, and become a more responsible member of the family.  This frees up my time to do other things with all of the kids, meaning more one-on-one time for each of them.
How do you make time for a younger child when you are busy with the older ones?  Do you find it easy or difficult to integrate the 'baby' into family life?
Don't forget to visit raisingchildren.net.au and download the FREE award winning app Baby Karaoke designed to be used with newborns up to preschoolers.  Let me know how your family enjoys it!
 This is a sponsored post.  All opinions are my own.  To read more about advertisement on my website, visit this page.