This post shares tools to create your own calm down kit.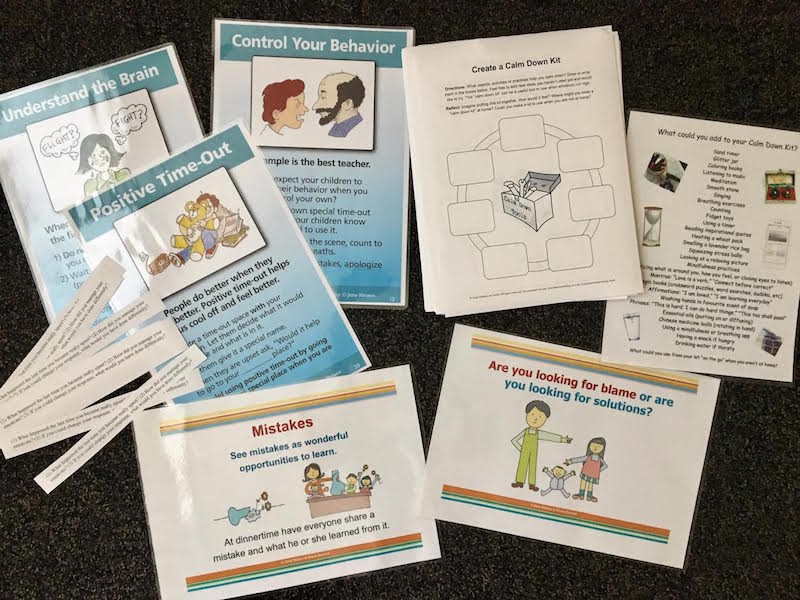 Today I'm presenting a workshop at the Positive Discipline Conference in Seattle, USA (12 July, 2019) on helping parents create calm down kits. Here are the free printables I'm sharing in case you want to use them at home as well. Click on the pictures to open the PDFs in a new window. From there you can print or download the file to your own device.
The first printable contains a list of "calm down strategies" that parents can look at to get ideas for their personal calm down kit.
The app featured on the page above is the Stillpoint Meditation app specifically for mothers… a beautiful resource!
The second printable is a visual calm down kit to write or draw in specific calm down strategies you want to try in your own life. Try to think of specific scenarios that typically come up for you, and find a technique that might help.
A calm down kit is essentially a list of ideas for you to use when you recognise your emotions getting heated. One strategy will not be applicable in all situations so it's helpful to have a range of tools to call upon in different scenarios.
Each of us will prefer different tools based on our unique personalities and cultural backgrounds. What feels comfortable to you may be uncomfortable to someone else. That being said, don't be afraid to try out new techniques. You may find something that interests you but you aren't sure it will work… just give it a try!
If you attended my workshop, let me know in the comments what you thought!
Do you have experience using a calm down kit? What advice do you have for others who are new to the idea? 
You may also enjoy reading…