"Who controls your emotions?" I ask my youngest daughter.
She gives me the look of a perplexed almost-six year old and scans the room with her pensive blue eyes. It makes me wonder if she is thinking of her friends, of a name out there that might carry the answer. Someone must surely control those out of character emotions that cause the mini volcanic eruptions we often talk about. I can tell she is thinking hard for the answer but none comes.
As I give her more time to realize that the answer is within, I think back at how many times I have given that control away. How often have I let myself be emotionally hijacked by others, by events and words that I never invited in my life, or simply by forgetting the answer to my own question. How often have I forgotten that I had the tools to bring myself back on track.
She shrugs her little shoulders and plays with the paper remote on my desk. "I don't know," she answers, even more perplexed.
"You do," I say and explain the activity in front of us. "You control your emotions."
This printable activity is a visual reminder that we control our emotions. The remote allows us to remember some de-escalation and re-setting steps to calm ourselves until we can decide how we want to react to a situation. This is how we change our emotional channel.
Download the Printable Emotional Remote Control
Find this page plus tons of other printable activities about feelings and emotions from Plant Love Grow by clicking here.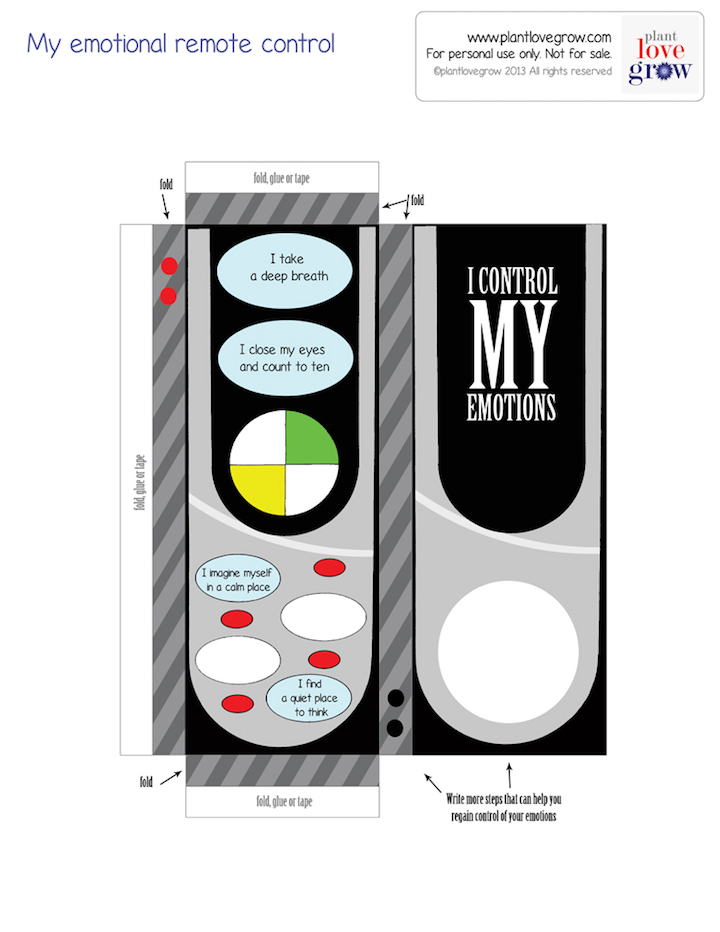 You may also enjoy this article…
Developing a Positive Attitude: What's the Weather Like in Your Brain? {Free Printable}
Giving Children the Gift of Balance {Free Printable}