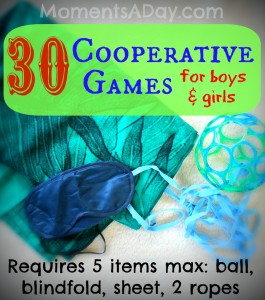 This document has now been turned into a beautiful FREE ebook which you can read more about here!

I am very excited to offer a new resource consisting of 30 games for preschoolers!  These games are not competitive like many games commonly used… they require children to cooperate, be observant, or simply "play" without being against anyone else.
I feel non-competitive games are wonderful, especially for young children, to focus on the importance of play and fun, instead of worrying about winning or being on separate teams.  After all the kids will create team games on their own, without any prompting, and will have plenty of time for competition in the years ahead.  In the early years, let's create activities for them to work together and appreciate each other, regardless of skill or any other asset they might bring to a team.
Furthermore, you will see the games are very simple and often require nothing to play!  In fact the only materials any of the games ever require are among five objects: a small lightweight ball, a sheet or blanket (small thin table cloths work great!), two long ropes or ribbons, and/or a blindfold.
If you keep these supplies together in a bag with the game ideas, you will have a complete portable set of games to use anywhere.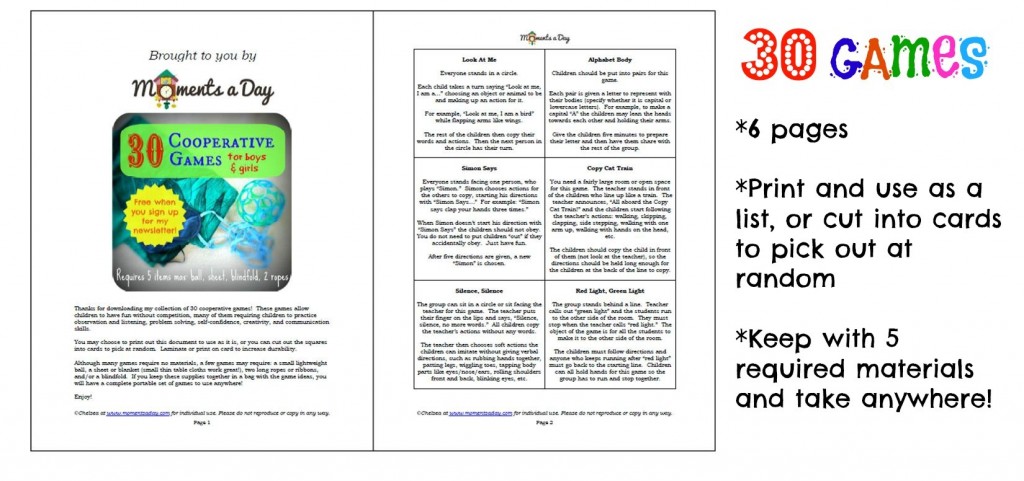 I actually created this list of games when I was volunteering in a preschool in Papua New Guinea.  It was a preschool with very, very few resources and I was helping the teachers by compiling a list of games the children could "play" in a meaningful way without needing more "stuff."  So I brainstormed and asked my friends, and compiled these 30 simple games that require basically nothing.
I printed out the 30 games (which are 6 to a page, on 5 pages) and gathered the materials into a plastic envelope so that everything would be together when the teachers wanted to introduce a new game to the class.  Actually at the school we did not even have a small ball, so we made one out of some scotch tape we found on a cardboard box!  The "ropes" were cut off from a pair of old yoga pants we were using for scraps, and the blindfold was an airplane freebie which my husband had on hand.  Here is a picture of the original games and supplies: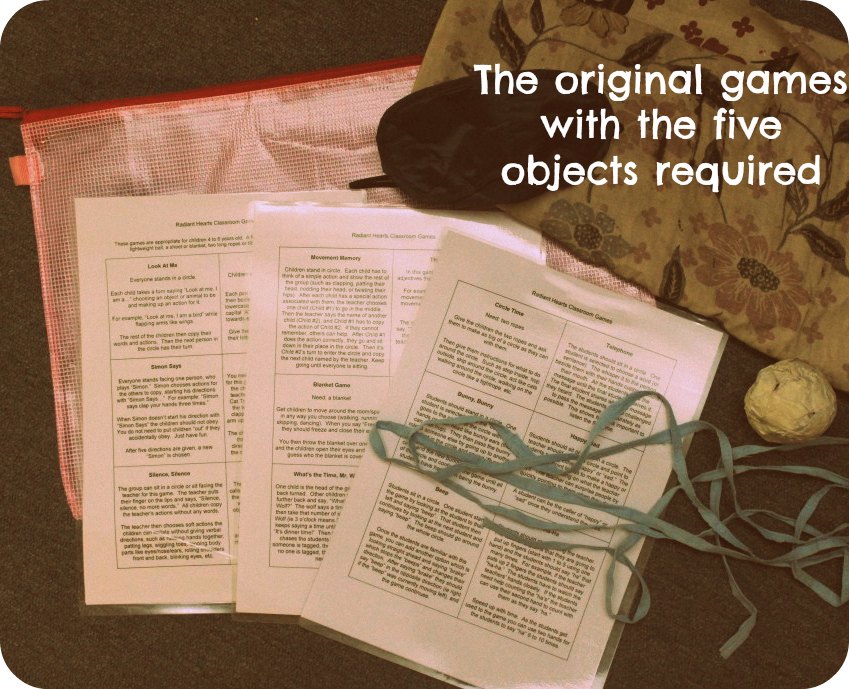 You will see that the games are very simple however they are a wonderful filler for a 15 minute break or an afternoon pick-me-up.  Here is a photo of the beautiful children learning one of the games in the list called "Bunny, Bunny."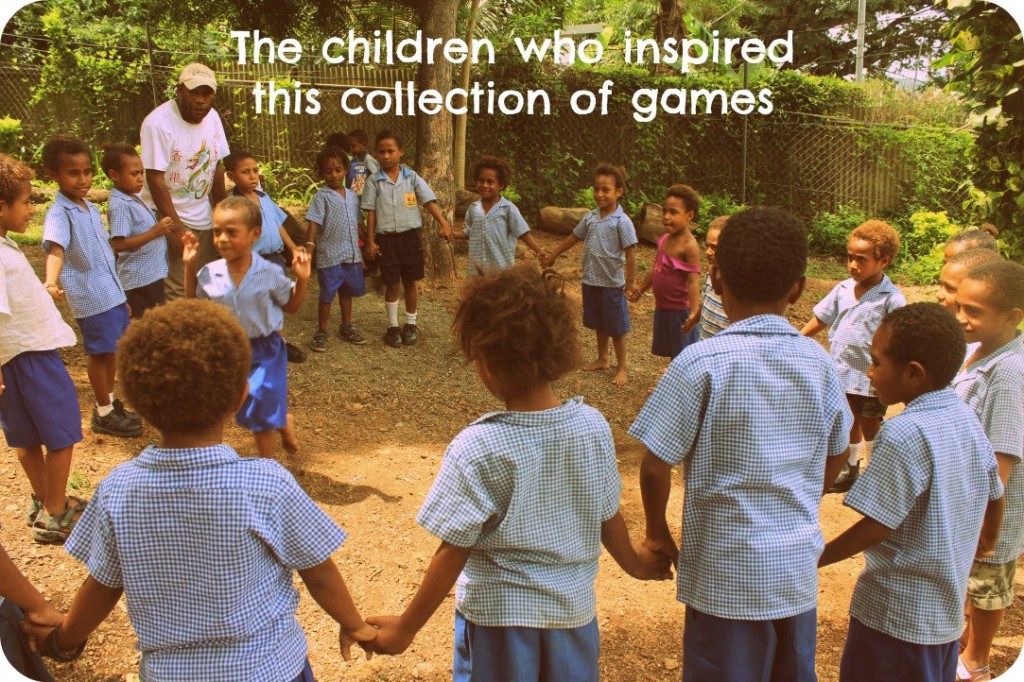 Since that time I have revamped the games a little and made them into a 6 page printable for you to download.  You may choose to print out this document to use as it is, or you can cut out the squares into cards to pick at random.  Laminate or print on card to increase durability.
To get the games, simply sign up for my monthly newsletter and you will be emailed the link to download them!  For those who have already signed up for my newsletter, you will be emailed the link in June's monthly newsletter, coming soon.
Click here to sign up for the newsletter
Wondering about what my newsletter consists of? 
My newsletter is a review of the past month's posts on my blog which include activities for character development, articles about positive parenting, and recommended resources to teach children values (books, music, online, and more).  I will also share a few other goodies I find, such as inspiring articles and resources which I haven't had time to post about but still feel my readers would appreciate.  I think you will really enjoy it!  And it only comes once a month so will not be crowding your inbox, I promise 😉
Click here to sign up for the newsletter
Thanks for visiting my website – I hope you stay a while, take a browse around, and share some articles with friends!  Feel free to comment or ask questions any time, I love to hear from readers and would be happy to strike up a conversation about character building, a topic I am truly passionate about 🙂