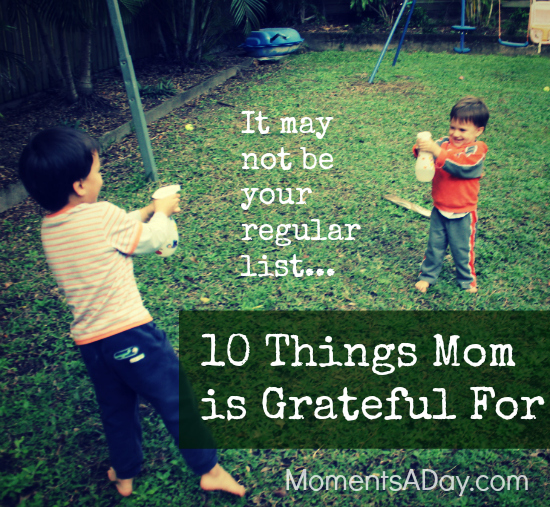 It may not be your regular "grateful" list.  I wrote it a few months ago, as an image to go along with an article I wrote called The Busy Mom's Guide to Gratitude.  Today I noticed it's been shared over 10 thousand times.  (To see the original picture on Facebook, go here.)
After reading the comments on various shares of the post, I was once again reminded about how powerful gratitude can be… and I thought it would be nice to create a printable poster of the original text to have somewhere in the house.
UPDATE:
I have a new gorgeous printable available that you can purchase as part of the Grateful Mama Project, where 100% of your donation goes to mothers in need.  Learn more here!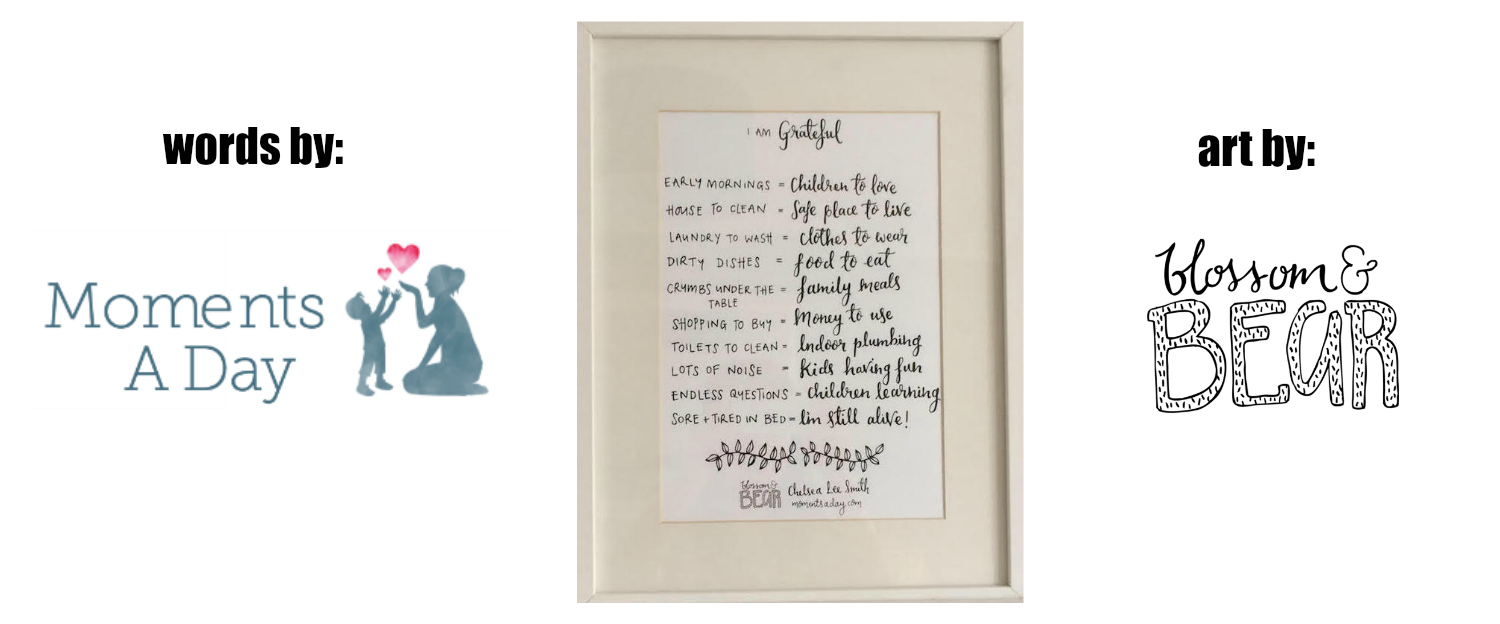 The free printout below is very simple so you can draw pictures around it or cut it out a bit smaller to put it on the fridge, or do any other creative art project with it that you like (I know all you mamas out there have brilliant ideas!).  It looks like this:
You can download the PDF by clicking here.
If you do print out the poster and make something with it, I'd love to see it.  Upload it to my Facebook page – it will totally make my day 🙂
Motherhood can be hard and it is nice to have positive messages helping us make it through the day with joy and thankfulness for all we have.  Feel free to share with a friend.
If this is your first visit to Moments A Day, I write lots of posts about helping kids build character and positive parenting.  You may like to check out some of my activities for kids, my ebooks, or browse my most popular posts. You can also sign up for my newsletter.
Thanks for visiting. x

You may also enjoy reading…
The Kindness Plate {Free Printable}
10 Activities to Help Young Children Develop a Positive Attitude
10 Lessons for My Sons to Learn to Respect Women