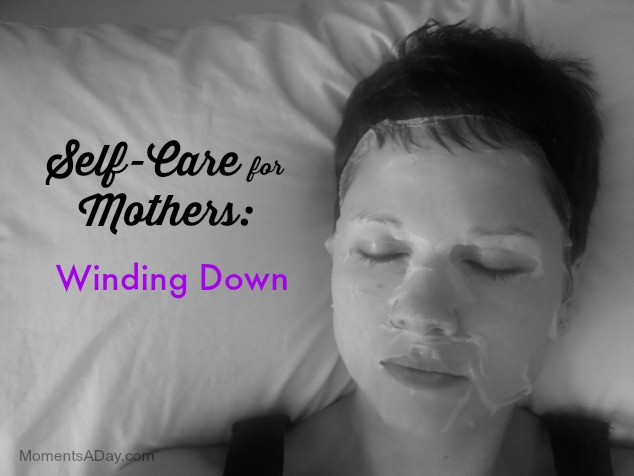 This is a sponsored post.
After a busy day with the kids, and once they are finally resting peacefully, I often find myself gravitating to the internet or a movie with the goal of "relaxing."  I love a good film and I could happily spend hours at the keyboard.
But while these screens can be great distractions from my regular everyday life, I know after years of experience that they do not necessarily give my mind time to unwind and relax.  They tend to fill my head with even more thoughts, stress, and anxiety.  My mind ends up going around in circles before it's time to sleep and I feel like I didn't get any time to unwind… simply because I did not choose an activity that would really help with this.
So instead of going straight to my desk or the couch after the kids go to bed, I am trying to set aside 20 minutes each evening to centre myself and regain my mental clarity.  After this small chunk of time, I tend to think more clearly and can then choose what I want to do with the rest of my evening with more intention and purposefulness.  Sometimes I may still watch a movie or spend time at the computer, but it is done with thoughtfulness and not out of habit.
After a bit of trial and error I have found that "winding down" to me does not always equate to "sitting still."  My husband likes to call it "active relaxation" which is engaging in an activity during which you do not have to think hard, but you can give your mind a bit of a rest while you still move your body.
Here are some simple ways I like to spend 20 minutes of screen-free wind-down time:
Giving myself a facial (and tidying my personal space)
As a mother of young kids, I am guilty of assuming that I "never" have time for something like a facial.  But it honestly doesn't take much time, if I simply remember to do it.  I have really been enjoying Fuss Free Facials for the past few months, as these masks feel so lovely and cool on my skin.  Unlike other facial products that tighten up my face and dry out my skin, the Fuss Free Facial masks are light and moist.  On days when I am not especially tired, I tend to pop one on and do something else in my bedroom that I have been meaning to do for a while… such as organise my book shelf or hang up all the shirts that have been stuffed into drawers over the past week.  Having the mask on gives me an extra boost of energy to get the job done.  By the time 20 minutes is over I have finished my little job, my face feels awesome, and I feel like I had a break to really relax.  On nights when I am exhausted, I simply lie down on the bed and enjoy the mask with some quiet time.
Washing the dishes (and doing my nails)
I know what you are thinking.  Washing the dishes is work, not relaxation!  But after talking to several mothers and trying it for myself, I have realised that "working" or "relaxing" is all about perspective.  Dish time doesn't have to be rushed, like it often is straight after dinner when the kids are about to take baths.  Washing a few pots with warm soapy water, slowly and intentionally, with the house quiet while the kids are safe and sound, can be a very soothing activity.  I am finding that if I just load the dishwasher after dinner and leave the bigger items and plastics for after the kids are in bed, I can have five to ten minutes of deep breaths over the sink.  Sometimes I am even motivated to do a tiny bit more cleaning, such as wiping down the microwave or cleaning out one shelf of the fridge which feels great.  I don't overdo it, but I simply do what I feel like doing.  As an added bonus, after washing up my cuticles are soft from spending time in the water so sometimes I give myself a mini manicure (another indulgence I often think I never have time for).  Win win.
Listening to music (and stretching)
I love soft, melancholy music and it helps me greatly to have its companionship while I stretch my body.  I am not huge on exercise (it's an attitude shift I am working on) but choosing a calming CD and simply stretching has been very enjoyable for me.  It is a great way to clear my mind and let the weight of the day off my shoulders.  I know after four or five songs that it has been twenty minutes, and I can move on to whatever else I want to get done that evening.
After enjoying some screen-free time…
I feel much calmer and thankful that I spent time to unwind.  I wonder at the generations before us that did not have the lure of internet or TV to fill their time or their heads… were they more relaxed in general?  Active relaxation – quiet pastimes where I can do something simple without having my mind on overdrive – allow me to gain clarity again.  Giving myself this time to unwind not only affects my mood for the night but the next day as well.
What helps you unwind after a busy day?
This is a sponsored post by Essenzza Health.  
Facial Treatment Masks are an easy alternative to traditional mud masks, quick and easy to use. The masks are made of Japanese Silk Cotton being the applicator for the natural formulation in the sachet. The Natural formulations were specifically designed with Natural Active Ingredients, Natural Preservatives and use No Sulphates or Parabens.  To find out more, read these FAQs.
All opinions in this post are my own.  To read more about advertising on my website, visit this page.
---
This post is part of the series Self-Care for Mothers in which I discuss caring for myself amidst the busy reality that is motherhood.  I believe in order to "be our best" as parents we have to take care of ourselves as individuals.  This series is dedicated to sharing insights that I am learning during my own journey and inviting readers to share their tips as well.  Check out the rest of the series by clicking here.
---