My Reflection Series features resources to inspire intentional and compassionate parenting.  Each instalment of the series shares a photo from my week with a simple insight, plus five links I have found motivational during my current journey as a mother.
My Moment of Reflection: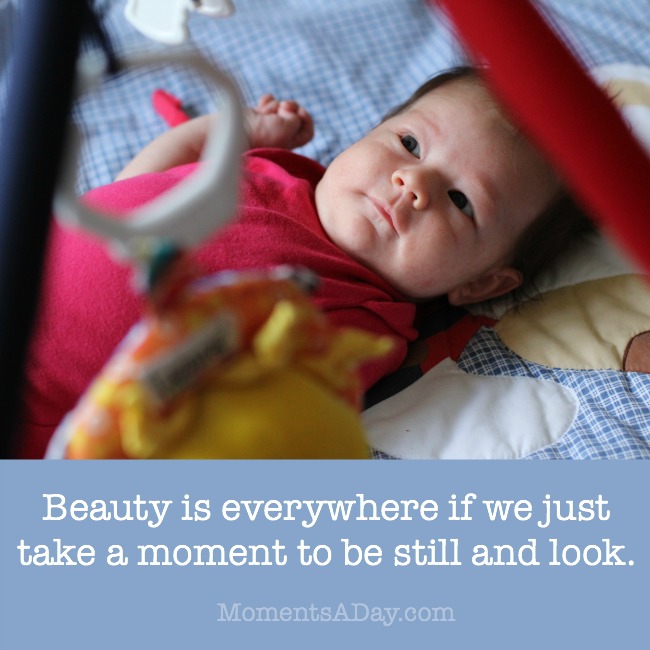 Somewhere along the way, I learned to make life complicated.  I worried, I put undue stress on myself, I started negative self-talk, I rushed through my days.
Spending time with my newborn baby has reminded me once again how simple life really is: live your best, find joy in the little things, and do good to the people and environment around you.
A life of contentment is not comparing your circumstances or choices to anyone else, not wishing for something else, just enjoying what you have in the moment and working hard to be kind and help others every day.
As a new mother again I'm finding beauty in the simple things my daughter does and the simple things she sees, and remembering that "less" is often "more."
I'm remembering to live life for my true purpose.
Featured Links:
I hope you will enjoy and be touched by these articles as much as I have.
Kids Aren't Expensive But That Other Thing Sure Is (about living with moderation)
To the mean stranger who judged my parenting abilities… thank you (about acting and reacting with unconditional love)
Proving the butterfly effect with a single act of kindness (about sharing selfless generosity)
5 Things Happy People Do Before Getting Out Of Bed Every Morning (about starting each day with mindfulness)
Mommy will you lay with me? (about giving time to our kids… even just a little)
Looking for More?
To find more inspiring links featured in my Reflection Series click here.  You can also sign up for posts by email if you would like the series delivered to your inbox.
If this is your first visit to Moments A Day, I also invite you to join me on Facebook, Pinterest, Twitter, Instagram and/or Google + where I share more ideas to help families connect, build character, and make a difference in the world.
Take care and I hope to "see" you again soon,
Chelsea