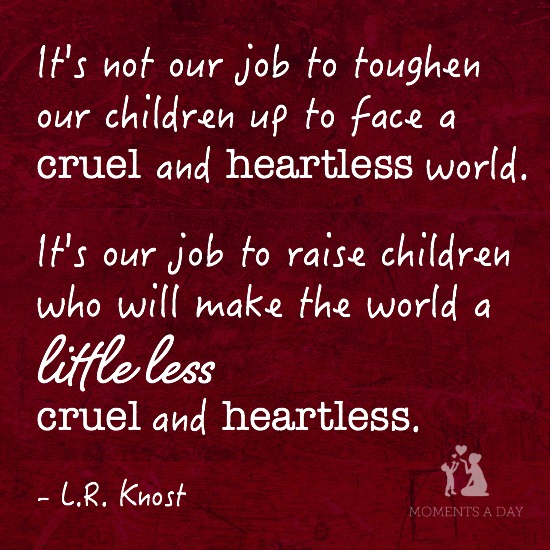 My Reflection Series offers five questions with corresponding articles/videos to inspire intentional and compassionate parenting.  Sign up for posts by email if you would like the series delivered to your inbox.
Have you considered how mean language can affect your relationship with your child?
Amanda from Dirt and Boogers explores name calling in this thought provoking post.
Read it now-> Stop Calling Children Nasty Names
(or pin it for later)
Would you like some new creative ways to encourage your child?
I love this list of phrases we can use to encourage our children, compiled by Alissa of Creative with Kids.
Read it here-> 64 Positive Things to Say to Kids
(or pin it for later)
Are you opening your heart to believe in your child's dreams?
I really learned a lot by reflecting on my own thought habits after reading this article by Rachel at Hands Free Mama.
Read it here-> To Build (or Crush) a Dream
(or pin it for later)
Do you ever wonder if you are getting "parenting" right because every day seems so thankless?
Ah I love Beth of BabyMac for her honesty.  If you feel like you keep running around doing everything for everybody and no one ever notices… read this.
Read it now-> The Thankless Days
(or pin it for later)
Are you raising your kids – both boys and girls – to uphold equality between the sexes?
I know Emma Watson's speech was a few months ago, but I still think it's worth reflecting on even if you have seen it before.  I am loving all the talk about equality in mainstream media these days and am excited about the changes and movements to come in regards to this important issue.  It's awesome that people are now realising how "women's issues" are, in fact, the issues of ALL people.
Watch it now-> Emma Watson at the HeForShe Campaign 2014
(or pin it for later)
To find more inspiring links featured in my Reflection Series, click here.
If this is your first visit to Moments A Day, I invite you to join me on Facebook, Pinterest, Twitter, Instagram and/or Google + where I share more ideas to help families connect, build character, and make a difference in the world.