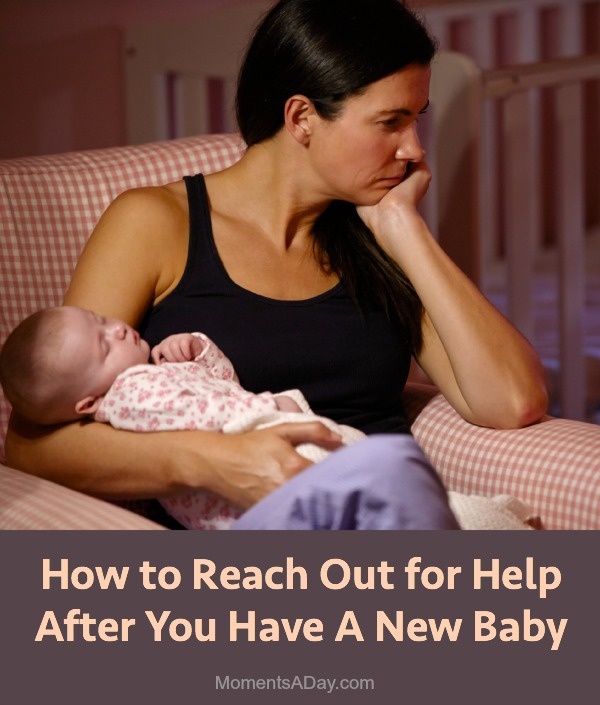 It can be isolating after giving birth to a baby.  Not only are new mothers sometimes too tired to venture out as much as before but if their newborn doesn't enjoy car rides, they may feel stranded at home.
Regular "new baby" complaints include feeling lonely, being behind on the housework, being low on groceries, feeling utterly exhausted, and/or super emotional – and it isn't easy.  But no matter how difficult things feel, it isn't necessarily easy asking for help either!
I know, because in the past I have rarely asked for help… even during my most trying times.
However as I am getting older – and now expecting my third child – I am realising that asking for help is not a sign of weakness.  When I think about how much I want to help my friends who are going through hard times (i.e. after losing a relative or experiencing medical issues), I am reminded of the blessings I receive when I am able to help them.  When people close to me reach out and express their needs so that I can lend a hand, not only do I have the blessing of more meaning and love in my day but we are brought closer as friends.
In fact, I think reaching out for help and receiving help are signs of a true friendship.
So in order to feel comfortable asking for help, I undergo this simple exercise.  In my mind I reverse the situation, thinking from a friend's perspective – and imagine my friend (me) as the one undergoing hardship.  Wouldn't my friends also want to help me when I'm in need?  If I keep all my struggles to myself, how can we grow closer?
I find sending an email, text, or Facebook message is less confronting than a phone call, too.  That way I know my friend has time to consider how they may help out, and can get back to me whenever it is a convenient time for them.  I always let them know it's okay if they have too much on their plate to help at this time, as well!
Sometimes it can be helpful to send a list of ways you would feel supported to close friends and family so they know how to help you.  In fact, if the expected baby is not your first it can be fun to share this "wish list" instead of a traditional baby shower registry.
Here are some supportive "gift" ideas for mothers:
* Take by a hot meal for dinner so mama doesn't have to cook.  If you live far away, send mama a gift card for a local restaurant to have dinner delivered.
* Ask mama to send you a grocery shopping list and go pick up what she needs.
* Give mama a massage, manicure or pedicure.  It may feel awkward at first, but it can be very relaxing to have some extra pampering without leaving the house.
* Come over and clean the house (it generally takes less than an hour to wash dishes, vacuum, clean toilets, and throw in a load of laundry but it would be much appreciated!).  If you don't have time yourself – pay for a cleaner.
* If the new baby has siblings, offer to come by and watch the older kids while mama has a nap or takes care of other jobs.
* If the siblings are comfortable enough, invite them over for a playdate (or even a sleepover!) to give mama some time alone with baby.  Or you could take them to the park or the pool for the afternoon.
* Stop by with some baked goods or fresh fruit, just to talk to mama and lend some emotional support.  Face to face adult conversation is usually much appreciated when one is alone with a new baby for hours on end.
* Rent some movies (new releases or TV series are great!) and drop them off with a note that says you'll be back to pick them up when the day they are due.  Feel free to add in a few bags of popcorn and some treats, as well.
What other ways can mothers reach out for support after giving birth?
Please note: If you are experiencing signs of depression, please contact your doctor as soon as possible.
This post is part of my series Tips for Families Expecting a New Baby.  For more ideas about getting yourself and your family ready for your new bundle of joy, check it out.