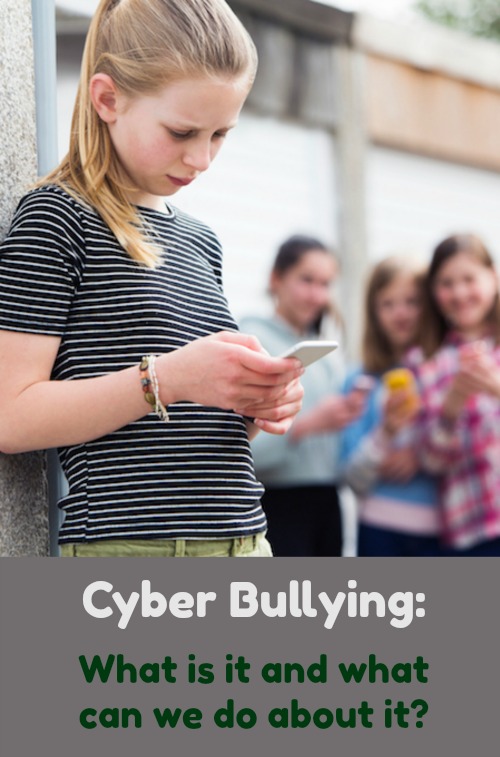 This is a guest post by Emily Thompson, Cyber Safety Consultant at KidGuard
What is Cyberbullying?
Bullying. It's a difficult topic to think about, and can be just as difficult to discuss with your child. 
As a mother, you care about your child's safety before anything else. The trouble is that in today's increasingly online world, it's getting difficult to figure out where the threats are coming from. There is plenty of attention on cutting down bullying and while schools have implemented "zero tolerance" policies to cut down on the problem, it hasn't really worked. Kids are increasingly shifting to platforms that we as adults don't have visibility on, such as Snapchat, Facebook, Musical.ly and more.
To get ahead of the curve, it's important to learn about some of the trends that are currently impacting our children's safety online.
#1 Get Informed
Experts define cyberbullying as encompassing several types of negative online behaviors.
"Cyberostracism" focuses on making a victim feel excluded by not tagging her, leaving her out of public events, or consistently ignoring attempts to communicate.

"Harassment" is the use of hateful messaging and intimidation to cause fear or coercion.

Finally, "fraping" – from "Facebook" and "rape" – occurs when a cyberbully hijacks a victim's social media account with the goal of embarrassing its user by posting inappropriately or changing online information, actions which outsiders wrongly attribute to the victim.
Disturbingly, recent studies have demonstrated that 1 in 5 children will bully their peers online, and half of all teenagers have experienced some form of cyberbullying before. Cyberbullying is particularly insidious due to the fine line that separates banter from personal attacks. Kids of all ages can and will claim they are "just joking" when confronted with their actions – which is why it's even more imperative that you stay on top of your child's interactions online.
#2 Prevent Cyberbullying
The most effective option parents have at their disposal is clear and constant communication with kids. As familiar as our children are with the digital spaces they inhabit, they may lack the maturity to determine what types of behavior cross the line or will feel it is "uncool" to involve an adult even when harassed. You need to clarify the boundaries that your child should maintain online and explain what resources are available when they feel uncomfortable.
Beyond communication, you should also pay attention to your kid's behavior online. Know what social media apps are prevalent with the age group your child belongs to and what the risks are. Keep an eye out for signs of bullying, such as sudden emotional changes when using technology or lack of interest in social activities. If necessary, you can also invest in monitoring applications to keep track of your child.
#3 Take Action
If the worst should happen, there are some steps to take. First, immediately separate your kid from whatever site or app exposing your child to bullying – though remember to screenshot and keep the evidence.
Second, consult with school authorities to determine a response. In certain cases, it may also be worth speaking to an attorney.
Third, get your child the help she needs by setting a date with a counselor to go over what happened – and remember to support her during this emotionally difficult time.
About the Author
Emily Thompson is just a neighborhood mom (and coincidentally a Cyber Safety Consultant at KidGuard) passionate about child and teen online safety. I'm a firm believer of building a loving and trusting relationship between parent and child through open dialogue, education, and monitoring measures (when and if necessary).
You may also enjoy…
How to Guard Children Against the Dangers of Pornography {Resource Recommendation}