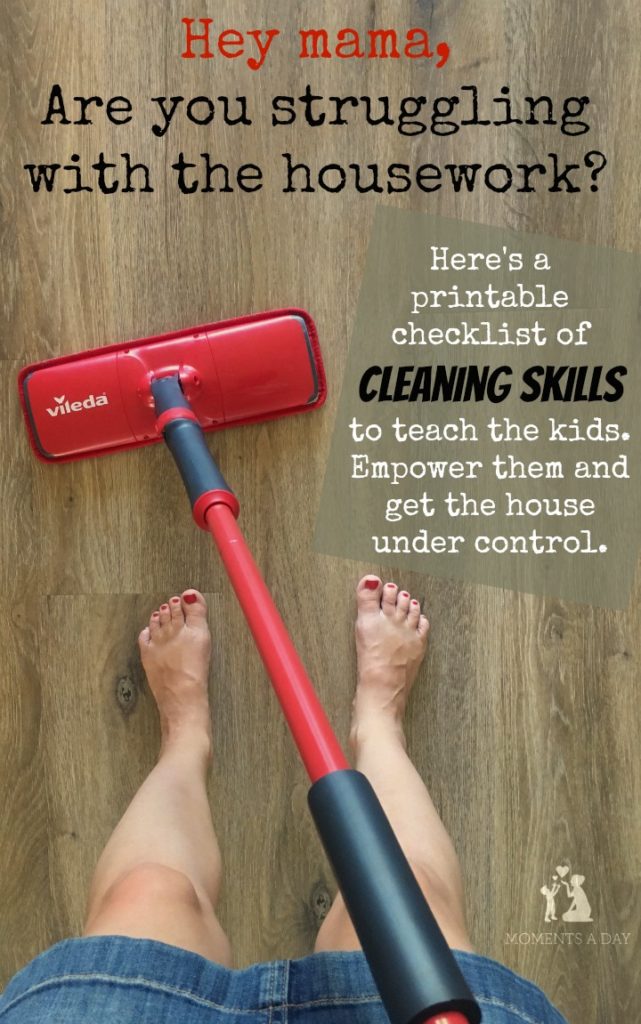 Brought to you by Nuffnang and Vileda
I will gratefully admit that I had a cleaner come once or twice a fortnight for most of my first few years of motherhood.  I considered it a necessary expense for my mental sanity.  Life with young kids is messy, you know!  And with a shift-working husband and too much stuff to organise, I simply needed some help to keep our house under control.
Now my kids are now ages 2, 5 and 8.  It surprises me to say it, but I don't actually need a cleaner any more.  "What's the difference?" you ask.  Mostly it's that the kids are now old enough to help out!  Sure the two-year-old cannot contribute a whole lot to the household duties (even though she loves to give it a go) but my older two can take over quite a few jobs that I would otherwise be doing on my own.  Every morning the kids do their own jobs – like dishes, laundry and vacuuming – while I do my own – like toilets or mopping.
Of course the kids chipping in to the upkeep of the household is not only of benefit to me.  I love to see them empowered with new skills, and I think the earlier they learn to be active members of the household the better.  In fact, one of my priorities as a parent is to equip my children with life skills so I consider learning to maintain the home a valuable learning experience.
I recently made a list of cleaning tasks I plan to help my kids learn in the coming years, which I use more as a checklist for me to ensure I've taught them but could also be a goal list for children if they would enjoy the challenge.  I just write each child's name in the box when I feel they are capable of doing the task independently.  It has been useful for me to keep tabs on what they have already mastered and what new skills can be introduced next.
By empowering my kids in this way I hope that when they move out of the house, they will feel prepared and confident to take care of their home and/or contribute to a shared household.  Who doesn't love a housemate who is tidy and does what needs to be done, anyway?
If you want to download my list, click here.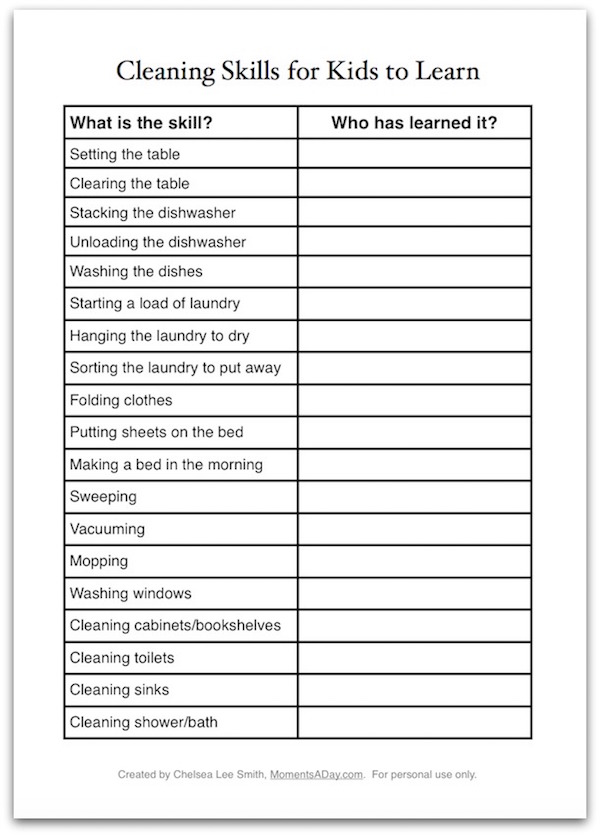 We have actually been doing "family service" every morning for a couple years now, which is when we all do between 15 minutes and half an hour of cleaning together each day.  I find this routine really helps keep the house under control all week.
Another tip I find useful for keeping our house cleaning in check is making sure I have the right tools to clean effectively and efficiently.  Not only does this make cleaning more enjoyable, but it takes much less time to clean when you actually have the best equipment to use.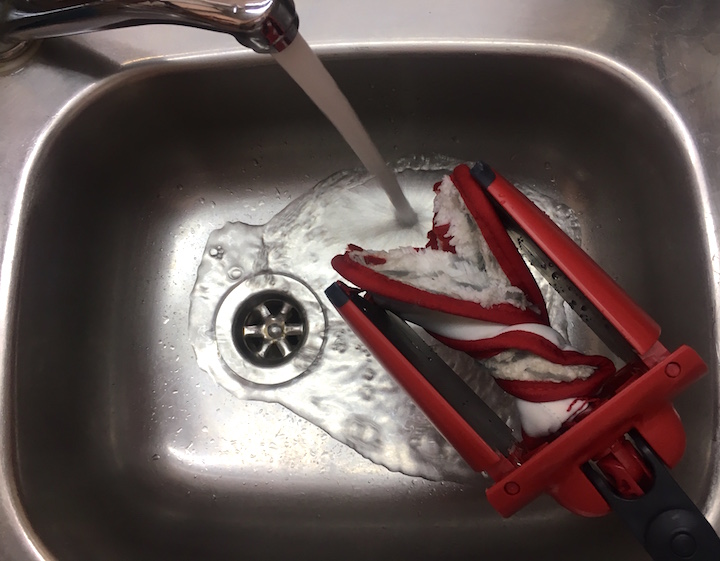 I was recently sent a Vileda UltraMax Easy Twist mop and I couldn't wait to try it out.  My previous mop was one of the ones that had a pad you squeezed out yourself, which I could never quite get dry enough and it was actually pretty gross when you thought about all your hands are touching when you wrung it out (anyone else potty training?).
The new Vileda mop has a clever design which makes the squeezing quick and easy, all without touching the pad with your hands.  You can check out a cute little video of the mop's main features here.
Here's what I personally love about the mop:
The

wringing mechanism

is so effective and so much faster to use than a traditional mop, just twist (with dry hands) then press the little button to release!  Because you don't have to wring out the pad with your hands, it's much more sanitary as well.
The pad is

machine washable

and made with microfibre so you pick up all those little dust particles.
There are

soft bumpers

on the edges so if the kids hit the legs of furniture it won't make marks.
It has a very

flexible head

for getting under low setting furniture.
You can get

replacement pads

 which makes the mop itself last much longer and therefore better for the environment.
Sounds pretty fabulous, right?
The Vileda UltraMax Easy Twist mop is available nationally in Woolworths or online.  It is currently on special until 29th of March.
The giveaway is now closed.
For a chance to win one of 10 Vileda UltraMax Easy Twist mops, answer this question in the comments below:
What is the most important feature you look for in a mop and why?
Open to Australian residents only.  Entries close 11.59pm AEST Wednesday 29th of March 2017.  For full Terms and Conditions, click here.
Looking for something else to read?
If you enjoyed this post you may also like to read my five essential tips to get kids happily involved in housework or about how I have organised our morning routine.
This is a sponsored post.  All opinions are my own.  To read more about advertising on this website, visit this page.