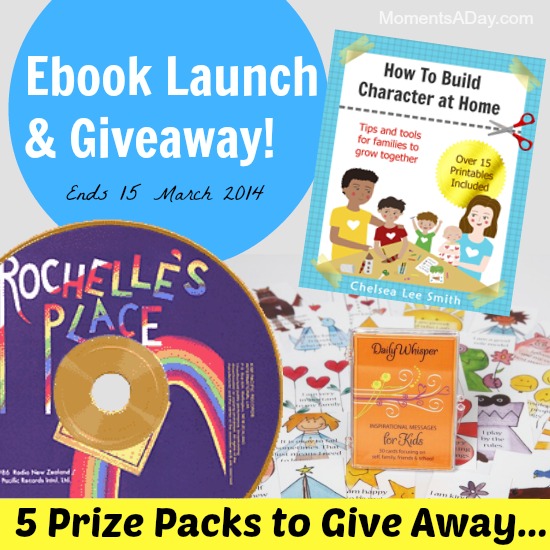 I am so excited to have completed an ebook I have been working on for many months now.  How to Build Character at Home is a collection of the many ideas our family has tried over the past 5 years to create a home infused with character.  Written in easy-to-read segments of one page each, along with over a dozen printables to help along the way, I hope this ebook will make it simple and straight forward to add elements of character education into parenting practices as well as everyday family life.
To read more about the book and get your copy, please visit this page where I share a sneak peak of the inside and some more details.
To celebrate the launch of my ebook I have five prize packs to give away, featuring my new ebook plus one of the two following prizes:
Daily Whisper Inspirational Card Decks
"There are few greater challenges than watching and feeling helpless as your children struggle with all of the insecurities and questions that come up throughout childhood. As a parent we are always in search for answers regarding our children's mental and physical health.
Daily Whisper Inspirational Messages address the needs of children and the challenges they face growing up. These cards are not specifically about thinking positively, although that is often a result, but instead they are designed to help children accept and love who they are no matter what conditions or problems they face in their early lives.  Within the 30 card pack you will find topics on manners, friendship, school and family."
Visit this page to read more about these lovely card sets.  As you can see in the picture, they are a great size to stick into backpacks and lunch boxes, and perfect for a little gift.
Rochelle's Place CD
Rochelle's Place is a lovely musical album for kids three years old and up, with over 30 songs in the following categories:
Songs to get to know you
Songs to sing to animals
Songs to make you feel better
Songs to sing in the rain
Songs to keep you safe
Songs to sing into space
Songs to wish on
Perfect for playgroups, car trips, and quiet afternoons, Rochelle's Place is a sweet album and, as my 5 year old son says, "She has a beautiful voice."  To listen to samples and find out more about the CD, visit this page.
I greatly admire artists whose work uplifts those around them and encourages people to create meaningful relationships with others.  I think surrounding ourselves and our children with positive messages and reminders that we can feel and show love every day is so important.  Thank you, Barbara (founder of Daily Whisper) and Rochelle (musician behind Rochelle's Place), for sharing your gifts with the world and with Moments A Day readers!
Enter the Giveaway
3 Prize Packs include 1 PDF Copy of How To Build Character at Home and 1 Daily Whisper Inspirational Card Deck for Kids
2 Prize Packs include 1 PDF Copy of How To Build Character at Home and 1 Rochelle's Place CD
To enter the giveaway, leave a comment on this post answering the following question:
Why do you believe it is important to help your children build character?
The competition ends on 15 March at 6pm EST.   The five most creative or compelling answers will win.  The winners will be contacted by email and announced on this post.  Good luck and thank you for participating!

If you would like to read more about my ebook How To Build Character at Home (or get your own copy), you can do so on this page.
Terms and Conditions
This giveaway is open to residents of all countries.
You must provide a valid email address when submitting your comment.
Entries are limited to one per household.
Winners must contact me within 4 days or the prize will be re-drawn.
Winners agree to their contact details being passed on to the appropriate representative in order to be mailed their prize.
Prizes are not redeemable for cash nor are they transferable.
This is not a sponsored post.  I was given a sample of each of the prizes, and the prizes themselves are being freely offered by the companies.  To find out more about sponsorship and advertisement on my website, visit this page.