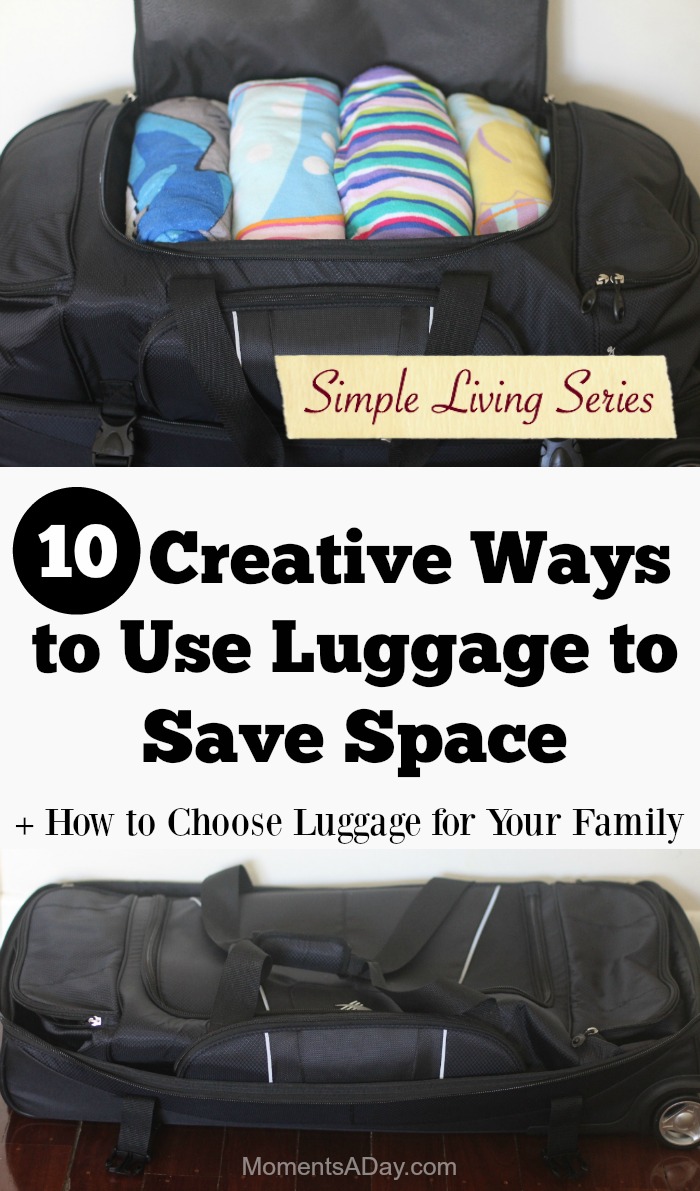 Our travel gear used to take up a lot of space.  Since our family spends a few weeks abroad at least once a year – not to mention weekend getaways and camping trips – we have quite a bit of luggage for the five of us.
Because of my goal to simplify our living space plus our upcoming year of travel, I was very keen to replace our old luggage with new pieces that would suit our needs better.  Our old pieces were heavy and bulky, not much good for storage or travel for that matter!
My requirements for new suitcases were:
Lightweight – easy to roll or carry
Robust – would last through lots of camping trips as well as numerous long distance flights
Storage friendly – would pack down and not take up a lot of space when not being used
I was very excited to find and review two pieces from High Sierra which met all this criteria and more!
The first was the Endeavour 87 Wheeled Duffle (3.9kg/8.6 pounds).  This piece has the benefit of a handle so you can roll it, but – unlike many rolling bags – also has a very flexible body so is extremely light weight.  Featuring two large compartments (which you can access through multiple zippers) plus two smaller side compartments, I like the way you can organise belongings inside (i.e. undergarments and pyjamas on the sides, main outfits and toiletries on the top, outerwear and shoes on the bottom).  Click here to see more pictures of the bag's features.
The second piece was the 76-cm Pack-n-Go Duffle which amazingly folds down into its accompanying toiletry bag, which you can use when it's not holding the duffle itself!  This bag easily fits one child's whole wardrobe (plus shoes and a few toys) so will be perfect for our travel next year… I'm planning to get one for each child.  The bag is also super light and can be carried over the shoulder or with the detachable backpack straps!  When not in use, the bag can be folded down to barely nothing, meaning less dead space when we are staying in small accommodation during travels (when staying in furnished housing, we will move our clothes into the dressers provided).  You can see pictures of the bag as well as how it folds down on this page.
Because of the flexibility and durability of these bags, I know they will be great for our travel around Australia next year, plus any international trips we take as well.
Until then, however, I have been revamping our closets so we can make use of this luggage as storage space.  I used to have various plastic underbed containers or flexible tubs to keep things in, but now we are using our travel gear as storage space instead!
Getting rid of all the extra storage containers has not only cut down on clutter under the beds and in the closets, but lets me be more flexible about storage.  This is because if I'm not using the luggage, I can simply fold it down or nest it – unlike having big plastic storage bins of random shapes and sizes that cannot be folded down therefore always take up a lot of space whether they are full or not.  Getting rid of all the storage boxes also means I can keep the luggage upstairs in the closet since there is now room, instead of in the garage, which means all our travel gear stays dust and cobweb free (yay).
Here are some of the ways I'm planning to use our luggage as storage.
10 Creative Ways to Use Luggage to Save Space
Luggage can store:
Beach towels and beach gear (sand toys, floaties, etc)
Bulk buys of toilet paper, printer paper, or disposable nappies
The next size of kids' clothing – especially if you have been given hand-me-downs
Out of season shoes, boots, coats, or sporting gear
Gifts for an upcoming holiday or birthday (great hiding place!)
Summer or winter sheets/blankets
Toys if you want to create a toy rotation (switch up the toys you make available to your child so they aren't overwhelmed by choice plus keeps things feeling "new")
Craft kits you find on sale to use later (I like to buy these to use during school holidays and sick days)
Many of these things I keep in the plastic zippered bags that sheets/pillows come in, so they are still contained while in the luggage (and easy to take in and out).
You can also:
Use the luggage as a place to put things you want to give away.  Once the bag is full, use it to transport your unwanted items to the second-hand shop!
If you have nothing else to store in the luggage, nest the pieces within each other to save space.
Getting rid of so many "organisational" bins and boxes has made a huge difference to our home.  I have no idea why it didn't occur to me to use luggage as storage space before!
If the luggage is being used as storage when we are leaving for a trip, I will simply empty the contents so we can use the bags and then replace them when we get home.  Easy peasy!
I can't wait to use our new bags for travel – we will be leaving next month for two weeks in the USA, and I am looking forward to putting them to the test!  We have always had very heavy or awkward suitcases, so these easy-to-roll, lightweight bags will be awesome for our trips in the future.
What is your criteria for travel gear?  Do you use suitcases as storage and, if so, in what way?
I was sent two pieces of High Sierra luggage to review for this post.  All opinions are my own.  To read more about reviews on my website, visit this page.