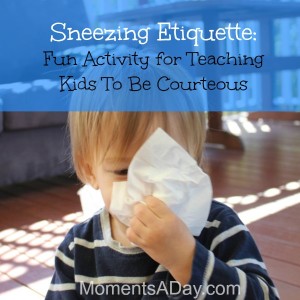 Practicing good manners is always useful for young children.  We may think they should already *know* not to cough in their brother's face or not to wipe their noses on the couch, but actually they need to be taught about even the littlest of habits.  I have found that this activity is a fun way to help kids learn and practice etiquette when sick (although I know they will still need to be reminded over and over!).  I have done this when the kids are well, and then revisited the activity when they actually have runny noses etc, and it has been a fun way to refresh their memories about what is considered "courteous" and what is not.
Home Activity
We start off by talking about how we do not want to spread germs, especially when we are sick, and by being careful not to we are practicing cleanliness as well as courtesy.  It is important to keep our hands washed and our mouths covered when we sneeze and cough.  Imagine how you would feel if someone came up and coughed right on you?  We don't want to make anyone feel that way!  When we are courteous we think about the feelings of other people and take them into consideration.
Next I bring a puppet out to show the kids (in funny ways, of course) how to say "excuse me" after a sneeze, how to cover their mouth with an arm when they cough, and how to wipe/blow their nose with a tissue.  I ask the kids to copy the actions of the puppet.
My one suggestion is to be sure to make the puppet very animated and over the top with their actions, so your child will want to join in!
How can your family improve etiquette when sick?  Could your kids benefit from some extra practice?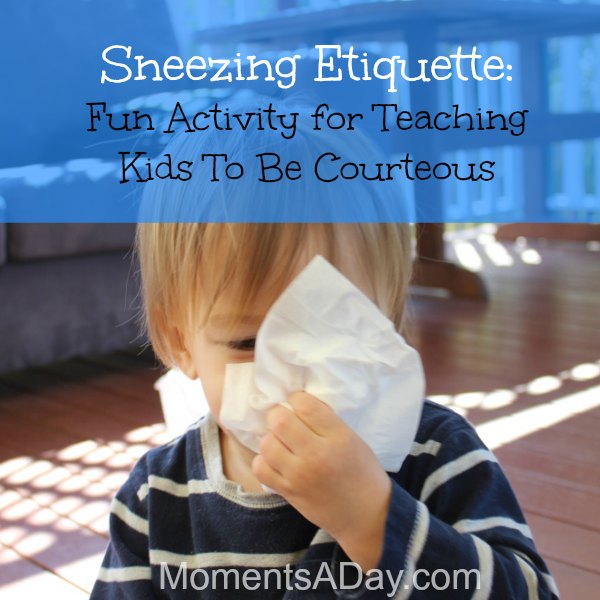 Feel free to share your experiences after using this idea or tell us about any variations you came up with. Links to related activities or to a post linking here, are most welcome also.
Thanks for your feedback – I appreciate all your comments!