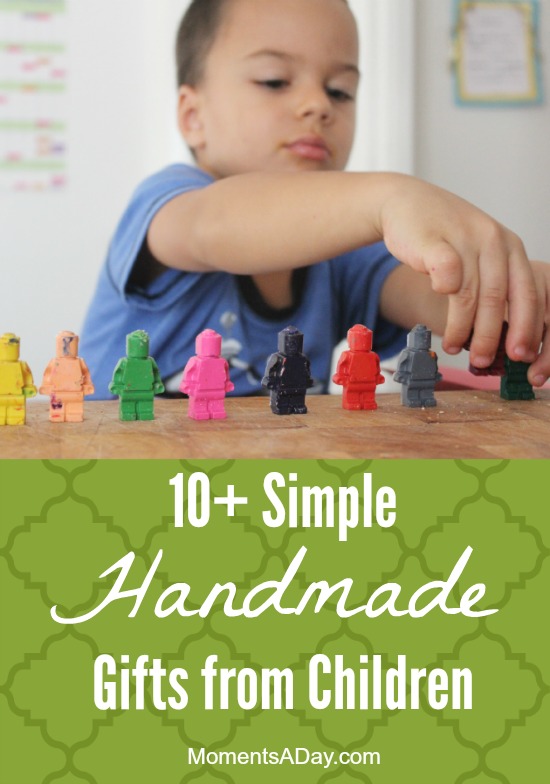 Making and giving handmade presents has several character building benefits for children:
They have an opportunity to demonstrate empathy by thinking about what another person would like and creativity by choosing a unique gift to make for them.
They have the chance to think about friendship by looking for ways to make their friends happy and thoughtfulness by making someone else feel loved and appreciated.
They will practice dedication by following a home-made project from the beginning to the end and selflessness by giving something away which they worked hard to make.
It seems our family never runs out of birthdays and celebrations to give gifts to others, so I decided to put together a list of ideas to use in the coming months.  Here are some of my favorite finds from around the web – enjoy and let me know if you have any other fabulous ideas!
Gifts For Kids
Rainbow Crayons from The Imagination Tree
Pipe Cleaner Ninjas from Frugal Fun for Boys
Fairy Houses from Filth Wizardry
(Note: Lately we have been invited to a lot of gift-free birthday parties.  Sometimes the families invite party guests to participate in a fun service project – see over 15 ideas in this post – and other times they just prefer not to get so much *stuff*.  Here are three "go to" projects when we have a gift-free birthday coming up for a child.)
Handmade Card.  Be creative!  Make it a different shape.  Add a poem or a sheet of stickers.  Create some small coloring pages they will like and tuck them inside.  Make a mini storybook with a made-up or real-life story of your friendship.
Baking.  If you know their favorite cookie, that's a great choice – but if you don't, get creative with cookie cutters, colors, or designs they may like.  Put the cookies in a basket or tin which they can pass on for someone else's birthday or use to collect treasures (or birthday cards!).
Birthday Balloons from She's Crafty (I think it would be cool to fill the balloons with handwritten messages – maybe "things I love about you" or "favorite memories together")
Gifts For Adults
Popstick Wreath from Childhood 101
Felted Pom Pom Necklace from Octavia and Vicky
Vintage Teacup Candles from Hey Gorgeous
Chocolate Spoons from Rainy Day Mum
Decorated Golf Balls from Laughing Kids Learn
Personalised Clock from Paging Fun Mums
10 Recipes You Can Gift in Jars from Inhabitat
Inspirational Collages from Moments A Day
To top it all off…
Here is some cute Printable Wrapping Paper from Picklebums and a gorgeous "I Love You This Much" Card from A Day In My Life.
What handmade gifts has your family enjoyed making and giving?  Have you noticed your kids practicing character traits in the process?