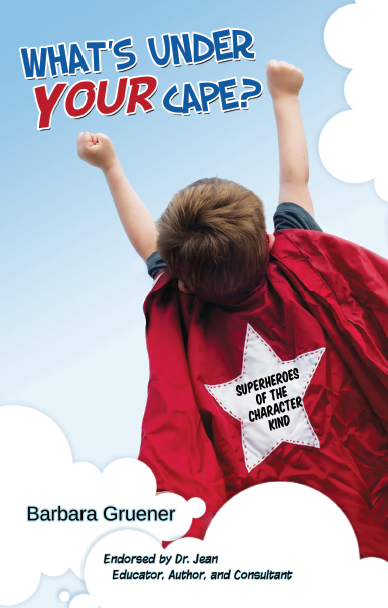 Affiliate links are included in this post.  
What's Under Your Cape?: Superheroes of the Character Kind
is a guide by counselor and character coach Barbara Gruener to help elementary teachers infuse virtues, values, and positive character traits into the habits, routines, and culture of their classrooms.
Complete with personal anecdotes, song suggestions, activities, hallway display ideas, storybook lists and more, this book is truly a must-have for parents and teachers interested in character education.  Anyone working with kids – coaches, club volunteers, playgroup hosts – would benefit from reading this resource.  I definitely learned a lot and was inspired to give many ideas a try with my own kids!
Here is an excerpt from page 14, posted here with permission from the author:
"At schools of character, every student serves, whether it's something seemingly small, like being the line leader or caboose, or a little more involved like serving on safety patrol. Every job is important and valued because every job meets a need. Some task ideas that might give superheroes the opportunity to serve include:
Morning Leader: This student leads the pledges (at our school, we say the Pledge of Allegiance, Texas pledge, and character pledge) and announces birthdays each morning in the community gathering.
Door Holder: This child holds the door open while the class is coming and going.
Watt Watcher: This child is in charge of turning out the lights when the class has left the room.
Weather Forecaster: This student is in charge of checking the weather forecast and sharing it with the students.
Technical Engineer: This student runs the technology for the day.
Pencil Sharpener: This child is in charge of keeping the pencils sharpened.
Service Patrol: These students help with breakfast in the cafeteria and with car and bus arrival procedures.
Green Team: These students serve in the nature center.
Recycling Team: These students collect the recycling from bins in every classroom at the end of every week.
Bathroom Brigade: These students check the cleanliness of the bathrooms to report any issues and give a weekly report.
Paparazzi: This student is in charge of the character camera so that we have pictures to post on the school website."
Isn't that an awesome list?!  There are so many practical and creative ideas in this book, it will definitely be on our family's gift-list for my children's future teachers!
To see more of Barbara's work, here are a few articles and pages to check out:
Wall of Trust  ~ building a brick wall to learn about the trait of trustworthiness
The Path to Peace ~ creating a Peace Labyrinth to learn about conflict resolution
Books that Teach ~ a long list of books (with activities to complement them) that teach values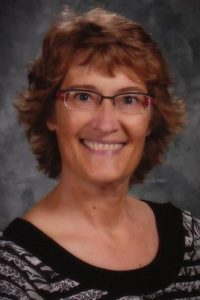 Barbara Gruener is a counselor and character coach at Westwood-Bales Elementary, a National School of Character. She grew up on a family dairy farm in Wisconsin and credits life on the farm with helping build her strength of character and work ethic during her formative years. Though she'll tell you that she informally started teaching when she was in kindergarten, Barbara has worked as a teacher and counselor with students across all grades, pre-K through twelfth, for thirty years. During that time, Barbara has always used fun as her invitation to engage, create, discover, learn, and grow with her students. She feels blessed to be able to connect with kids, be a part of their stories, and help them reach their greatest potential. Her boundless energy and passionate enthusiasm have taken her from San Francisco to New Jersey and Wisconsin to Puerto Rico, sharing her message about the importance of shaping hearts and minds for the future with kindness, respect, and care. When she's not working, Barbara likes to knit, bake, read, write, and take long walks. She lives in Friendswood, Texas, with her husband, John, and their three children.
You can visit Barbara at The Corner on Character and explore her blog archives for even more resources and wisdom.  You will also find her sharing ideas and inspiration for helping kids build character on Facebook as well as Pinterest.
Order the book via Amazon: 
What's Under Your Cape?: Superheroes of the Character Kind
Affiliate links are included in this post.  I was sent a copy of What's Under Your Cape? to review for this post.  All opinions are my own.  To read more about advertisement on my website, visit this page.