Happy Kids Songs were created for building character and social and emotional skills for kids ages 4 to 8 years old.  The songs are super catchy and fun to listen to (great car music!) – you can listen to some samples via this page.  The creator Don MacMannis – also known as Dr. Mac – is a Child Psychologist and award-winning PBS children's songwriter and music director, and his passion for empowering families through fun resources really shines through.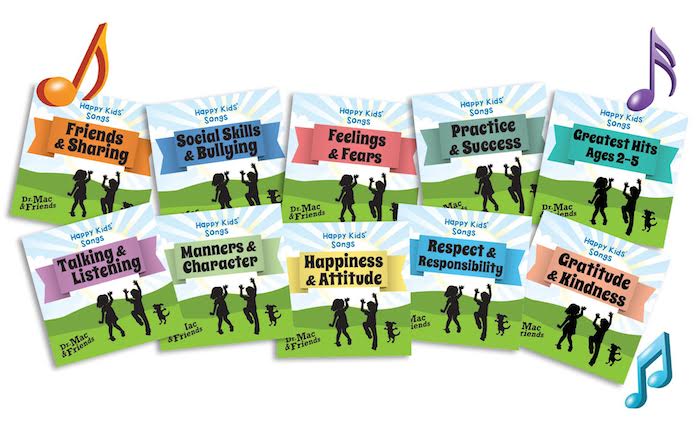 Music to Build Character
There are 8 Happy Kids Songs CDs in total with 5 songs each that focus on a theme such as "Talking and Listening" or "Respect and Responsibility."
Sample Song Topics
Assertiveness and dealing with bullies
Taking turns with others
Celebrating differences
Including others in play
Ways of expressing feelings constructively
Handling unwanted thoughts
Overcoming fears
Being considerate
and more!
Activities to Build Character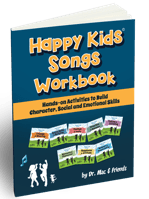 If you want to extend the conversations beyond the songs, there is also a 125-page activity book that includes lyrics to all 40 songs, a corresponding full-page activity for each one (which could be photocopied to use in the classroom), plus a list of 3-5 more hands-on activities per song.  This workbook could be used in so many ways including after-school sessions, vacation care camps, playgroups, music classes, or kids counselling programmes.  It would also be a valuable resource for a homeschooling co-op.
Sample Workbook Pages
This is a sample of the lyrics page with an accompanying activity.  Each one is unique (i.e. they are not all colouring pages!).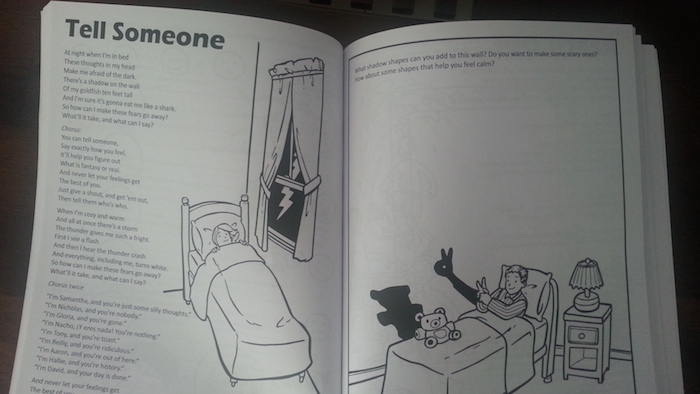 In the back of the book you will find a list of activities to use along with the music to extend the lessons in each song.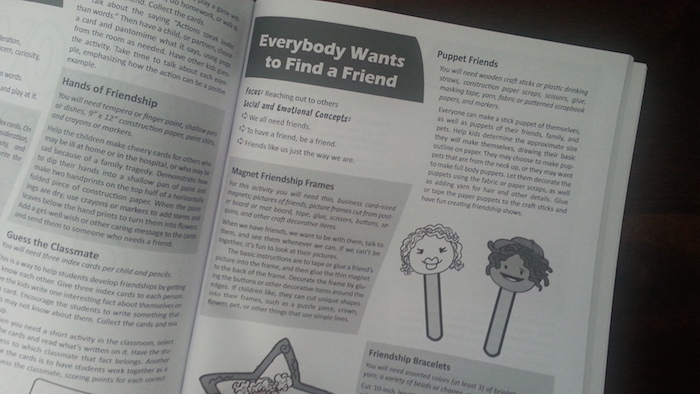 I love the music and workbook and will be recommending it to all my friends who are in the character education field.  A truly awesome resource!
Visit the Happy Kids Songs website to find out more about these awesome resources and to download free songs.
You may also enjoy…
30+ Gifts that Help Kids Build Character
Storybooks that Build Character + Printable Activity Pages
Review: Lunch Box Cards to Encourage Positive Thinking
I was sent a workbook and sampler CD to review for this post.  All opinions are my own.  To read more about reviews on my website, visit this page.