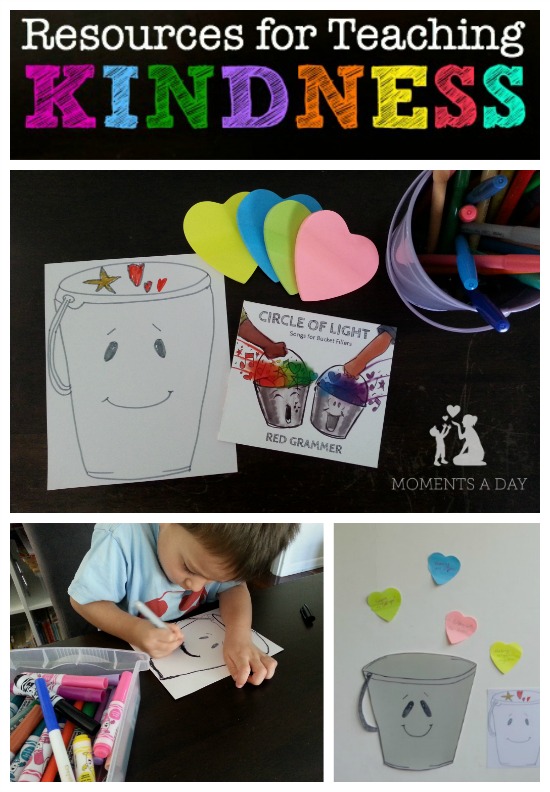 When I found out that one of my favourite musical artists was making an album to accompany one of our family's favourite children's books, I could hardly wait to hear the result.  I am very excited to share Red Grammer's new album Circle of Light: Songs for Bucket Fillers, created in collaboration with Carol McCloud, author of Have You Filled A Bucket Today? A Guide to Happiness for Kids.
I have been a huge Red Grammar fan since childhood.  I grew up listening to his music (on tape, of course!) and as soon as I found out I was pregnant with my first son, I started growing our family's CD collection with his music.
Many of Red's CDs are focused on character building themes, with songs such as "Teaching Peace," "I Want You To Listen," "We're All In This Together" and so many more.  His songs are fun, upbeat, and great for both adults and children to listen to.  I am always thankful to be reminded of the important messages in the music.  Just a couple examples are "Shake Your Brain" which helps empower kids to work out their own problems or "See Me Beautiful" reminding us to look for the best in each other.  Red's CDs for kids are definitely among our family favourites.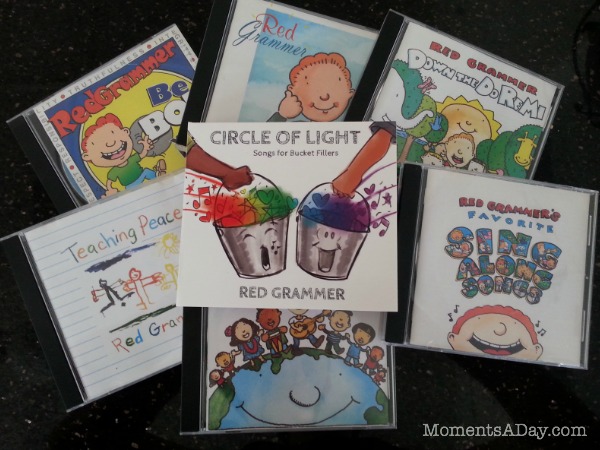 Have You Filled A Bucket Today? A Guide to Happiness for Kids is an amazing book which I featured in a recent article listing my favourite character education books for kids.  The book teaches children that everyone in the world has an invisible bucket that gets filled up when they give and receive kindness (and, on the contrary, gets "dipped" when they are unkind).  It's such an effective analogy for kids to learn about the meaning and effects of kindness, and a non-threatening way to tackle the subject of bullying as well.
Both my children (ages 3 and 6) relate to the book so much that "bucket filling" is just part of our everyday language at home.  At least once every day (usually more) my youngest refers to filling buckets, such as when he says "Hi" to a neighbour or shares with his brother.  He happily exclaims, "I filled a bucket!"  I love how this analogy of making others happy while making our own self happy is so easy to express with these simple words.
There are tons of related books, free downloads, and lesson ideas on the website BucketFillers101.com to take the concept of bucket filling further, as well.
Circle of Light: Songs for Bucket Fillers offers a lovely addition to the "bucket filler" resources already available, and it's so catchy that my kids have already memorised some of the songs (overhearing your kids singing these lyrics is so heart warming, let me tell you).  You can find out more about the album by listening to samples or viewing the lyrics.
After thoroughly enjoying the CD over the past couple weeks, I also decided to do a simple activity with the kids to further discuss the message of bucket filling.  You can read about our family activity here!
I highly recommend the Bucket Filler resources for teaching kindness – you can even purchase the book and CD as a combo set.  Head over to Red's website for details.
I received a copy of Red's CD Circle of Light to review for this article.  All opinions expressed are my own.  To find out more about advertisement and reviews on my website please click here.