Imagine you have been planning a road trip for weeks, maybe even months.  You have researched the best route to take, the most relaxing places to stop over, and all the sights you want to see.
It's the day of departure.  The bags are packed.  The fuel tank is full.  The hotel is booked.  And the baby is… screaming??
This wasn't the way you envisioned your road trip to start out!  But let's face it: travelling with a baby isn't always going to be easy.  Actually make that life.  Life with a baby is never completely smooth sailing.
I've been on many trips with our three kids and, at one point or another, it seemed things couldn't get worse.  Some people thought we were absolutely insane to start road tripping around Australia before our daughter even turned one.  But kids never cease to surprise me and, most of the time, I have been so incredibly grateful that we put in the effort to travel when the kids are young.  They get to experience so much and so do we.  After all, happiness is not waiting for the storm to be over, it's learning to dance in the rain.
It is pretty much inevitable that at some point on a road trip your baby will throw a spanner in the works by having a nappy explosion, suddenly waking up with a fever, or taking an extra long nap (or no nap at all).  Wouldn't it be the same sort of thing, however, if you just stayed at home?
Babies might make travel a bit more complicated but that is no reason to wait until they are older to get out and about.  Take it from me: older kids bring their own complications as well.  Challenges with babies will happen no matter where you are.  It's great for everyone to get out of the regular routine and explore somewhere new so don't put your dreams of hitting the road off until later.  Even if your first destination is only a couple hours away, why not give it a try?
Here are a few tips that will make road tripping with a baby a little bit easier for you.  I hope they will inspire you to plan a trip soon!
This post is brought to you by Nuffnang and Maxi-Cosi.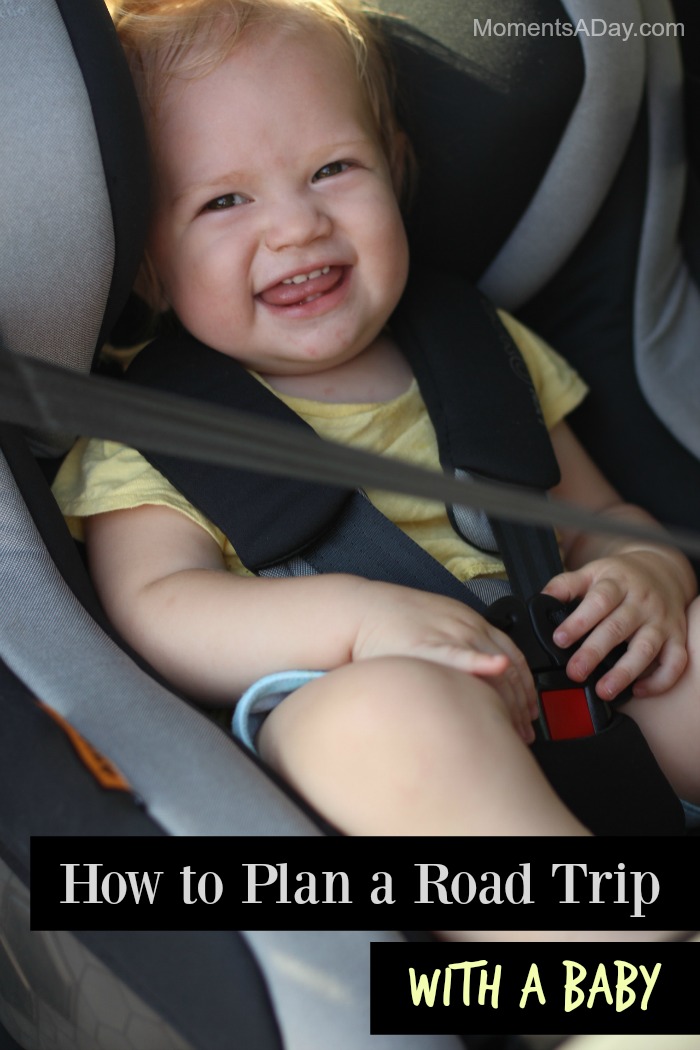 Planning a Road Trip with a Baby
The worst thing about traveling is feeling anxious about safety.  When we left for our Year of Travel, many people warned us about kangaroos suddenly jumping into the long roads in the Outback which made me really nervous about accidents!  Luckily our bub is being transported around the country in a carseat from Maxi-Cosi Australia which really gives me peace of mind.
As Europe's most popular and trusted car seat brand, Maxi-Cosi is constantly seeking out the latest and most advanced carseat safety innovations from around the world and tailoring them to comply with Australian standards.  I definitely put choosing the safest carseat as the number one thing to do before you travel (or get into a car at all) with a baby.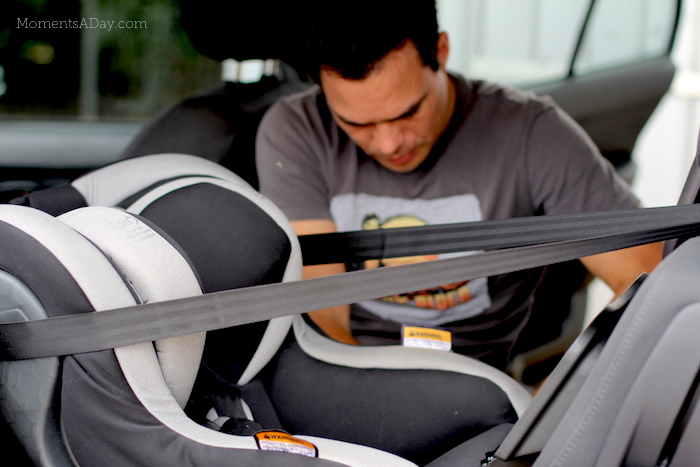 The seat we have is the Maxi-Cosi Euro NXT which is a convertible car seat suitable for newborns to approximately four years.  I love that it lasts for so long.  A big safety bonus is that it allows baby to sit for up to 30 months rearward facing!
The Maxi-Cosi Euro NXT uses the ISOFIX compatible soft latch system which makes installation super easy (if you watch the instructional video online first, it will take only a few minutes).  When my hubby was installing the carseat, he commented how much cushioning it has.  Baby definitely wins the comfiest seat in the car award!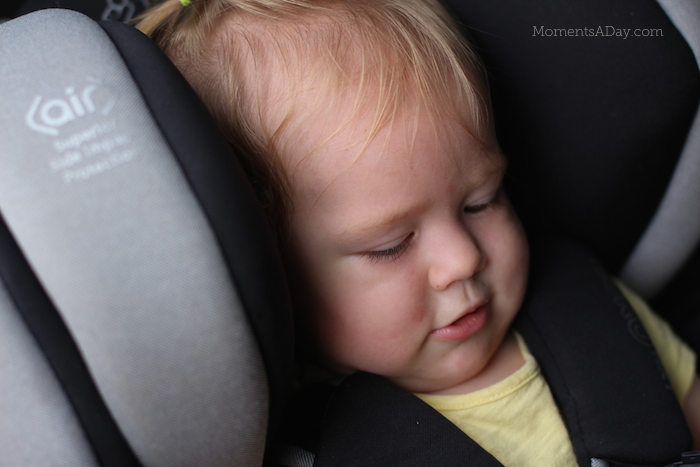 Here are some of the other features I love:
Side impact protection:  The Air Protect cushions (pictured above) utilise Maxi-Cosi's innovative air protect technology through a controlled release of air.  These cushions reduce crash forces around your child's head should you have a side impact collision.
GCELL™ technology: You know how a bumper reduces crash forces for your car?  That's how I understand GCELL™ technology to work.  There's something called high performance thermoplastic elastomer (TPE) that lines the entire outside of the car seat shell and acts as a crumple zone to make baby safer in the seat.
Wicking fabric: The "Cool Baby" fabric keeps babies cool which is especially important during summer trips when heat can be a test for anyone.  Comfort is key to baby having a good trip and this extra feature has already been much appreciated by our daughter travelling through the Queensland summer!
Speaking of temperature, it is important to set a comfortable temperature for everyone in the car, remembering that the back of the car usually gets hotter than the front if you have an old car like us with more air conditioner vents in the front.  Passengers in the back may wish to wear lighter clothing (or those in the front can bring an extra layer).  In cooler months it can be nice to pack a small blanket.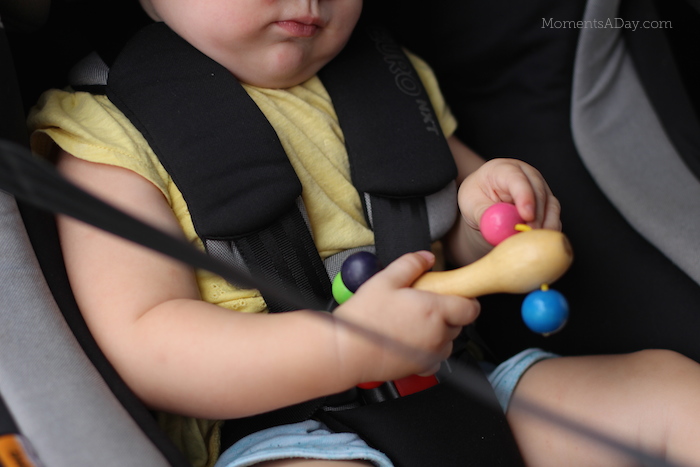 After the all-important safety box is ticked, it is time to start thinking about what to do during the drive.
Travel is easiest when baby sleeps most of the time.  We always plan driving around nap time.  We do our best to get everything ready to go about 20 minutes before baby normally gets tired so that we can play in the car for a few minutes and then she can start to relax before she gets sleepy.  Playing soft music or audio stories helps the other kids stay quiet during her nap.  If your bub is sensitive to noise, you may like to get any older siblings a set of headphones.
The older a baby gets, the less they nap.  So if you have a newborn, you are in luck!  Here are some ways to pass the time with older babies:
I like to keep a well-stocked bag of items for baby to explore.  These don't have to be only toys.  Plastic measuring cups or spoons, balls, rattles, blocks, plastic animals, it just depends on your baby's age and development – as long as there are no small parts that baby might choke on, of course!  Having quite a few novel items for baby to look at and then throw on the ground whenever she's done definitely passes some time.
We don't have a lot of electronic gadgets for our kids but giving baby a few musical toys with buttons has proven to be a winner on road trips.  Touch-and-feel or lift-the-flap books are also great.  Don't be afraid to sit in the backseat to help your baby enjoy the ride as well.
Snacks are another way to keep everyone happy on a car trip… and don't forget the grown-ups either.  Prepare everything in snack sized portions so you can just hand them out when travellers get peckish.  Depending on the age of your baby, it is best to stop the car to eat so that there is no risk of choking.  Fruits that stay fresh (and are not too messy) like strawberries, grapes (cut into four pieces for babies) and pre-peeled mandarins are some of our family favourites.  Cruskits, mini sandwiches and muffins are good too.  If you have an older baby, packaged foods can be very handy for travel.  I always like to keep a few jars of baby food in case bub gets hungry before we are able to stop and have a meal or if she doesn't like the food at our destination.  Don't forget to pack your water bottles too!
If I am sitting in the front seat, a travel mirror which lets me see baby when she's playing or eating also gives me peace of mind.
It is good to pack an extra change of clothes (or two) in your nappy bag as baby may get wet or dirty on the drive or pit stops.  Those leaky nappies always seem to happen when you are out and about, don't they?  You don't want to be digging through luggage to find what you need on the side of the road.
You will also want to put together some emergency medical supplies like baby fever reducer, constipation meds, and pain relievers (for yourself too) just in case.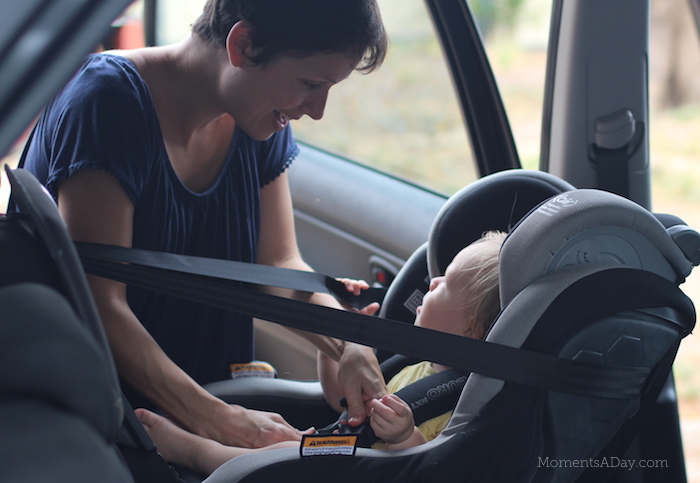 For the trip itself, set realistic expectations for how far you can get with everyone's sanity still in tact.  My husband and I take the conservative route when deciding how many hours we will drive in a day.  We normally try to cap our daily drives to four hours max.  This is because we ourselves don't want to get tired of driving and we want the family to be able to enjoy time at each of our destinations, as well.  Therefore we like to plan nightly stopovers if our trip exceeds 4 hours to our final destination.
If things are not going to plan, don't be afraid to stop if bub needs a little break.  Getting out of the car for a few minutes to stretch and have a look around may be all that is needed for another half hour of peaceful driving.  We often like to do one or two hours at a time to break up the drives but have been known to stop after 15 minutes if it's really needed.
Remember that your mood can rub off on everyone in the car, so try not to be too anxious!  Directions, inclement weather, and kids asking "Are we there yet?" can create stress.  Embrace the chaos!  Playing some favourite music or stopping for a meal can help reset the mood if things get tense.
To make things easy on yourself when you finally get to your destination, put together a bag of items you will need soon after you arrive.  For us this usually includes pyjamas, toothbrushes, any sleep-time toys, and a few extra snacks.  If you have a few one day stops before your final destination, pack what you will need so you can leave the bulk of the luggage in the car ready for the next day.
Giveaway 
This giveaway has officially ended as of 29 March 2016. Thanks for your interest.
Thanks to Maxi-Cosi, I have a Maxi-Cosi Euro NXT RRP $549.00 to give away to one lucky winner in Australia.  See the Terms and Conditions for full details.  To enter, please comment with your answer to this question:
What is your dream road trip and why?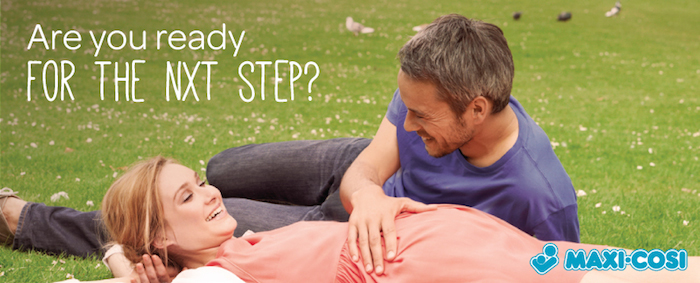 I received a Maxi-Cosi Euro NXT to review for this post.  All opinions are my own.  To read more about sponsorship on my website, visit this page.