This is a guest post by Sheila of Pennies of Time.
"Oh, NO!  I didn't get it!" Big Brother's face is all frowns and disappointment.  The boys are in the middle of a game of Superhero Memory.
It is Little Brother's turn next; he knows where the matching card is that his brother missed.  We expect him to go in for the match.
"Hey, just try it again.  I know you can do it!"  Little Brother passes up the chance for a match and gives Big Brother a chance to have an extra turn.
Big Brother tries again, finds the match, and reaches over to hug his brother with all grins and completely happy.
Our family has recently finished a year of serving others each day. We do small, simple things with the goal of spending 15-20 minutes each day on helping others.  When we started this journey, Little Brother was 3 years old.  I want to share with you how this year of serving has changed him, strengthened his character.
Little Brother is a rambunctious and active four year old.  He loves to be silly, accessorize his outfits, and meet every puppy that passes his path.  He is a mover and a shaker, ready for adventure, and always up for an impromptu dance party.
Before a Year Focused on Serving
A year ago, as a 3 year old, Little Brother was a typical self-centered 3 year old.
He spent a fair amount of time focused on "I Wants."
He could be overly aggressive with others, fearing that if someone took something or played with something, that he might not get his own chance.  He might hit instead of using words or other skills to remedy a conflict.
Additionally, he often overreacted to actions from others.  If slightly bumped by another child, he would say, "She meant to HURT me."
He would want to help when others were cleaning but needed simple directions to know what to do.
Little Brother, as a 3 year old, was more immature than his peers in expressing himself, in understanding others, and accurately interpreting other's actions.
Over the past year, we served every day. We brought in neighbors' trashcans, cleaned grave sites, cleared brush at a group home for adults that are disabled, mailed care packages, wrote letters to soldiers, and many other simple things to help someone out.  One of Little Brother's favorite activities was cleaning out the creek near our elementary school.
Through our daily acts of service, we taught our boys how to use the phrase, "How can I help?"  We focused on pointing out that delayed gratification can be just as fun as getting an immediate reward.  "We'll have our snack once we help out our neighbor."
Seven months after we started, I noticed a distinct change in Little Brother.  Instead of getting into everything and running off when we were out in public, he was actively looking for ways to help.  (Some of his favorite things to do are outlined in Acts of Kindness Planned by a 4 Year Old.)  Instead of focusing on filling his days with random fun, he was now filling his days with service.  "Mom, I just did an act of service!"
After a Year Focused on Serving
Little Brother is happier.  He is no longer self-focused.
He works so hard to help others and is better at recognizing what is needed to be done without asking or being told what to do.
He voluntarily gives up his own possessions to bring a smile to someone else.
He is more demonstrative in his affection.  It isn't unusual for him to run up to us, give us a hug and kiss and say, "I love you!"
He talks about his behavior and the behavior of others.  "Mom, that was a bad decision.  I am sorry." Or:  "That man threw trash out the window.  He needs to do a service and pick up trash."
He talks about his feelings and the feelings of others:  "Mom, I need a compliment." Or:  "He looks sad.  Can I say hi?"
He knows how to work hard.  He will go above and beyond in helping a neighbor with yard work.
A year of growth will naturally bring maturity.  It is my strong belief, though, that the increased level of maturation and empathy shown by Little Brother is more than typically gained in a year, and it is due to our continued focus in teaching our boys to serve others.
I asked Big Brother, who is 6 years old, some examples of Little Brother being kind.  He reminded me of the following:
Little Brother will stand at a door to the gym or a restaurant for 10 minutes focused on making sure he holds it open for others.
Last weekend, another child gave him a chance to play with a bubble machine.  Big Brother indicated that he wanted to use it, too.  After playing with it for 10 seconds, Little Brother handed it off eager to let his big brother play with it.
When the boys are sharing a drink, he will push the drink towards his brother until he needs a sip and then immediately moves it back within his brother's reach.
Acts of service do not have to take a long time to have a lasting effect.
Service does not need to be complicated to be meaningful.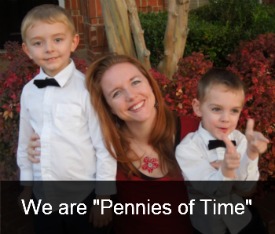 Sheila began her career in education by working with children and continues to serve as an advocate for children that are at-risk.   She has taught in a variety of settings from a classroom in small town Texas to a psychiatric unit in Chicago. She is the mother of two young boys and is the voice of Pennies of Time where she shares the adventures of serving with her two young boys.
You can see more of what they do on Facebook, Twitter, and Pinterest.