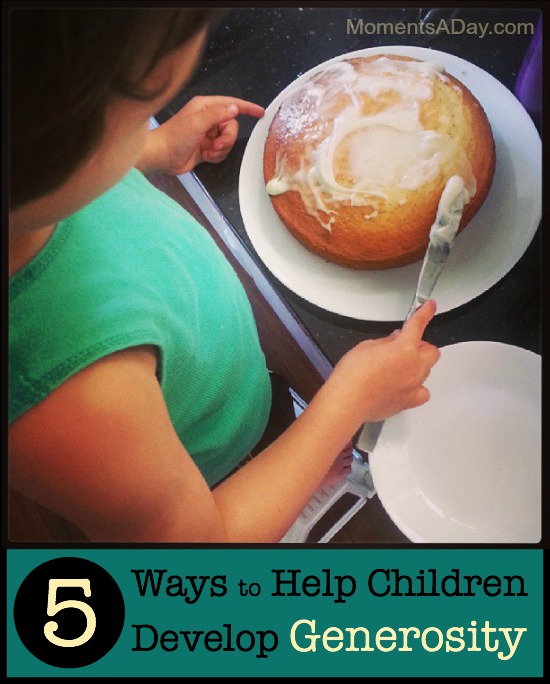 Generosity is a wonderful trait to develop year round, but I especially try to focus on "giving" during times and events when the family (and much of society) is tempted to focus on "getting."
Here are five ways to add an element of generosity into birthdays and holidays:
Children's Birthdays
Hold a service-themed birthday party, where party guests bring a donation (monetary or a specific item) instead of a gift.  Your child as well as the children at their party will learn just how fun it can be to dedicate their efforts to giving to others… and how birthdays are a time to celebrate *people* instead of *stuff*.  Here are 15 ideas for holding service birthday parties.
Furthermore children can learn to be generous by sharing food and cake at their parties, and serving it to others instead of consider themselves the center of attention.  They may be surprised to hear that in some cultures the birthday person actually gives gifts to friends instead of the other way around.
Birthdays of Friends (children)
Instead of giving a toy for the child to enjoy alone, give something that involves an element of "giving back" such as an art kit to make cards for the hospital or DIY friendship bracelets they can pass out to classmates.  Storybooks featuring characters that do good for others are great, too.  There are lots of creative ways to combine interests with service to others so that such a gift can be truly enjoyed by the recipient.  The child (as well as your child, who the gift will be "from") will see that gifts are not all about one person, but that one of the greatest joys we can receive is an opportunity to give to others.
Birthdays of Relatives (adults)
Instead of buying a gift, help your child send a donation to a favorite organization in honor of someone like a grandparent or auntie who is celebrating their birthday.  Show your children that people love acts of kindness given in their name, and that the honor of giving to someone else can be one of the sweetest gifts in the world even though *you* have nothing in your hand to show for it.  One of our favorite places to donate is the Tahirih Justice Centre which protects women and children from violence.
Holidays
Involve the kids in giving to others during the holiday season, such as looking for people who are lonely or in need and finding a specific way to touch their hearts.  Instead of the children only making lists of what they want, get the kids to help choose presents for other people.  Spend time making hand-made gifts for friends, teachers, and other people who have made a difference in their lives.  Here are 5 easy ways to serve others during the holidays.
Any Special Occasion
Get the kids involved in making food for others – it is a practical way the kids can enjoy making a difference to someone else, that everyone enjoys and appreciates.  Allow them to plan out a menu of items they can help make, and try to let them take ownership of the process.  Talk about how wonderful it is to make other people happy, and enjoy creating dishes that friends and family can enjoy.  This can be for community picnics, fundraising parties, large family gatherings, or school events.
If you are looking for more ways to help kids learn about generosity, check out this list of ideas by Making Time for Mommy.
What are other ways to help children develop generosity?
To find more hands-on ideas for kids to build character, check out these posts.