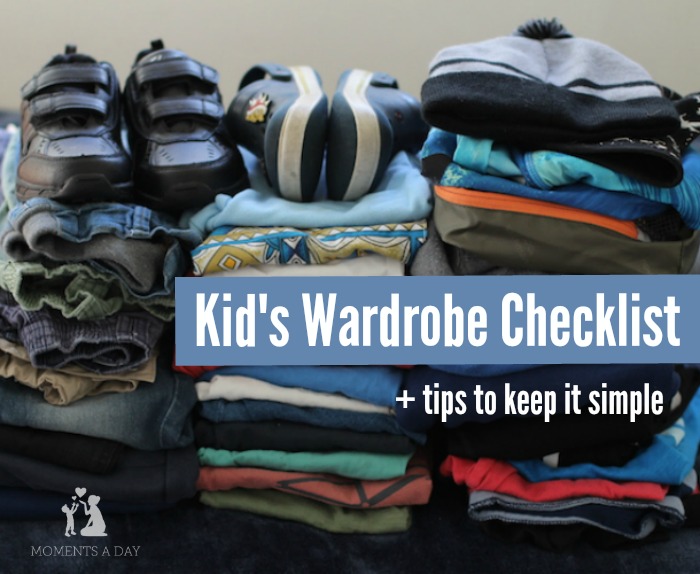 I am on a mission to simplify our home.  Being mindful about what we bring into our space means I spend less time shopping, organising, and tidying up.  Buying fewer things that are better quality also reduces clutter and waste (which equals less stress for me as well).  It has been a mind shift to really believe and act accordingly to the saying that "less is more" but I am enjoying the change in lifestyle so much.
After tackling my own wardrobe, it was time to get onto the kids'!  Here is my current checklist for a child's wardrobe to last the whole year.
Brought to you by Nuffnang and Clarks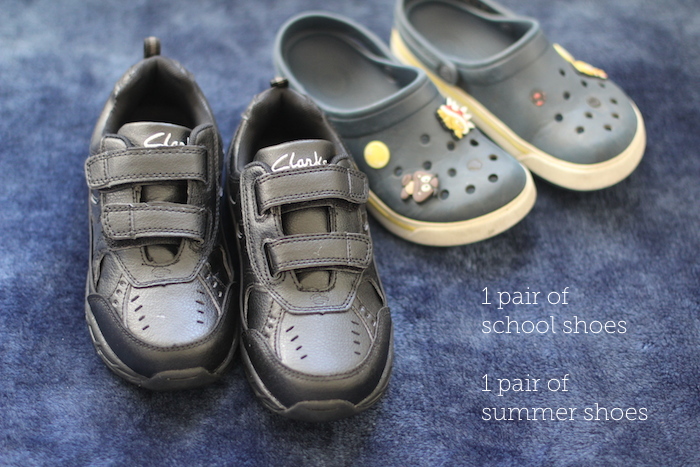 Shoes
1 pair of school/sports shoes (that can also be worn for dressy occasions)
1 pair of summer shoes
My son got Clarks school shoes last year and we found them to be tough and durable.  What I also like about the Clarks range is that they can double as "fancy shoes" for special occasions since they are black and look smart.  I love being able to tick off two boxes with one purchase.  With over 170 years of caring for kids feet, I appreciate the care Clarks puts into helping kids find shoes with the perfect fit with their online fitting centre.
My kids also have one pair of shoes to wear to swim lessons, the beach, etc.
Tip: Buying good quality shoes means they will last longer and will sometimes even be in good enough shape to hand down to the next child.  I have found it is much better to buy a pair of good quality shoes than to spend a little less money on shoes that fall apart and have to be replaced after two or three months.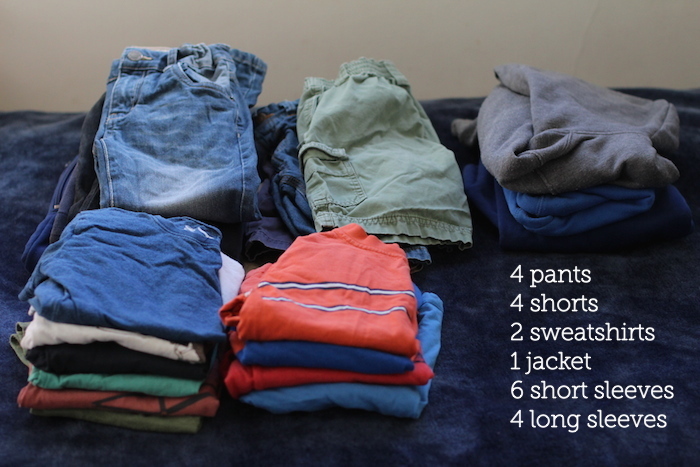 Everyday clothes
When my son started wearing school uniforms, I noticed that he really didn't need a ton of clothes.  He could wear the same thing over and over because I was doing laundry regularly for the whole family anyway.  Besides a few school uniforms, we have plenty of clothes with:
6 short sleeved T-shirts
4 long sleeved casual shirts
2 sweatshirts (jumpers)
1 jacket
4 pants (one of which is a bit fancier to be used for dressy occasions)
4 shorts (one of which is a bit fancier to be used for dressy occasions)
Tip: Limiting light coloured clothing (especially white) makes for easier washing.  It is great to be able to wash all the clothes together in one load, and having similarly coloured items makes this possible!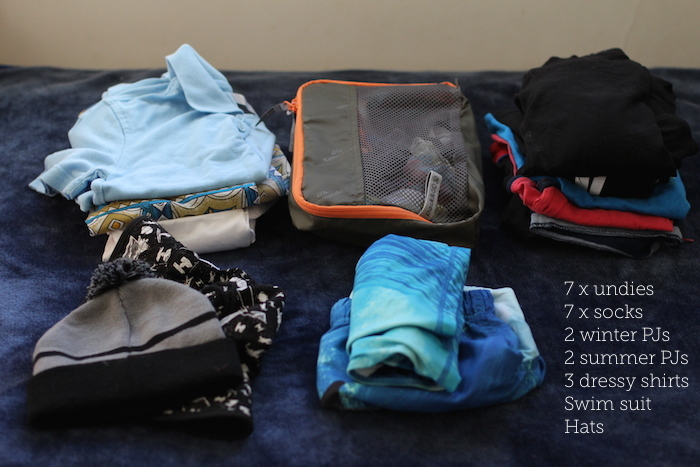 Personal items
7 undies
7 pairs of socks
2 winter PJs (one that can be used as long underwear)
2 summer PJs
I like to have a week's worth of underwear and socks per child, plus two pairs of pyjamas for each season.  One of the boys' winter PJ sets is actually merino long underwear that can be worn under their clothes for an extra layer of warmth on really cold days.  This year I was also lucky to find winter pyjamas that doubled as a Halloween costume.  These PJs made for a really fun travel outfit as well!
Tip: Buying socks in the same colour means you won't have trouble matching!  Just make sure you buy different colours for each child, so you can easily tell whose is whose.
Dressy outfits
We live somewhere that is more warm than cold, so we generally have:
2 dressy short sleeved shirts
1 dressy long sleeved shirt
As mentioned previously, I make sure we have one pair of nice pants and one pair of nice shorts within the stash of everyday wear clothes as well.
Tip: If we need something super fancy I might ask one of our family's friends to borrow an outfit for the day, or look in a second-hand shop in the weeks leading up to the occasion.  These sorts of clothes are worn so rarely that they are usually in very good condition when given away.  That way I don't waste time and money on a nice outfit that my child has outgrown before it gets worn.
Extra bits
Swim suit
Summer hat
Winter hat
Scarf and/or gloves if necessary
Tip: Sun protection is really important in Australia, so I don't rush on finding a hat that gives good coverage and that my child really likes (this makes it easier to get them to wear it!).  I might have been known to visit 8 shops in 2 different shopping centres for one particular four-year-old's hat last year… call that a little over the top, but to me it was worth it to find one hat that he loved and would wear all the time!
You may also enjoy my Back-to-School Checklist for making sure you tick off the last minute preparations for the school year.
What else is in your child's wardrobe?  Do you have any more tips for keeping things simple?  
If you are looking for more ways to simplify your life, check out my Simple Living Series for more ideas.
This is a sponsored post.  As always, all opinions are my own.  To find out more about advertisement and reviews on my website please click here.