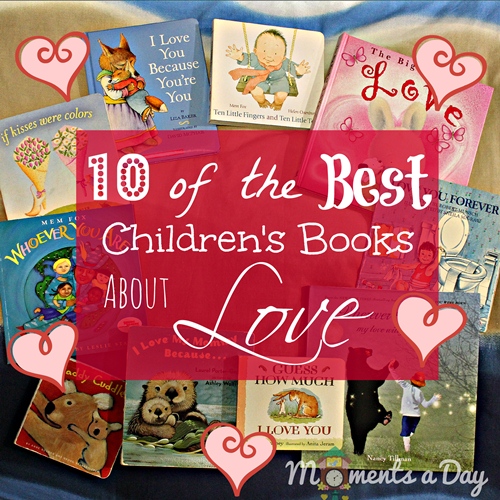 Now that I have given ideas about how to tell, show, and sing love to your kids, this week I am sharing 10 of my favorite books about love for children.
Whether it is cuddled up on the couch, in bed feeling safe and loved, or revved up and ready to learn about life, reading offers a natural space for daily connection with children.  Having a few sweet cuddly *love* books is a nice and easy way to add some extra bonding.
There are so, so many wonderful books about love for children available these days, a comprehensive list of which could probably be a mile long.  So if there are any books you recommend yourself that I haven't included in this post, please share the title and author in the comment section below.  I would love to learn about some new books to share love with children as they are such a wonderful way to connect and cherish the moments.
This article is part of my series "Sharing the Love: 100 Ways for You and Your Kids to Make a Difference In The World."  I believe the more we shower love on our kids, the more love they will spread in the world!  Follow along here.
Here are 10 of my favorite children's books about love, ordered according to my own personal opinion of appropriate age level – beginning with babies and ending with preschoolers or young school aged children:
Daddy Cuddles
by Anne Gutman, illustrated by Georg Hallensleben
This is a short and sweet book showing several father animals with their babies, ending with a human father with his son.
I Love My Mommy Because…
by Laurel Porter-Gaylord, illustrated by Ashley Wolff
This book shows beautifully illustrated animal figures (mothers with their babies) doing things together throughout the day, ending with a mom and her son having goodnight cuddles.
Ten Little Fingers and Ten Little Toes
by Mem Fox, illustrated by Helen Oxenbury
This gorgeous book shows babies around the world growing up together and having fun.  Not only does the story illustrate beauty in diversity but it shows how babies of all colors and from all backgrounds are the *same.*  The book ends showing how each baby is the most precious to its own mother who kisses the baby three times on the tip of its nose.  (This book has made such an impression on my four-year-old that he gives me three kisses on my nose most nights after good night hugs.)
If Kisses Were Colors
by Janet Lawler, illustrated by Alison Jay
This imaginative book shows what love would look like in various physical items such as rain drops, acorns, and flowers, being equated to kisses.
The Big Book Of Love
by Trace Moroney
This book helps explain what love feels like and shows different things you can love.
Guess How Much I Love You
by Sam McBratney, illustrated by Anita Jeram

This children's classic shows the story of a parent and child hare who enjoy comparing how much they love each other, and is a lovely goodnight story since it ends with the two going to sleep.
I Love You Because You're You
by Liza Baker, illustrated by David McPhail
This book shows how a mother loves her child no matter how they act or what they do; she loves her child unconditionally.
Whoever You Are
by Mem Fox, illustrated by Leslie Staub
This book goes around the world showing how no matter what you look like or where you are from, love, tears, and feelings are the same.  It offers a visual representation of what human love is and shows how all people possess the incredible gift of giving and receiving love.
Wherever You Are My Love Will Find You
by Nancy Tillman
This book shares how a parents' love will always be with a child, no matter where they are.
Love You Forever
by Robert Muncsh, illustrated by Sheila McGraw
This timeless book brings tears to my eyes every time I read it!  I remember my own mom reading it to me, and hope my sons love it just as much.  It shows the story of a son growing up, how his mother repeated a poem to him every night before bed and how, when she was dying, he then repeated it to her.
You can find all 10 books below with Amazon Affiliate links for your convenience but if you do order, please look around as prices often change and you may prefer to purchase from a different seller than the one that shows up: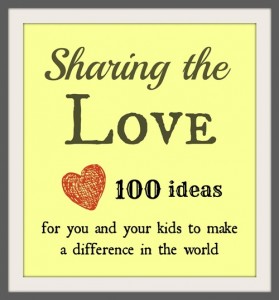 Thank you for joining me to discuss how we can shower our love with children, so they will in turn share love in the world.  If you have any more books to recommend, please comment below!
Next in the series we will switch gears a bit to discuss ways we can show love to our spouse, to help our children understand more about loving relationships.
Follow along the "Sharing the Love" series by joining me on Facebook, Pinterest, and Twitter, and don't forget to sign up for my monthly newsletters where I'll review the past month's posts and share some other favorite resources as well.
 To find more great children's books (plus activities!) go here: