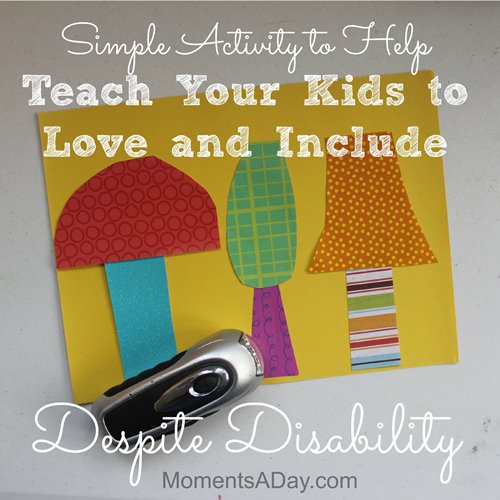 Some of my most embarrassing moments as a mother have been when my children have pointed out physical differences in others.  Whether it is noticing a limb missing or an injury from burns, young children are curious and do not realize the affect their words or questions may have on others.
Each time a situation like this as occurred, I tried to respond by helping the children see the facts of the situation.  I have had private conversations with my children afterward about how everyone looks different and has a different body.  We talk about feelings and how people may not like having their body parts pointed at.  I also explain that sometimes people have accidents or injuries that interfere with their ability to do things and we should be mindful of how we can help them… amongst other lecturing type responses…
I thought this was pretty much all I could do, besides making sure I was giving a positive example of being friends with many different people and ensuring that the kids had opportunities to spend time with people who look different them themselves.
However a few months ago a reader sent me a message asking how she could teach her son to have more tact in a situation where he was pointing out how others look different.  I am so glad she challenged me with this subject, for it prompted me to create a hands-on activity that would explain "differences" to my young children in a way that was much easier (and probably more age-appropriate) for them to understand.
For the activity, I simply cut out different shapes that could be put together as lamps.  I asked my boys to choose whatever parts they wanted to go together, then helped them glue them on the page.  As we glued, we talked about how every lamp is different – it looks different, it may be a different size, it may even have a part that is broken or a piece that is missing – but there is one thing each lamp has in common… and that is its light.
When discussing the light, I gave them a flashlight to shine and explained that the light of the lamp is what is important, and this light is like a person's spirit (or heart, if you prefer).  Every light/person deserves to be respected and loved, no matter what their lamp/body looks like.  The light is what makes the lamp a lamp… the outside of the lamp is just the container for the reason the lamp exists in the first place.
Taking the activity one step further, we talked about how sometimes we have questions about what other people look like, and in those cases we should talk privately to make sure we do not hurt anyone's feelings.  We role played a few times whispering quietly into ears, and I would say something like, "Let's talk about that when we get into the car."  Telling the boys ahead of time that sometimes we will need to discuss things later, in private, has been very helpful for us.
Sometimes it is okay for the children to speak to the person about the "difference."  I find every situation is different depending on what comments have been made and the personality/temperament of everyone involved.
We also talked about examples of wearing different clothes and what if someone laughed at you because of the color of shirt you were wearing.  How would that make you feel?  More role playing like this, on different days, helped us review our lamp activity as we tried to deepen empathy and thoughtfulness of others' feelings.
These were simple activities, but for a 2 and 4 year old, the experiences gave them a concrete example to remember that people may look different but inside we are all the same, and thus we should be careful with how our words may affect everyone around us.
Kate from An Everyday Story shares her perspective about talking to children about "difference," as the mother of a son with a disability.  I really appreciate her viewpoint and agree we should never make our children feel embarrassed about noticing differences.  Read her article here.
This is another hands-on activity from Easy Peasy Kids, which has the children wear shoes that do not fit them to experience what it is like to be someone else… helping them to develop empathy.  Read more about the activity here.
Below are some more articles you may like to read regarding children and differences:
Have you ever experienced your child pointing out someone who looks different?  How do you teach children about physical differences?