In just over a week, I'm flying to the United States see my parents for the first time in nearly three years!  To say I'm super excited is an understatement!
A lot of families have been separated due to the pandemic, especially where we live in in Australia because there are border closures often and international travel was cut off for nearly two years.
I thought I would document some of the ways we coped with living far away from family during this time, in case it's useful to anyone else and in case we need to use any of these strategies in the future.
It's been a really challenging time but we've all grown from the experience and I'm grateful for the creativity in staying connected that we've been able to utilise.
Connect Regularly
Whether I share photos on social media or call up a few mornings a week, just to chat when I'm doing something normal like having breakfast, it's helpful to connect regularly so that days and weeks don't pass before I've caught up with my loved ones. Not having regularly scheduled visits can really make me feel distant, so scheduling in a few times a week even just to have a short chat has been a big part of helping me cope with the long separation.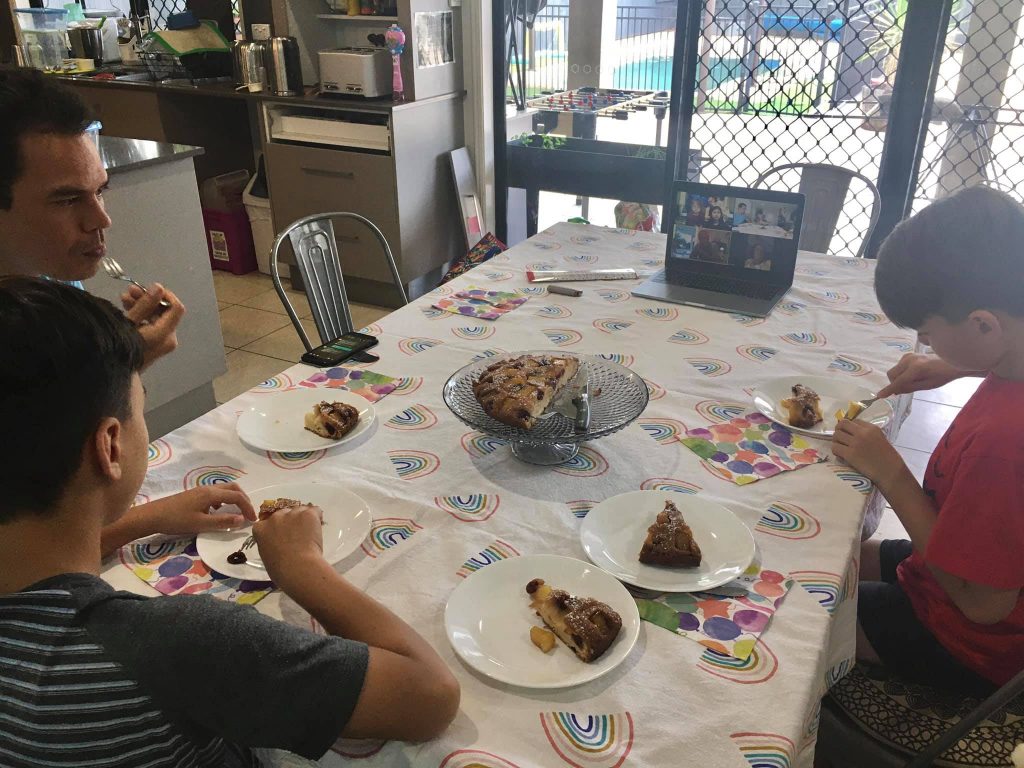 Celebrate Virtually
One thing I've really missed is being there for special occasions. Our family has tried a few different ways to "celebrate virtually" over the past couple years, one of my favourites being when my mom chose a recipe for my dad's birthday and we all cooked the same pineapple upside down cake to enjoy together over Zoom. It was fun to see the three different cakes (my mother's, my sister's, and my own), which were all the same recipe but had their own unique qualities as well.
Subscribe Together
My sister and I decided to get our own families, plus our parents, the same subscription box so we could chat about it when it came each month. We chose Universal Yums as it was really fun to try food from around the world. It was a great conversation starter and also a nice way to make memories "together," even though we are far apart.
Recommend Movies
I definitely can't say I'm not one of the people who has indulged in a bit of movie watching during some of the lockdowns we've had over the past two years. Our family has switched between Prime, Netflix, and Disney+ and enjoys recommending movies to cousins and grandparents, and listening to their recommendations as well. It has been another way to share stories and interests, even if we can't actually be together while watching.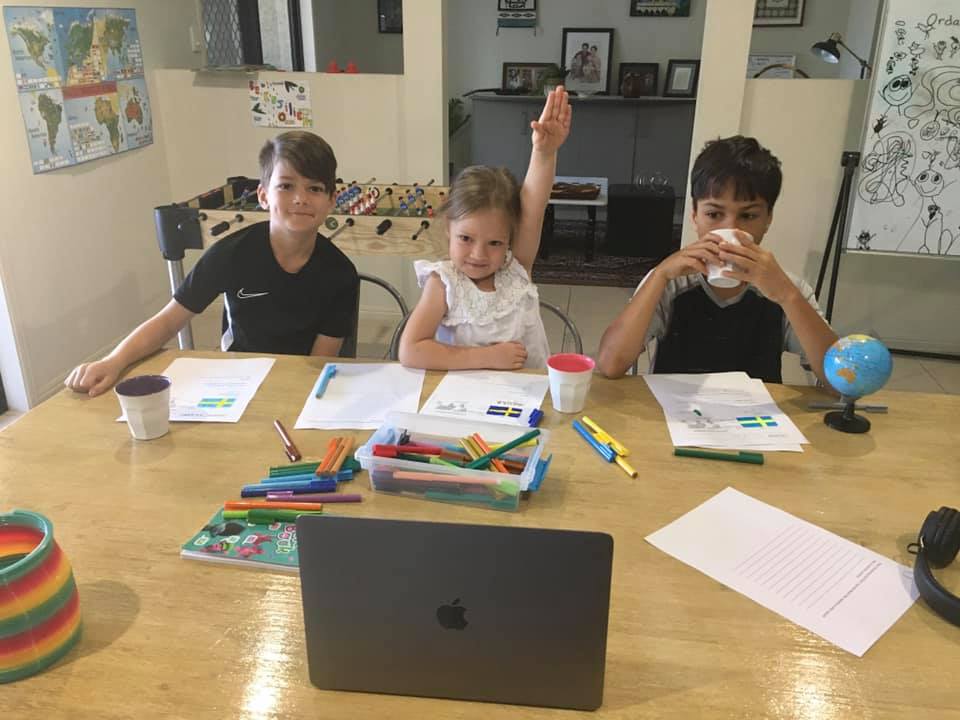 Learn Together
My extended family has always enjoyed going on educational excursions when we are together, like visiting new museum exhibits or seeing the ballet. It took a bit of brainstorming but my sister came up with the idea of my parents teaching our kids a class via Zoom called "Around the World with Grandma and Grandpa." Each week for about 45 minutes (at the same time every week), the grandparents share about a new country. They work from a template (capitol, climate, flag, foods, etc) and usually share some personal stories/connections (like recent news or friends we have from that country) as well, screen sharing photos and maps from the internet. It's been a fun way to kind of "travel" together while staying at home and I'm really grateful for the purposeful time my kids have spent listening to my parents and learning with them.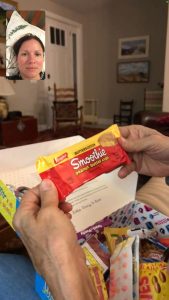 Post Gifts
Just because I'm not close by, doesn't mean I can't give gifts… thanks to the power of online shopping!  Since I haven't spent any cash on travelling to see anyone, I've enjoyed putting a bit more money into gifts I can give to my loved ones who live far away. When my parents moved into their new house, I got them a set of yummy scented bath bombs. For my dad's birthday, I sent him a 1950's themed box of candy.  My niece got a doughnut maker and my sister's family got matching PJs.
Share Projects
Whether it's cooking new recipes or gardening, it's been fun to take up a few new hobbies together during the pandemic. My mom enjoyed showing me her shell art, and I kept her up to date on our new fish tank. We had a good laugh when some of the projects were quite time intensive and only possible due to the sheer number of hours we were spending at home… like the time she showed me how she made little hot cocoa teacup cookies with dehydrated mini marshmallows. We fondly started calling these "COVID projects."
Remember the Good Times
It's been important for me to remember that even though I can't see my family now (and haven't been able to for a long time!), we've had a lot of wonderful visits in the past and made beautiful memories together. I'm currently making a photo book of past trips we've taken to visit family. Each month I'm aiming to go through my old albums and choose 15-20 photos per trip, so that by the end of the year I'll have a good number of pictures to create a printed photo book of extended family memories.
Plan for the Future
Talking about what we can do together when we finally get to visit can be a lot of fun!  Planning future trips and finding fun things to do nearby where everyone lives can help pass the time.
What have you done to connect with family that you are unable to visit?
You might also enjoy…
100 Ways to Support Myself During Quarantine {Free Printable}