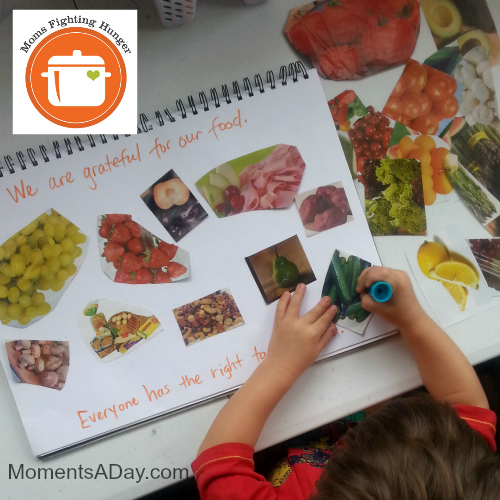 September is Hunger Action Month and this year I am proud to be part of a team of mom bloggers who are raising awareness about this important issue.  To see what the other moms have been up to, check out the Moms Fighting Hunger Facebook page and follow along to get more ideas of what families can do to support this cause.
Since my children are still very young, I wanted to introduce the concept of hunger in a hands-on and age-appropriate way.  Each of the following five activities tries to put "hunger" into understandable terms for preschoolers, while developing positive character traits that will help encourage empathy for those in the world who experience hunger.
Here are 5 activities to teach preschoolers about hunger.
Magazine Activity to Inspire Thanks
Gratitude
This activity was meant to help the kids think about what wonderful foods they have access to, in order to inspire gratitude in their hearts.  I gave the kids a stack of food pictures cut out from magazines, and wrote on a big piece of paper "We are grateful for our food."  Then they chose foods to glue on – taking time to find their favorites at first, and then we also added more that made our bodies strong.
After discussing how we can show our thankfulness for our food (including showing gratitude to those who grow/sell/make our food and not wasting food) we also talked about how every person in the world deserves to have enough food to live.  I asked simple questions like, "How would you feel if you were hungry all day and did not have any food to eat?" and "What should we do if we know someone does not have enough food?"  Then we finished off by considering how important it is to find ways to support people who do not have enough food, which I said we would be doing in the coming days.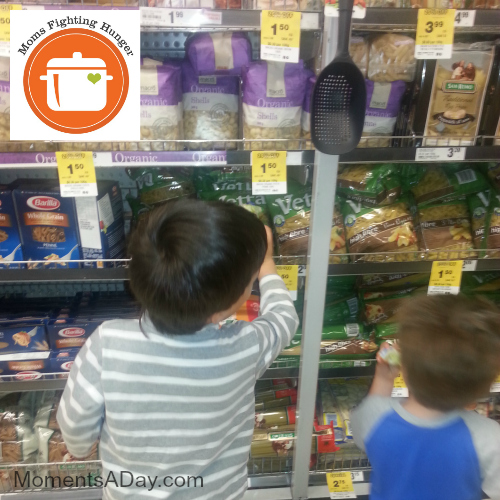 Trip to the Grocery Store to Learn About Food Finances
Awareness
On this day when we parked in front of our local supermarket, I turned around and told the boys I had a special experiment for them.  I explained they had $5 to buy lunch (together): we would look at different foods to see what options they had and I would help them figure out if they had enough money.  Through this activity I hoped they would learn how important money is for getting food every day (if you don't have your own garden, of course).
First we stopped by a cafe on our way to the grocery store, and looked at the prices of the items there.  The boys quickly discovered how expensive even one piece of pie was (almost their whole budget for lunch) so we kept going.  We looked at many options in the grocery store, and finally they decided how to use up their $5.  We talked about eating on a budget and how many children do not even have $5 to eat lunch every day, and that some families have less money to feed the whole family three meals a day.
Then we talked about how we can find ways to share with the children who do not have the same foods as we do, and how donating money so people can buy enough food is just one way to help.  I think this activity gave the kids some awareness for how blessed they are to have food every day; and hopefully more understanding about how others are living in very challenging situations.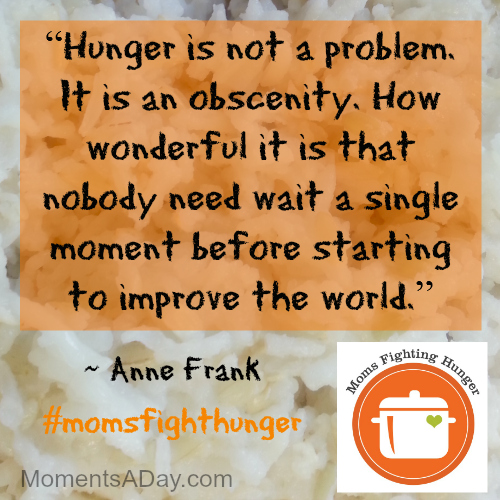 Learning about Hunger
Empathy
I was very moved by Sheila's post over at Pennies of Time sharing how she created an opportunity for her family to experience eating a "rice meal" or "fancy meal" for dinner one night, to introduce the concept of hunger.  My children are a bit younger than hers, so I modified the activity accordingly.
First I explained that some families cannot afford to buy much food, so they eat the same affordable foods every day such as rice.  Then I gave the kids a plate of rice for dinner.  My oldest immediately said, "I don't want just rice, I'm more hungry than that!"  So I asked how it felt to only have rice and if he could imagine eating this every day.  I was surprised how many questions came up and how much we got to talk about issues surrounding hunger (just to give an idea of ages, my son just turned 5 last week).
I felt just having rice on their plates at first sight was an age-appropriate way to begin the discussion about what some children around the world are facing, but after a few minutes of talking I gave them some other food to eat with their rice (which I had prepared ahead of time and was waiting on the counter without their knowledge).  I knew my 2.5 year old was not old enough to understand why I would only be giving him rice, and that I could not give more to one child and not the other.  I think the activity did its job of offering a simple introduction to hunger and for inspiring empathy for those facing it.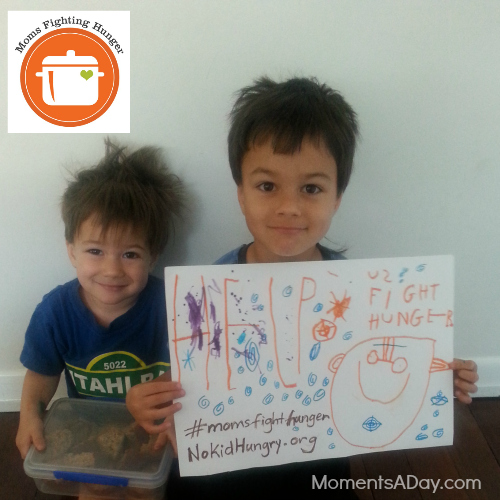 Raising Awareness About Hunger
Idealism
This activity was meant to introduce the idea of doing what we can to make a difference.  After making muffins and enjoying some ourselves, we packed the rest for daddy to take to his coworkers.  I helped the boys make a poster along with a link for people to make a donation to fight hunger, and explained to them how the people who work with daddy will be given these muffins and will see the poster so they can find out ways to fight hunger.
Even though our efforts may only make a "small" difference, the boys had the opportunity to share for the wider good (which only came with quite a bit of talking about why we were giving the muffins away).  They also became empowered to spread the word about hunger, which by the end of the poster-making was beginning to sink in. 🙂
Donating Money Not Spent on Restaurant Meal
Sacrifice
I figured one very important element of our Hunger Action Month activities this year would also be finding a concrete way to support the children who are hungry.  There are many ways to do this, but due to practical reasons this year we chose to support the cause financially.
So I explained to the boys that on this day, instead of going out to eat at one of our favorite restaurants we would add up the money we would have spent there, eat at home, and donate what we "saved" to No Kid Hungry.  We made a simple budget dinner at home and made our donation online.  By sacrificing one meal out, our family helped feed a few children.  It was quite empowering… and yet easy at the same time.
If you are looking for more ways to take action in the community, check out these 13 Ways Families Can Help Fight Hunger by Coffee Cups and Crayons.
To find even more ideas and posts about this initiative, check out the Moms Fighting Hunger Pinterest Board and get a glimpse of some of the supporters of this initiative in this fun slideshow.  To learn more about Hunger Action Month visit this website.
Do you have more ideas to teach preschoolers about hunger?
Or what did you do for Hunger Action Month?  Leave your ideas in the comments!