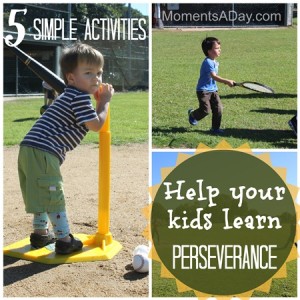 Perseverance is a quality that every child can benefit from practicing.  After all, there are going to be challenges in life, and knowing how to persevere even amidst frustration or disappointment will be a great life skill.
Active games and sports are a fantastic way to help strengthen one's ability to persevere.  Sports can help children learn how to push themselves physically, play despite nerves or intimidation, and keep at it regardless of winning or losing.  Even small children can practice perseverance through very simple active games.
In each of the five activities below there are variations for young children to progress through.  Start simple and help the child persevere as they learn and practice new skills.   Part of persevering is realizing that with hard work and dedication, you will develop new capabilities to cope and succeed.
As you play you can discuss the word "perseverance" and talk about how this quality can help in many arenas of life.  You (as the parent or teacher) may even like to share some ways and experiences you have persevered.  You can talk about learning something new (like cooking different types of dishes) or persevering in relationships (getting to know new friends).  Children love to hear stories about adults they look up to, and this will also give them an opportunity to open up about something new they would like to try (and might feel a bit nervous about) or tell you about an area they are having difficulty persevering in.
Some key phrases you might like to use are:
Persevering means we don't give up even when it's hard.
To persevere means we do not let obstacles get in the way of our goal.
When we persevere we enjoy the journey and do not get discouraged if it is going in a way we did not expect.
Here are the activities to help children learn perseverance:
Please note that a baseball is the perfect sized ball to use with these activities!
(1) Throw a small ball to yourself.
First throw the ball up and catch it.  Then try it with one hand.  Then try it with the other had.  Then try to clap after you throw the ball up, before you catch it again.  Then try to clap twice!
(2) Move a small ball around your body.
Take the ball in one hand and try to make a circle with it around your waist.  Then try to make a circle around your legs.  Then try to do a figure eight with the ball – around one leg, between the legs, then around the other leg.  For older children, you can try to have them drop the ball behind their back and catch it with the opposite hand (this is a bit tricky for small children who have little hands).
(3) Practice hitting a ball.
Try to hit the ball (when someone throws it to you) with something large, such as a tennis racket.  Then try something smaller like a cricket or baseball bat.
(4) Make a relay.
Try asking your child to hit a ball (with a bat), run, and then jump on a base.  For younger children, remembering three steps is a big deal.  After they practice a few times, however, they will feel proud of how they have caught onto the idea.  For older children you can make a more complicated relay race.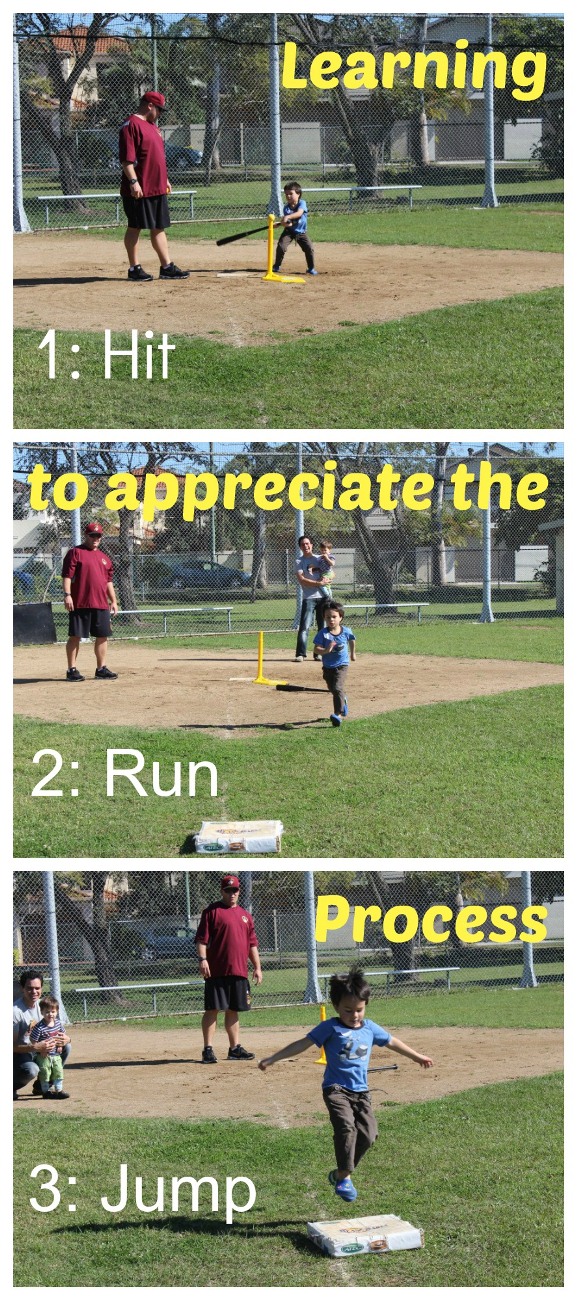 (5) Roll the ball to someone else.
Face your child and then take three steps back.  Sit down and roll the ball to each other.  As your child learns how to aim the ball while rolling, stand up and open your legs so that the ball can be rolled through (take turns being the roller and the "goal").  You can make a smaller "goal" for the ball – which is more tricky to get through – by standing with the feet closer together.
These games are very simple but can take perseverance for young children to get used to and get a handle on.  As they practice, they will feel the benefit of their hard work as the tasks get easier and they feel more confident with the various activities.
I learned these games and more at a bloggers' family event put on by Baseball Queensland and Blog Power Events.  This is not a sponsored post and I received no compensation for a review on my blog.  I was very excited to learn about the opportunities for children in baseball in Australia and look forward to getting my boys involved in our local club.   Our whole family had a great time!

If you liked the activities here and think your children could grow from participating in a team sport that will contribute to their physical and mental health, you may like to check out a baseball league near you!  I was very impressed by the personality and skill of the coaches I met and look forward to seeing how baseball can help my kids develop.
for boys and girls, from age 4 to adult, with a strict anti-bullying policy.

To get more information (and find a club near you!)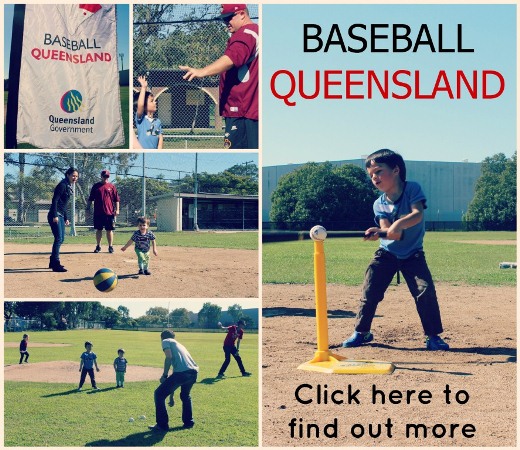 To find more character building activities on my blog, browse through this list.